Fish STD?
---
It started out looking as though a few of my gold barbs had herpes, red swollen lips.. But now look like they are almost deteriorating around their mouths. 2 have died already and the last I think is getting close as I don't think he's even able to eat, though he tries his darnedest..

Originally I separated them out of my 50G into a 10G quarantine. I keep up on regular water changes, and have been using a mixture of Melafix and Pimafix as it looks like an infection of some sort. But alas, the meds don't seem to help at all.

My water readings have been normal, and it only affected 3 of my gold barbs. Any idea what could have caused this, and what it may be? Mind you, I noticed it on all three the day after I noticed another one of my gold barbs looked as though had been eaten on. He still has big sores on his body, but is healing nicely unlike the herpes fish.
Can you post a pic? might be lip fibroma...

lip fibroma is viral (antibiotics won't work). pretty much have to decide between euthanasia or surgery (yourself).
Posted via Mobile Device
Umm I' not an expert on barbs but I don't think fish STD is possible
---
Casanova: Male DoubleTail Halfmoon
Quote:
Umm I' not an expert on barbs but I don't think fish STD is possible
It was my failed attempt at being humerous
Here is a picture of the little fella. Has gotten progressively worse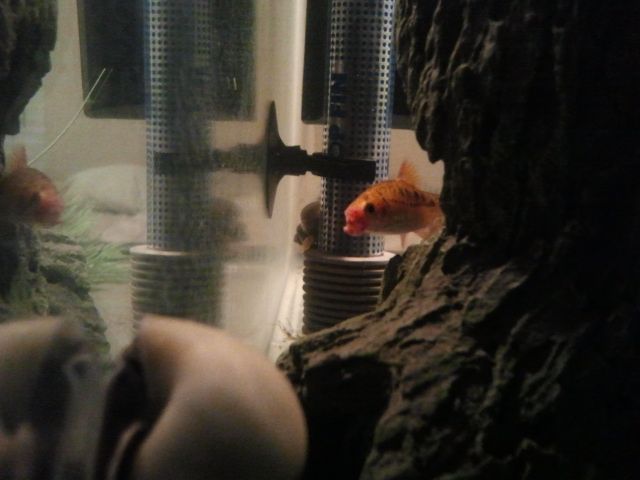 | | |
| --- | --- |
| The Following User Says Thank You to redchigh For This Useful Post: | |
Quote:
In my opinion, you should decide between surgery or euthanasia. You don't have to do it now, but research both so you know.
I decided to euthanize em after doing some googling. It's too hard to look at them in that condition,
That looks awful :( Sorry that you had to put down your fish.
---
Animal testing is a terrible idea; they get all nervous and give the wrong answers.
he looked like he was in a lot of pain (also with the title of this it made laugh at the pic does this make me a terrible person since laughter was first then sympothy) sorry he had to go if he did not have that could you have imagend the years of fun and potential offspring life would have been great for you both but disease made an unfortuante end
the only desease i have ever had in my years is popeye and that was this year only 2 cases guess i got lucky here and the fish i had two put down i droped in scoulding hot water so he would go instantly and with that i cried for about an hour and could not contol myself and my siblings offerd to buy a new fish to replace him after watching me i realy love my fish as if they were my own kids and i dont have kids so that says alot also some are my theoretical children considering i bread a majority of there parents then got them away from parents
Posting Rules

You may not post new threads

You may not post replies

You may not post attachments

You may not edit your posts

---

HTML code is Off

---