Fin Rot?
---
So, I've been concerned about my betta lately. His fins seem to get whiter but he had some white in him when we bought him and it's been a gradual thing, not like overnight. And he doesn't seem to be bothered by anything. But I wanted to put a pic up and see what you all think. I do water changes 50% to 75% every week and the parameters are what they should be (with liquid test kits). And looking back at pics I took of him when we first got him, he doesn't look that much different. I'm not really sure what fin rot looks like though so I wanted to put some pics up.
So here are the pics.
Pic of when I first got him
Pic of him now.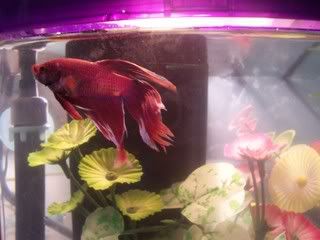 [/img]
I don't know, I might just be paranoid, but I don't think he looks much different, some days I just feel like he has more white on him than he did.
Thanks.
Ashley
He's very beautiful. It looks like it may just be his natural coloration coming out. But then, I don't have any experience with bettas. I've been thinking of getting one though! It doesn't look like fin rot or fungus to me. :D
---
150 Gallon - Mostly American Cichlids
135 Gallon - Angelfish Community
75 Gallon - Odd couple (Polleni/Angelfish)
55 Gallon - African tank
20 Gallon Long - QT
10 Gallon - Empty

75% water changes are too much to be doing unless you have something wrong, and he looks overall really pretty healthy to me (and happy)
---
This is the song that never ends...
Flashygrrl makes a good point. Small weekly water changes of 20 to 25 percent are much better than large water changes. Less work also!
It looks like she has one of those 2.5 gallon bowfronts, which is too small to ever fully cycle. 50-75% is appropriate for a tank that size.
I dunno, I got mine to cycle, it just might have higher nitrates than normal at times, some water sprite helps take care of that.
---
This is the song that never ends...
75% might be a little of an exaggeration...but it's definitely almost 50% every week to week an a half.
And yes it is a 2.5 gal tank. I just didn't know if I had bought him with fin rot or something and it had just not gotten better or worse. Just wanted to be on the safe side.
Thanks for your responses.
He is happy. He was the first one of our four to make bubble nests.
Thanks again.
Saw the other day, betta tanks advertised with drain plugs. How nice would that be? :D :D :D
Posting Rules

You may not post new threads

You may not post replies

You may not post attachments

You may not edit your posts

---

HTML code is Off

---