Looks like you're on right track so far. I'll wait in chat.
---
Sent from my desktop or phone or whatever else I am holding on to

I'm ready for the pressure.
The drama and the pleasure!

If there is one thing I want to see here, it's HUMOR.

I believe I can fly!
I believe I can touch the sky!
I think about it every night and day!
I stand in awe of my body.

not to be slightly offtopic, but I linked my LFS to all of Annabelle's threads.

I hope they decide to help theirs, like you're trying to help Annabelle.
Just got word from the vet she was no help. She suggested a uv light. She also suggested using praziquantel, this is what Lupin said about it:
Camallanus worms are not very easy to destroy. I've gathered several information and reference files and praziquantel and metronidazole don't prove lethal for camallanus.

This makes me think she really dosen't know anything about camallanus worms.
She did get one thing right, she said I would have to treat the tank, this I already knew.
I know a uv light may be a good idea but it's not going to kill the worms that are already in Annabelle. I don't think I'll go with the uv light. Not right now anyway.
Lupin,
after speaking to someone else with experience on puffers he suggested I go with your other suggestion. This was his experience:
My puffers acted as if it was burning their skin off for a while, then sank like stones to the bottom of the tank by the end of an hour, off color and having trouble breathing. Did an 80% water change, and they got a bit better, and went totally back to normal after another 80% the next day.
I'm going to try the flubendazole instead. I don't want to hurt her.
I wanted to wait to treat Annabelle when I had a few days off and could keep a close eye on her. I started the treatment on Sunday morning. 2/22/09.
Here's a picture update.
Picture updates. I caught Annabelle to get a picture of the progress. She was "MAD" but I got the picture. :D
Taken Feb. 9, 2009
Taken Feb. 10, 2009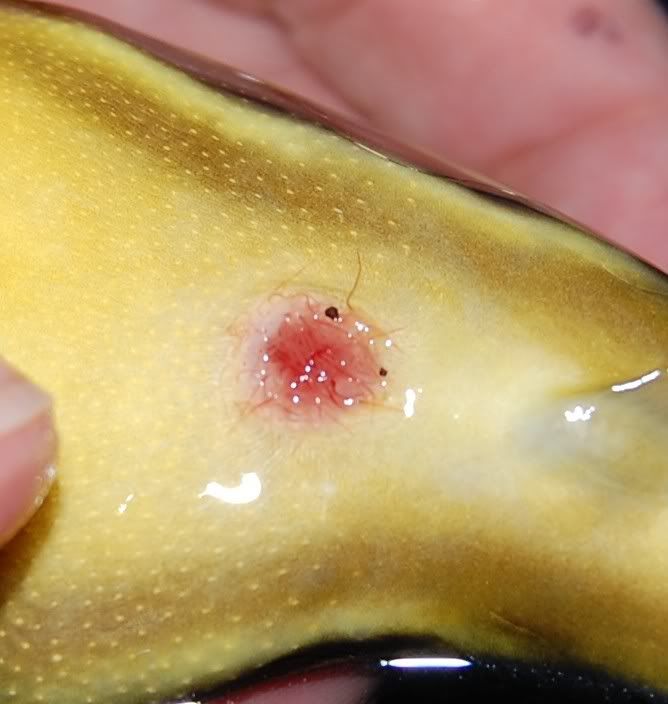 Taken Feb. 17, 2009.
Taken Feb. 23, 2009
I know I'm probally asking for a miracle here but it looks like they have really thinned out. :D
Just a little closer inspection, I think they are turning white. :D From what I have read that's a good sign! That means they are dying!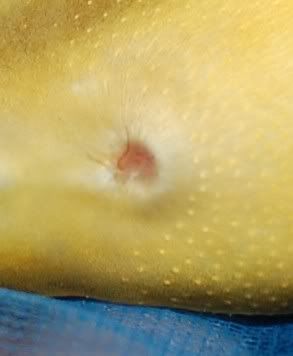 I'll try to get another picture tomorrow and see if there is any change.
Picture taken Feb. 24, 2009
48 Hour update, She ate like a pig and was begging for more! I soaked her food in vitamins and added beta glucan to it also. Beta glucan is suppose to boost the immune system so that she can fight off all the nasties. :D
Similar Threads
Thread
Thread Starter
Forum
Replies
Last Post
Worms? :(

SolaceTiger

Tropical Fish Diseases

9

11-05-2008

10:09 PM

Worms?

puckersmom

Saltwater Fish

2

10-21-2008

03:58 AM

worms

jonreilly

Tropical Fish Diseases

3

03-22-2008

03:56 AM

red worms

Sadie

Tropical Fish Diseases

6

06-19-2007

10:43 PM

Worms

Falina

Tropical Fish Diseases

2

05-26-2007

05:55 PM
Posting Rules

You may not post new threads

You may not post replies

You may not post attachments

You may not edit your posts

---

HTML code is Off

---