Am I doomed?? (Screwy water paramaters)
---
1. Size of aquarium (# of gallons) 10
2. Is your aquarium setup freshwater or brackish water? freshwater
3. How long the aquarium has been set up? Since May 18th
4. What fish and how many are in the aquarium (species are important to know) 1 goldfish
5. Are there live plants in the aquarium? No
6. What temperature is the tank water currently? 72
7. What make/model filter are you using? Tetra Whisper Filter, Medium
8. Are you using a CO2 unit? No
9. Does your aquarium receive natural sunlight at any given part of the day? Not really
10. When did you perform your last water exchange, and how much water was changed? 50%, few days ago (pH level was 8.8+)
11. How often do you perform water changes? 3-4 days
12. How often and what foods do you feed your fish? 2x a day, flakes
13. What type of lighting are you using and how long is it kept on? No lighting
14. What specific concerns bring you here at this time? read below
15. What are your water parameters? Test your pH, ammonia, nitrite and nitrate.
pH: 7.4-7.8...can't seem to get it lower
ammonia: 0ppm FINALLY, had problems with this before
nitrite: .25ppm (never had it over 0 before)
nitrate: 10.0 ppm
16. What test kit are you using and is it liquid or test strips? API Liquid
17. When was the last time you bought a fish and how did they behave while in the pet store tank? Bought him Jan 17-don't remember how he behaved in tank


OK, so it seems I'm constantly cursed with water problems. Before it was an ammonia problem which ended up being a result of bad tap water, now it's elevated pH, nitrate, and nitrite levels. I've never had problems with nitrite before-ever-and pH has always been in an acceptable range until now. I am at a complete loss, and the only solution seems to have him swim around in pure spring water (which I can't afford at all).

Plus, in about 3 weeks I move back to school (8 hour drive, re-establishing tank) and I'm scared that with water problems going on all summer and then a stressful move I could lose him.
Help, please? :(
And update:

I tested the water I add to my tank to make sure I wasn't adding to the problem:

Nitrate: 5.0ppm ish
Ammonia: 0ppm
ph: 7.8-8.0ppm
Nitrite: 0ppm


So...still confused.
A ten gallon isn't ok to keep a goldfish in, so thats more then likely where your water quality issues are coming from.

Test the water coming straight from your tap. Whats the decor in your tank like? Any sea shells? Or something else that might cause your raised pH?
---
And just before you laid dead weight upon its shores, I stung you in the face for that's the nature of my core.
I'm looking into bigger tanks now, but I don't have any money (no joke) and my current $$ situation is stressed until further notice.

He is a tiny, tiny goldfish right now-I got him when he was very young. I'm not allowed to have tanks bigger than 10 gallons at school. What's the absolute smallest tank I could keep him in but have him live happily and comfortably? 20gal? I'm also worried I wouldn't have a place for the tank.

No sea shells, the objects I've had in the tank I've had right from the start. My tap water at home has 1.0ppm of ammonia, so I stopped using it and found the tap water from my boyfriend's house was good. I posted those tap water params a post above yours, I think.
Thats alright, I understand. I've been in that situation too. And I never have money either so it makes the fish hobby semi difficult. But just eventually you will need a bigger tank for your gold fish to thrive.

Lol yeah sorry, I didn't see that you had posted that because I was posting my thing.... I don't see why you would have Nitrates in your tap water? Thats weird... Clearly the high pH problem is from your tap. But the ammonia and nitrites is purely from the waste your goldfish is excreting. How big is your gold fish? What kind of filtration are you running on your tank? Do you know about beneficial bacteria and the nitrogen cycle?
---
And just before you laid dead weight upon its shores, I stung you in the face for that's the nature of my core.
Yeah, I really do want to get a bigger tank for him. I love him very much (it's kinda disturbing) and hate the fact that what's best for him is tough for me.
I have no idea why there would be nitrates in the tap water. My goldfish is tiny, no joke, 2.5 inches with tail. He was probably about 2 inches when I got him.
Filtration is a medium tetra whisper thing...and I know a small amount about the nitrogen cycle, I've been given links to info about it, but somehow I don't think I understand it as well as I want to..mostly because I thought my tank would be done cycling but with constant water problems and changes I don't really know.
Any idea about smallest/best size I could get for him?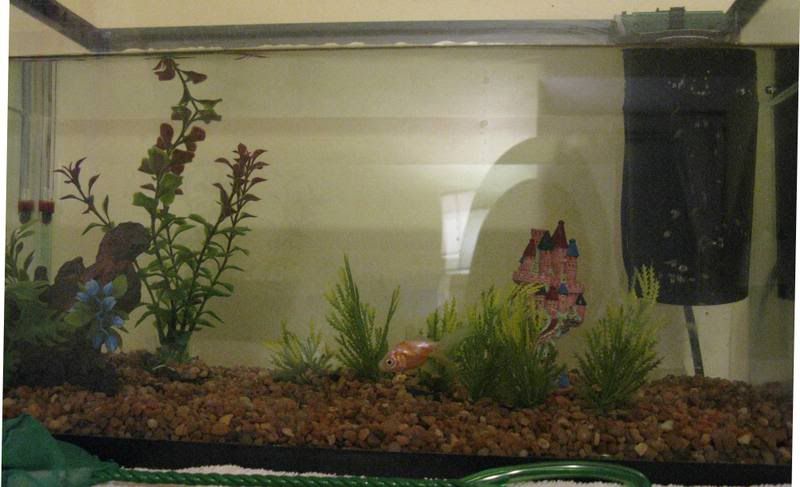 Looks like a comet? I'm not a goldfish expert, but if it is a comet, your best bet is keeping him in a pond. They can reach 12-14" long. And even if I'm wrong and its a common goldfish it will still reach massive lengths.
But obviously if money is tight you aren't about to start a pond project. I would say the very minimum tank size is 50 gallons. This can be very expensive too. But this goldfish is small, and you have time to save up and get a bigger tank.
I believe you said the tanks been set up since... May? Thats more then enough time for your tank to be cycled. Did you keep track of the cycling process?
I don't think you have the best of filters, I'm about to look it up. But you might want to look into a better filter and that could help with your water quality until you can get a bigger tank.
Is this your filter?
---
And just before you laid dead weight upon its shores, I stung you in the face for that's the nature of my core.
I've been trying to figure out exactly what he is for ages. The way his tail is it makes him most definitely seem like a fantail but he doesn't have the egg shape. Crossbreed? Hah, I have no idea.


and GULP at 50gallons.
sounds to me like you have tap water issues. this could be the reason why your ph is fluctuating and your nitrates are so high. you might have to do small water changes everyday to keep the nitrates down if tap water is your only option. but this also poses a problem if there are nitrates IN the water your using for water changes! AAAHHH!!
my ph levels are through the roof here, so i use bottled distilled/spring water from wal-mart in my tanks. it's really not that expensive, especially for a small tank. if you only bought 10 gallons a week, then it would only cost you roughly 7 bucks a week for water. and thats if you did 2 50% water changes, or 4 25% water changes a week.
also, i noticed that you said that your NITRITES have never been over 0 before? that may mean that your tank has been mini-cycling since may!!
if you change too much of your water too often, it can cause your tank to keep cycling forever, because bacteria don't have a chance to build up the way they need to. you should do small (10-15%) water changes 2-3 times a week, IMO, unless you are going to use the jug water, then you should only need to once a week.
sometimes your city will change the additives that they put in your tap water, so make sure that you pay close attention to any mail that you get from your electric/water company.
i'm sorry to hear about your financial trouble, and your water problems. i know it's tough to have pets when you're broke (been there!! done that!!) but I REALLY recommend using the water jugs. and judging from the size of your fish, you should be fine with a 10 gallon for awhile. just don't throw much of anything else in there. especially til you get your water balanced!!
I have been using spring water from walmart and stuff when I'm at school, but when I say I have no money, I'm not kidding, I'm $500 in debt to my parents and won't get out of debt for the forseeable future despite work. I'm hoping I can get spring water when I'm back at school. I'm hoping when I'm back at school that he survives the trip and I can get the tank established as soon as possible.
Posting Rules

You may not post new threads

You may not post replies

You may not post attachments

You may not edit your posts

---

HTML code is Off

---