Aw thanks :)
We bought this house 3 yrs ago.. it was BARE. We did all the landscaping, modded & painted the deck... I could go on and on...lol! The kids' playset came from income tax refund lol.
---
JoAnn
custom 7ft 125g softie/leather Reef
44g marine predator fowlr
100g outdoor pond/waterfall

Well.....

The 55g is GONE!
All fish and plants have found new homes as well!!

1 step closer!!!!

Today we are going to silicone in the other panels into the sump. Already have the stand and hood sitting in the living room... still have to clean the main tank, and can't assemble it till we get the sump in. The sump takes up so much room we have to put it in through the top. So once the main tank is on, the sump has to be in! I received the Koralia powerhead yesterday and tested it in the 55g.... perfect! Still waiting on my overflow box, protein skimmer, and return pump.
---
JoAnn
custom 7ft 125g softie/leather Reef
44g marine predator fowlr
100g outdoor pond/waterfall

Here it is....
No water yet, the silcone in the sump was not dry last night. I am going to water-test it today, and if all is ok, going to install the sump and the stabilizer bar back into the stand. Then I'm going to get some dead sand and rock, some live sand then the water.... then some live rock! All I still have so far as of this morning is the powerhead, so I can't really get the sump going. Also going to look into some macro algae at the LFS... so if they don't have any I have time to order some online.
But the water, the live rock and sand... should be enough to get things starting up in the tank, right?
These are from last night... the handles and the top rail on the stand thats "holding" the tank were not there originally... and the hood, he made completely from scratch......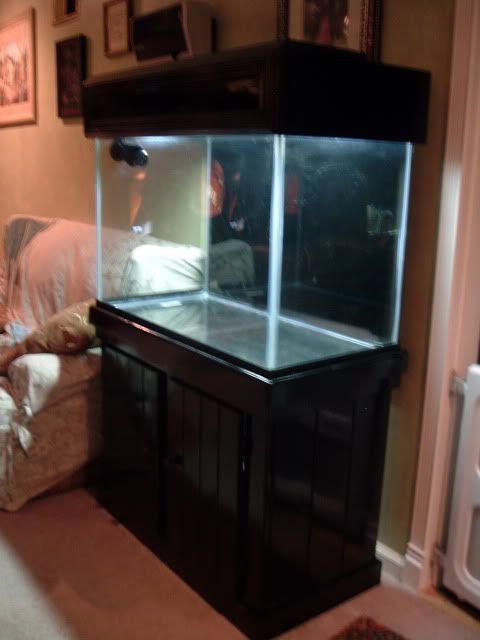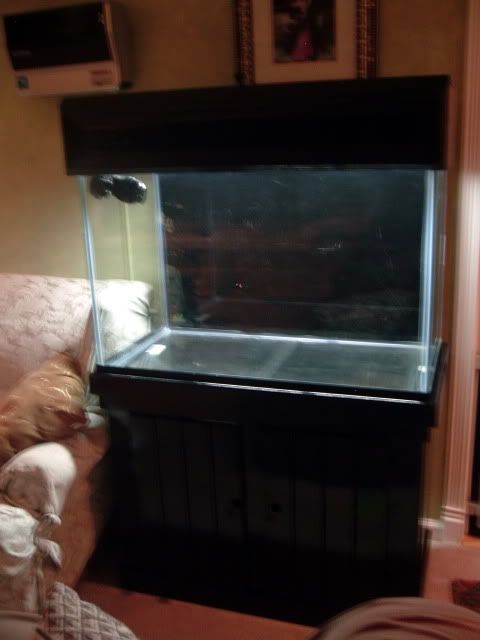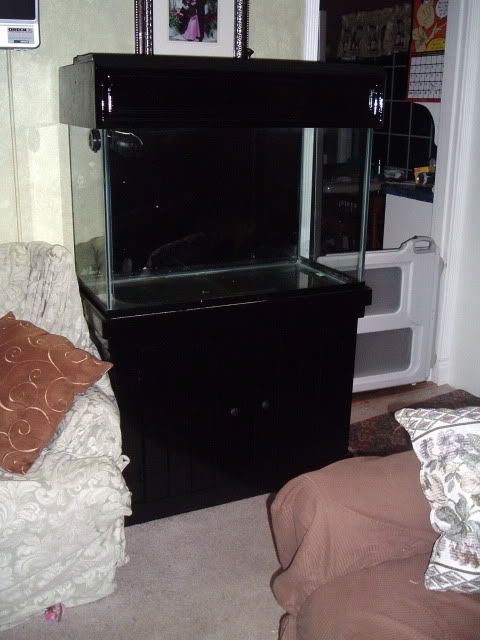 ---
JoAnn
custom 7ft 125g softie/leather Reef
44g marine predator fowlr
100g outdoor pond/waterfall

Congratulations!!!! Your tank is coming along so well. I love the shininess of the stand! I can't wait till you finish it because it will be gorgeous!!! I'm so happy and excited for you! :)
---
Aquariums
29 gallon-
- 2.3.0 Kribensis
- 1.0.0 CAE
- 1.2.0 Swordtails
- 1.1.0 Dwarf Gourami
- 2.6.0 Black Phantom Tetra

10 gallon-
- 1.0.0 Beta
- 1.1.4 Peppered Cories
- 6.12.10 Guppies
- 1.3.0 Amano Shrimp
- 2.0.0 Zebra Snails

NICEEEEEE....i cant wait to see it full of water, sand, and rock... im lovin this build, and oooo ahhhh shiny new stand :D
Thanks so much guys!! :D

Only change for today is that there's 3 20lb bags of live sand, & a bag of reg crushed coral sitting in the tank lol.

Water tested the sump, its installed. Decided to wait to fill w/water till overflow box gets here so we know how far from the wall we need to have the tank. Ups says 19th but I'm crossing my fingers it'll be here tomorrow, lol.
Posted via Mobile Device
It's looking great. Your hubby ROCKS! Lucky gal.
---
If you don't stand up for something you'll fall for anything...
Haha thanks Kymmie!! :D
Here's my update for today!!!
Got WATER in the main tank! Only have 18 lbs of live rock for now... have to wait for payday for some more. I got lucky when I found the live sand bags on CLEARANCE at the closest Petco... woot! There is 60 lbs of live aragonite, and 20 lbs of regular aragonite. For now I am only running the powerhead and the heater in the tank.
The sump is now completely assembled except for the return pump, that is the only part I am waiting on now. We are doing all hard plumbing, and will eventually probably paint it black down to where it turns to go into the stand. (with a brush lol) Today we plumbed from the overflow box down to the sump. We are waiting to plumb back up since I am not sure how the pump will be sitting in the sump, etc, till we actually get our hands on it. I got a clip-on light today, and as soon as we get the sump completely plumbed and running I am going to go back to the LFS for some macro algae. The heater is only in the main tank till the sump is done then it will be moving downstairs, lol.
Is a 6500K 15w CFL light going to be ok for the macro algae? It did well for the plants I had in my FW 55g...
Time for pic overload again... As you can see its still a cloudy mess in there, haha!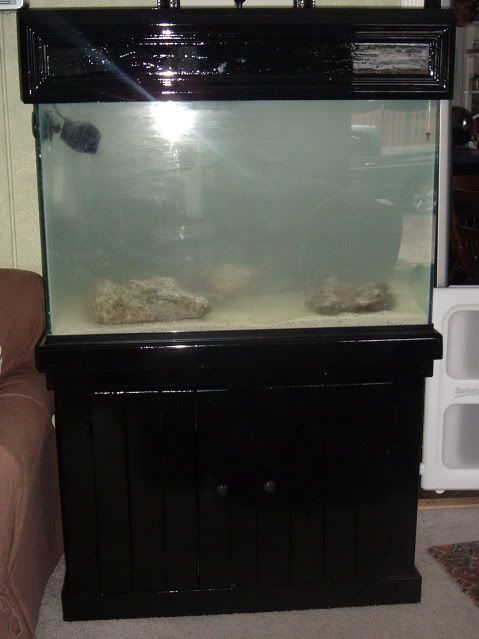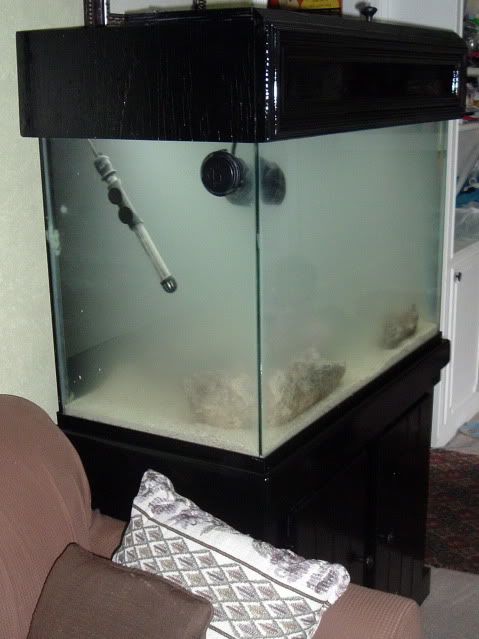 ---
JoAnn
custom 7ft 125g softie/leather Reef
44g marine predator fowlr
100g outdoor pond/waterfall

A few more...
ETA: I forgot to mention... that big thing all the stuff is plugged into is a surge protector w/a 4-6hr battery backup.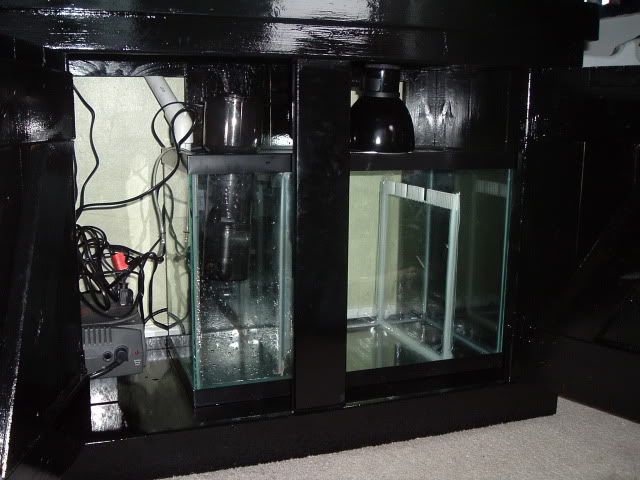 ---
JoAnn
custom 7ft 125g softie/leather Reef
44g marine predator fowlr
100g outdoor pond/waterfall

Posting Rules

You may not post new threads

You may not post replies

You may not post attachments

You may not edit your posts

---

HTML code is Off

---