Absolutely none... there's only 2 things I can think of - he got stuck in the rockwork somewhere, got attacked by one of the hermit crabs or someone else, or both got trapped and attacked. I dunno.... :(
---
JoAnn
custom 7ft 125g softie/leather Reef
44g marine predator fowlr
100g outdoor pond/waterfall

Ok... so I have been keeping a secret for the last couple of weeks, since not long after the Court Jester was found.

I don't want to be yelled at, I know he will be too big for my tank but let me please explain. I have explained to my hubby that tangs are all too big to be in our tank. I KNOW BETTER. But hubby came home with a Sailfin Tang.

He is gorgeous and was VERY skinny when he got here, but I have gotten him to eat very well and he has gained some weight. Yes I have plans to sell him within the next couple of months to possibly the same guy I bought my firefish and watchman goby from. He is still quite small and for now is thriving in my tank. Gets along well with everyone!

Like I said, you guys know that I know better than this by now, but what was I supposed to do when he came home with it? He is after all funding my whole tank. But, I finally needed to confess as I would like to post pics of him.

ETA: I forgot to add that all my other recent new additions are doing GREAT! The Hawkfish is awesome to watch, his behavior is so much different than the rest of them. The clowns are verrrry slowly growing, but they are still growing! And the Rusty Angelfish thinks he is the tank boss, LOL!
---
JoAnn
custom 7ft 125g softie/leather Reef
44g marine predator fowlr
100g outdoor pond/waterfall

---
Last edited by trukgirl; 08-17-2010 at

06:09 PM

.
the important part is that you are aware of what need to be done to care for him... i am glad your tank is coming along so well and yes please post PIX!!!!!!!!!!!!!!!!!!
---
Back in the Game!!! Live Bearers in a 40 Breeder
the way i look at it is that most fish don't live their entire life span in the wild, they get eaten by a bigger fish. so if i can keep them healthy, well fed, and not under stress then they are happy. I personally dont believe any fish would like to live in captivity but rather in the ocean. so as long as the tank is not ridiculously small and i've met all the above requirements, i don't worry about fish size vs. tank size. for those who don't agree with me i challenge them in convincing me that their setup is equal or better than the wild with space, availibility of variety of food, danger, and social interaction with other lifeforms.
---
Last edited by reefsahoy; 08-18-2010 at

08:08 AM

.
I read this article recently.I posted it then but it disappeared.Anyway,the author specifically mentions what he callss the "Tang Police".I've never had saltwater,let alone Tangs so I have no opinion on them I just thought ya'll might find it interesting.
http://www.practicalfishkeeping.co.u...t.php?sid=3048
---
Your's truly,
Lee
i just typed a nice sized response and my laptop went back and i lost it all. i hate that.
anyways im not a tree hugger, or a "tang police" enforcer but i do feel they deserve a nice size tank. the best way i can compare this is, how would you like living in your closet with no way of escape? dont worry, someone slides a plate of food under the door everyday.
i suggest a 75 - 100 gallon minimum for a single tang, which honestly they should prob. have something even larger. in the wild, tangs graze the rockwork all day in search for food. this alone is evidence they do not stay in just "100 gallons" of water.
yes, it is true that fish get eaten in the ocean but that is how the world spins. this allows the gene pool to be at its best, something that doesnt get to happen with humans or captive bred species. every other animal ( that still gets whats little left of the wild ) has to be on their "A" game or theyre dead meat, literally. ill leave it there as to not take away from the original posters thread, if a mature debate on this topic needs to happen, im all for it in a seperate thread.
as for the sailfin, i wont yell but it could have, and still could be returned to the store.. even for store credit. at the very least it may be best to explain to your husband not to impulse buy. i would hate to see him bring home a lionfish next week and it eat your tank
what kind of sailfin is it anyways? they def. are a pretty fish.
onefish - I'm well aware that it could have been returned right away. But I couldn't refuse my hubby, sorry. We had a very very long talk about it afterward, don't worry he won't be bringing home any more fish w/o calling me.

I'm pretty sure its a Z. veliferum. I will get some pics tonight. He is very gorgeous! I will be sad to have to sell him, but for now he is just fine in there, still very young.

bones - the Tang Police is very common on a couple other fish forums... I have seen them really rip into some people which is sort of why I was very hesitant to admit this.

But I do know we did wrong and already have a plan in place for him. I HAVE after all gotten him to gain weight! I am diligent on feeding them 2x/day (small amts! pellets in morn and frozen in eve, and there is sheets of seaweed for them as well) and test water regularly, I think he is well taken care of! There is also PLENTY of algae for him to graze on... I have TONS of purple coraline on everything, and I don't scrape the back glass or the overflow box, and there is a lot of stuff growing back there that he and the Rusty graze on.
---
JoAnn
custom 7ft 125g softie/leather Reef
44g marine predator fowlr
100g outdoor pond/waterfall

---
Last edited by trukgirl; 08-18-2010 at

10:29 AM

.
Quote:
i just typed a nice sized response and my laptop went back and i lost it all. i hate that.
Aack!! Me too :P
---
JoAnn
custom 7ft 125g softie/leather Reef
44g marine predator fowlr
100g outdoor pond/waterfall

The Sailfin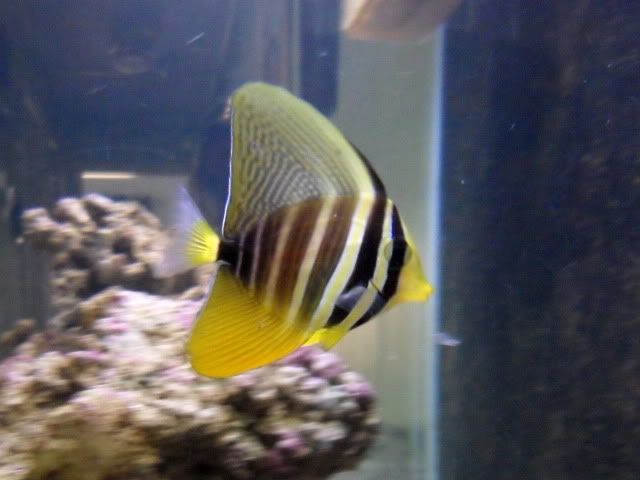 New tank pix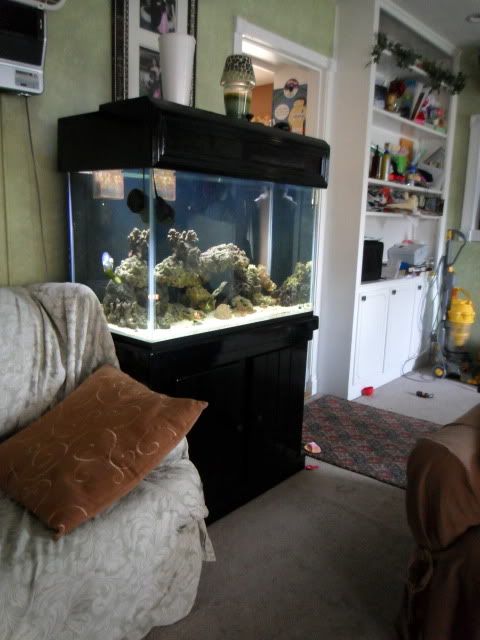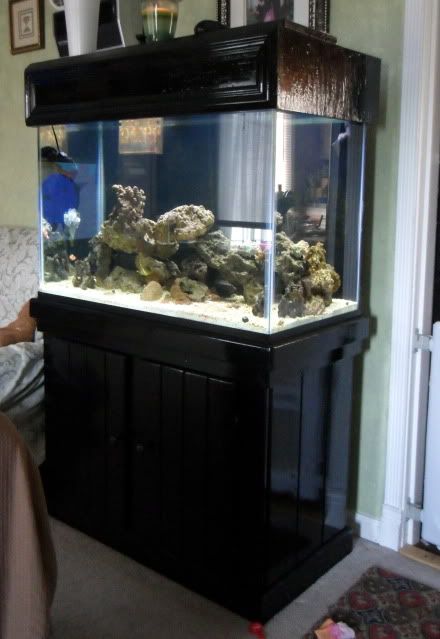 New sump pix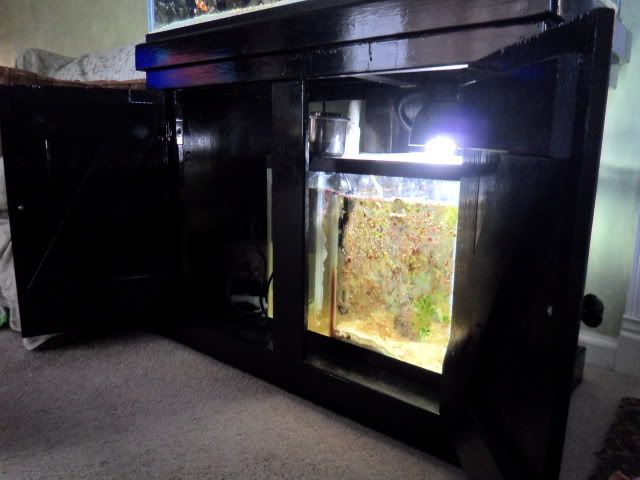 ---
JoAnn
custom 7ft 125g softie/leather Reef
44g marine predator fowlr
100g outdoor pond/waterfall

Posting Rules

You may not post new threads

You may not post replies

You may not post attachments

You may not edit your posts

---

HTML code is Off

---