Very nice! congrats
---
And God said, Let us make man in our image, after our likeness: and let them have dominion over the fish of the sea...
75g Build
Kellsindells build
2.5 Pico Build
Member of DFWMAS ... PBITAWA
Michael Hernandez
Had a good time at the auction today. Spent quite a bit but I got a lot.
Here's my haul, pics after everything is open and looking good (pics now are sellers pics):
A couple inch multibranch frag of Acroberry $18
2 1/2 head red and blue acan lord with a couple babies. $20
those were my main two wants and I got them at good prices.
A big rock of over 160 green zoa with orange mouth (look like green bay packers) $15
A 1 head torch coral for a friend setting up a tank $6
Nice multibranch few inch frag of orange digitata $8 (couldn't resist for the price)
A frag of 20 007 Golden Eye Zoa with a couple baby blues for $20
Tricolor Milli pink/green/blue big frag of 10 branches $17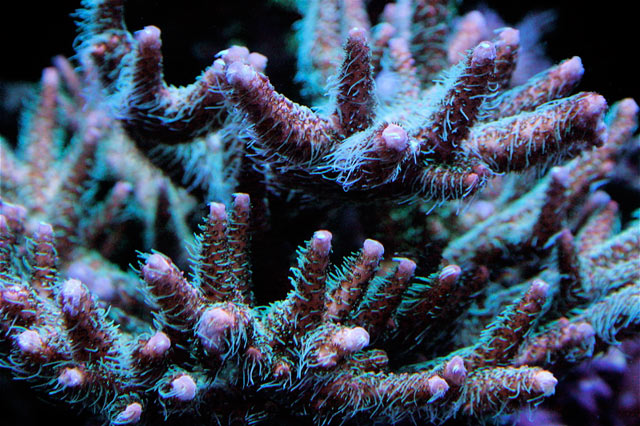 2" multi branch acro nana frag (looks cool bright white with purple tips). $6
2" frag of yellow/neon green birdsnest $8
A neon green and purple fuzzy mushroom $3
Snapped some pics of my tank with the new auction corals:
Hehe yeah now that they have opened some they are more of a lime green not like a green bay packer zoa:
red and blue acan lord:
Green and purple fuzzy mushroom
The 007 Golden Eye zoos with a nice aptaisia in the background I need to kill tomorrow:
1 head Torch:
Orange digitata, acropora nana, and pink pocillopora(free frag) on the far right.
A lot of SPS. New tricolor mille in the back left with all the fingers, green yellow birds nest in front of it with the acroberry next to it
Here's the acro I bought a week ago at that half off sale. Right under the halides it's starting to turn green.
I like the gramma! Idc how common they are, they are so cool!
---
~veganchick~

All things bright an beautiful,
All creatures great and small,
All things wise and wonderful,
The Lord, God made them all.


*Vegans Have more Fun*

http://www.petshopanimals.webs.com

Here's some new pics. Nothing really new in it except some Whammin Watermelon zoas that I didn't realize I already had in the tank when I bought the frag of them:
The ones I bought:
The ones I had:
My tie dye zoa fell back into some xenia and half them melted. Grrr. So they are staying on the sand bed now.
maiden hair algae looks pretty until this happens. I've removed the bulk of it now. Stuff is a pain.
When I bought these at the auction a couple weeks ago they were lime green with yellow mouths. Now they are morphing and taking on a much color brighter green with a blue ring.
Here's the 1 head of galaxea I picked up a month ago. It said neon green but it stays this brownish color. There's a couple new heads poking out there so I guess it's happy.
My big coral banded out for a change
I'm out in St. Louis working for a couple weeks but I went to the FRAG meeting yesterday and it was a score for me. First I didn't get the tub's blues because the guy got in a car accident on the way to the meeting *thumbsdow
But I scored a 6 polyp frag of wild orchid palys that were $25 a polyp 2 months ago for $10. They need to be shaded and color up but they should look nice when I get home.
Freebies I got were two large frags of Anthelia, about 20 heads of candy canes, then someone walked by with a starter pack of zoa and mushrooms for somebody that didn't show and they didn't want to take it home and offered it to me. There was about 10 mushrooms in there of various types and a zoa frag.
Then to top it off there was a raffle. For signing up to attend you got a free ticket, then I bought 6 tickets for $10 which also put me into the grand prize. Out of the 6 I won once for 3 polyps of Red People Eaters which look great. Then I won the attendance one for a 1 day pass to IMAC West and I won the grand prize a 3 day pass to IMAC. Those passes are worth $180 so it looks like my wife and I will be heading to LA in August for IMAC. Can't wait to go as it's the trade show to go to for marine. Thousands of corals for sale, all the big vendors, tons of door prizes, etc.
Red People Eaters:
Wild Orchid Palys:
Posting Rules

You may not post new threads

You may not post replies

You may not post attachments

You may not edit your posts

---

HTML code is Off

---