Been meaning to update the thread. Have a bunch of additions since the last post.
Got the reactor plumbed in:
Came up with the best plan I could for the way the apartment is and where the tank is as well to make maintenance as easy as possible.
Drilled 4 holes with a uni-bit and then dremeled them aout a bit around the acessory kit plate to have the intake and return lines for the reactor. Came out ok:
I ran the intake to the reactors on the bottom:
Ran the returns throught the top holes for a finished product:
The pumps I mounted on the wall. 2 maxi jet 900's. Am going to switch to regular marineland 900's the maxi's don't like being gated back and make a bit of noise. The marinelands were always dead silent. I still have some zip tieing to do to keep all the lines together and a bit neater looking:
I'm pretty happy with what I wound up with, I'm sure I could have done things different but I am working with limited options. I installed different pumps- went with regular marineland nj1100's. No moving parts to leak water but am building a box to go around the pumps just in case.
---
Last edited by JimmyR1Rider; 04-05-2012 at

10:39 PM

.
I had 5 RBTA's in my old 65G that crashed that I haven't really mentioned before on here so I think I'll do weekly updates on them. They're looking better each day little by little. Finally starting to make really good strides that are noticeably better each night I look at them. Heres what 2 of them looked like on 3/30, the other 2 are in spots I can't get clear shots of them but they're happy there so I don't mess with moving them, I just shoot mysis each night so they can eat and they do each night. They never refuse a meal which I guess is another great sign. They're being nursed back to health in a 20 long with a HOB penguin and some phosban with 10G water changes every other day:
Again how they looked when they first came out of the 65G:
How they looked on 3/30:
Sorry about any repition from previous posts.
Ok, time for the first FISHIE PICTURES!!!
Got a beautiful pair of clowns off of a friend of mine Kathy--THANK YOU KATHY!!!! I love watching them explore their new surroundings.
Here are some pics of my new guys:
They definately seem to like the overhangs and shaded areas under the top rocks. They've been swimming around in tha back and front also but like the 2 swim throughs in the rocks.
Also added some duncans and 2 heads of dendros:
Dendros aren't open yet but they'll get there
Here they are once they got adjusted
Some more new additions. Went to go see my buddy Krys the other day and got a bunch of frags. Some acans and some zoas and one frag of some yellow pollops:
Thanks Krys
---
Last edited by JimmyR1Rider; 04-05-2012 at

10:50 PM

.
My new skimmer arrived today via FEDEX. It's a Deltec MC500. It fits nicely, I haven't done any of the last tweaks and touches. I'm just letting it break in over the next couple of days and then will do the final adjustments. I have it in a higher position that it will wind up for now and is why the lid will not close(the skimmer lid/flap not the whole hood). After it's broken in I'll lower it a bit so the lid will clear the cup. I replaced the stock skimmer that came the RSM because I hated the adjustment valve on the stock one. It was a bit flimsy it seemed and the knob was extremely tight and they don't specify if it's a 1/4 turn knob or what. I just either got almost no bubbles in the skimmer chamber or I got skimmate that looked like pee and filled the cup up fast with all liquid. I would have kept the stock if it was more adjustment friendly. Anyway here's the Deltec, I can't wait to see after its broken in how it skims:
I'm happy so far, it's sturdy and well built and is highly adjustable between the depth of the skimmer in the water, the air valve as well as the collection cup that can be moved up and down all to help fine tune the skimmer. Worth it in my eyes from what little I was able to tell immediately upon installation.
Also for anyone else looking to put one of these in your RSM250's it doesn't come with any parts list or setup guide. I looked one up just to make sure 100% that I had everything setup correctly.
Here's the link on the skimmer, the setup guide and general guidelines for adjustments that Deltec has for it:
http://www.theaquariumsolution.com/f...C500%20(2).pdf
Also got my ATO water storage container today. It holds 5 gallons and fits nicely on the shelf in the stand of the tank. When the Tunze osmolator gets here tomorrow I'll be able to drill the correct sized hole to run the cable for the pump and the hose through. It's pretty nice, it isn't heavy but is made of UV stabilized polyetheline. Should work out well.
Wanted to update the thread with some new additions:
Diamond Goby, out and about and in his den(as best a shot as I could get)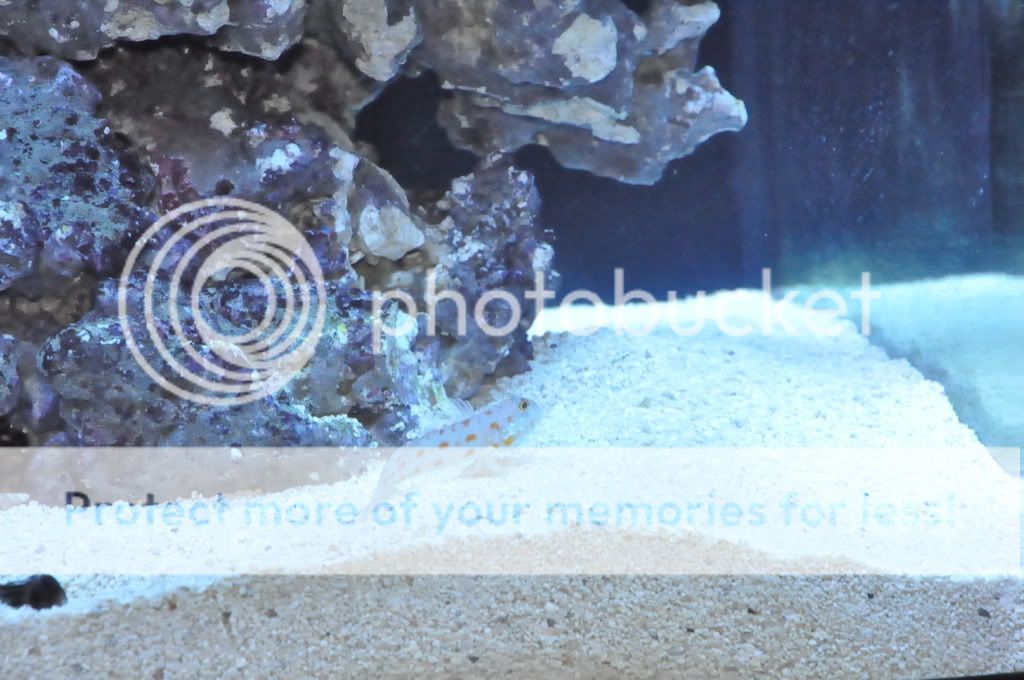 Peeking over his hilltop he constructed
And in his den- sorry couldnt really get him focused in
Randalls pistol shrimp who has gone into hiding somewhere, I'm hoping he and the goby find each other
2 fire shrimp and 2 cleaners
Posting Rules

You may not post new threads

You may not post replies

You may not post attachments

You may not edit your posts

---

HTML code is Off

---