View Poll Results

: A Goby or Sexy shrimp?!?

Goby
9
52.94%
Sexy shrimp
8
47.06%
Voters: 17. You may not vote on this poll
Alright We got some pics today of the inner workings like the filter and overflow, and a new FTS now that its cleared up a bit. i still need to get some windex to clean the front glass: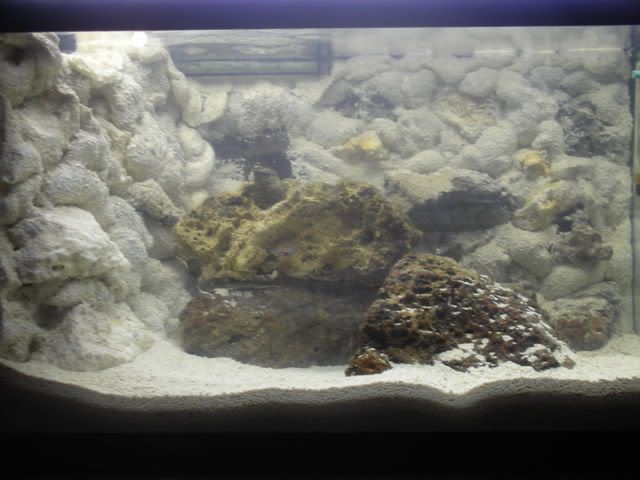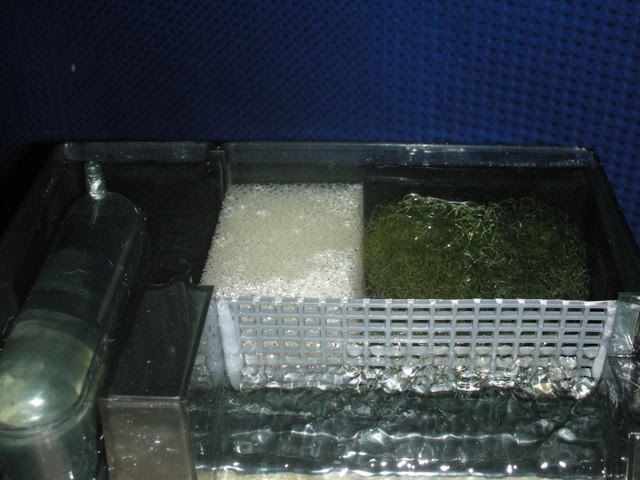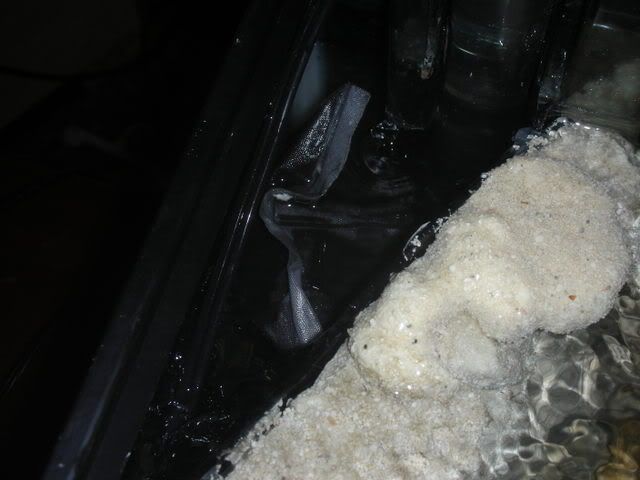 I need more LR rubble in my overflow:
I decided to put in the corals since I had half already used water, I told myself id keep an eye out for anything bad thats happeneing and I havent seen anything so I think there fine. I also added the 80 watt pc with one 6,700k/10,000k bulb and one 420nm/460nm bulb. Then I put in Mr. Krabs my porcelain crab and my scarlet hermit. Heres a new FTS: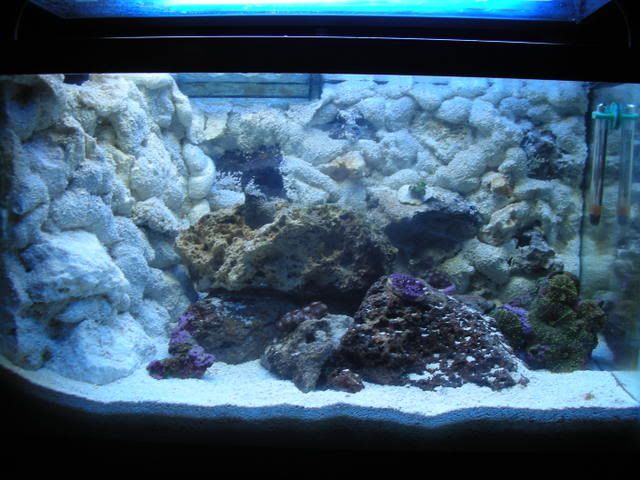 You can see my GSP in there hasnt opened, thats because for some reason on its frag plug there was a single zoanthid polyp pushing its way up and making everything close, i cut that out today and put it on a little piece of rock, we'll have to see what color it is.
Theres a couple new polyps on this rock since I got it.
Those are my newly fragged Radioactive Dragon eyes, they came on a frag plug and I couldnt find a place to put them, so I put them on a piece of rubble and then attached that on an overhanging shelf thing. when it fills out it should look good.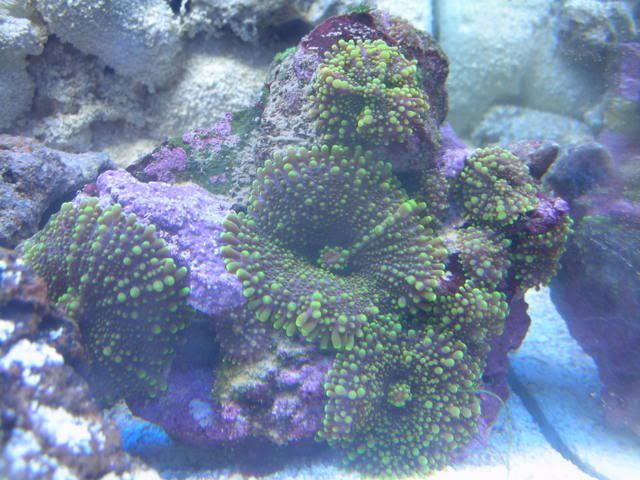 And finally those are the rics. notice how much bigger they got since the previous pic
Thanks for looking, I have to leave tomorrow and I wont be back until sunday, then im leaving again on the next wensday so there wont be any updates for awhile but stay tuned!
+1. The wall will look really cool once coralline is established.

New light is much better too! Oh, and let me know when you want to send me over a frag of your rics or zoas. :)
Yay, today i woke up to find my scarlet hermit in his new shell i laid out for him, instead of that old green and purple incrusted piece of crap hes got a nice tan and white new house. Also my GSP's are open today!! while im gone my mom has to Top things off so lets hope she can do that daily or else this thread will be history
Did you guys think i forgot about you?!??!?! OF COURSE I DIDNT! ive just been skimping on pictures lately.
Everything is great and smoothely running, ive got an amazing amount of pods and the chaeto is helping keep the nitrates at zero. Sadly this might be the last picture post before this thread falls into the oblivion that is pages 2 3 or even 4!! ive decided my little 10g is filling up so fast, its time to upgrade to a 30g long!! stay tuned for a diary of that, but back to the recent pick ups and pics of growth!
FTS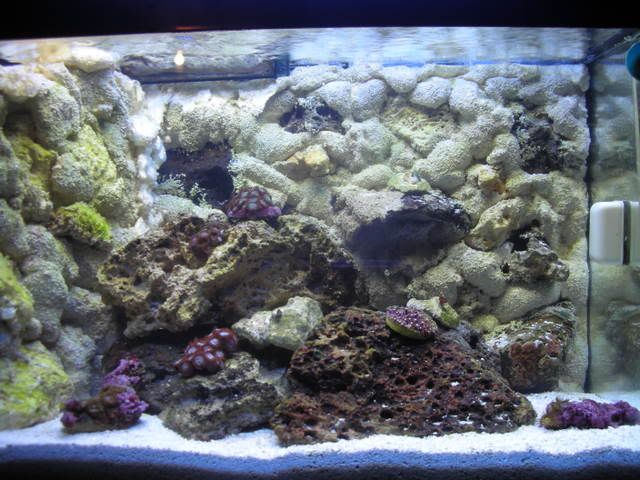 Great new 3 polyps on this thing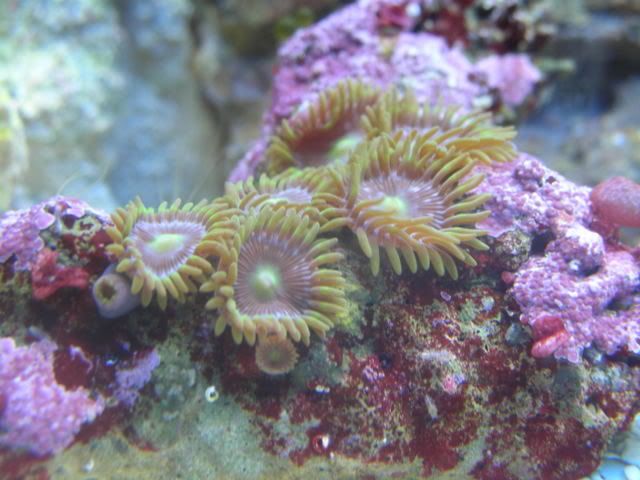 all the small polyps you saw on the last pic are now grown up on this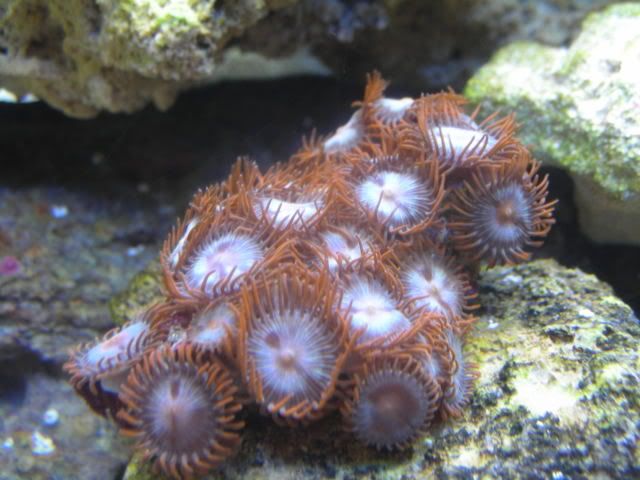 GSP is opening FINALLY
some little yellow polyps i got from a friend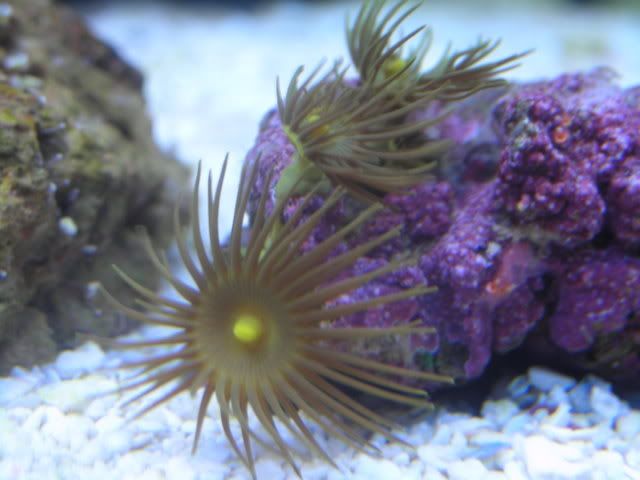 growth on the hulks (i think thats what they are)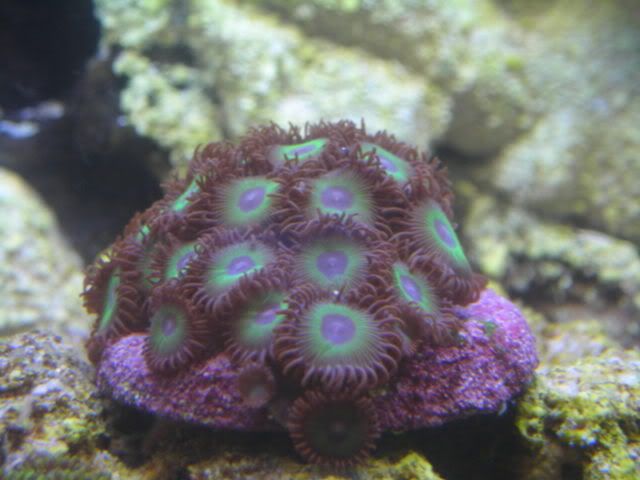 And finally a new acquisition that i absoloutely LOVE
5 dollars for a small kenya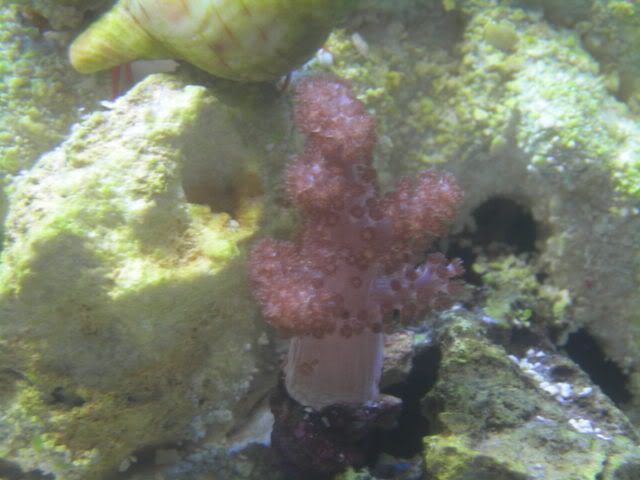 10 bucks for some BIG shrooms (theres are bright red and 3 inches across!)
Post while you can this might disappear quickly, and look out for my 30g SW in a month or two!
Hey, I posted a minute after you! :)

Dude, send me over some corals NOW. I will be waiting for them tommorow. Just let me know how much shipping is. That will take care of your coral problem. Lol :P Where in the world are you getting such good deals on corals?

Looks amazing. I love that rock wall.

Oh, your gonig to upgrade too? I'm hoping to get a 24G Nano-Cube for Christmas (of course, with a 150W MH light), so I'm stuck with my 10 for another 5 months!

Good luck with the new tank. Cant wait to see its progress.
lol i just hold out and search my local forums, i got those 2 new corals for a local fragswap, shouldve gotten some frogspawn that was 10 bucks a head but im saving for the new tank.
Sadly, my mother has told me that i can only have 1 SW display running at one time... This means ill have to sell the 10g with rock wall to a friend or something because [A] the parents say so and [B] It should help get the overflow and return pump so i can start the new SW. Hope this doesnt make anyone mad but i also found a 2X96 watt PC fixture for it for only 30 bucks from a friend XD!!! Anyways I hope im not jumping the gun but might as well give everybody a sneak peak on whats happnening in the build, once i get the S.O.S. from marineland and a quiet one 3000 pump then ill be ready to start filling!
CPR needs a good cleaning:
Sorry my sump water is kinda dirty, i filled it up a bit and then it had a leak in a wall, and i couldnt get it back out so i used one of those shamwows, but i had used it for other projects so it was a little dirty and i just dumped the water back in there XD
Its a 30g long (36 inches by 12 inches) with a 10g sump that barely fits in there
Posting Rules

You may not post new threads

You may not post replies

You may not post attachments

You may not edit your posts

---

HTML code is Off

---