View Poll Results

: A Goby or Sexy shrimp?!?

Goby
9
52.94%
Sexy shrimp
8
47.06%
Voters: 17. You may not vote on this poll
I love the Orange/Yellow Zoas! Want to frag me some? :)
The Porcleain looks like he has very pretty coloring. My LFS has some gorgeous marble/white ones, but they probably cost a ton.
All of the other corals are lovely too. Very nice finds!
oh i wouldnt be so sure about that porcelain crab and its price, mine is really neat and was only 10 dollars 8)
Sorry for such delay on the lights and skimmer, the lights got lost in the mail but we did get a new one ordered and i have it ACTUALLY in my possession right now. im at my dads so no camera or tanks but tuesday or wensday night be ready for a nice update. the skimmer was out of stock but there selling one at the aquairum in old town which i plan on picking up. im also moving the tank away from my bed because what its on now doesnt allow me to see a side view of the tank and things get a little loud, when i move my corals i plan on filling a cooler full of my tank water and putting them in there, then draining 6 gallons out of the tank and picking up the tank and 4 gallons (thats 50 lbs right?) and putting it where it needs to go. since it will be moved and have a new light fixture i want to frag one of my ricordea thats on the back of the rock so ill either take some pics or a video of the process. stay tuned and dont loose hope!
a frag rack is any shelf type place were you can put your fragged corals. i use a bit of eggcrate glued to my mag float. UPDATES someday? my xenia died over the weekend i was gone and made things go haywire, nasty diatoms everywhere and i got a big scratch on the front glass of my tank
. so im starting a new 10 gallon, its going to have a rock back wall and some upgraded items. rather then the 54 watt diy hood ill have the 80 watter, and instead of an ac 30 i bought an ac 70. i should have half the rock wall done by today so i think there will be water in it by next week? dont hold your breath but check by now and again.
Dont count out that Xenia just yet. Xenia has a way of poppping up in places when you least expect it. As it Dies off the heads drift around the tank and can eventually take up residence elsewhere and grow into new colonies. Xenia often does better in poor water conditions.
---
Take pride in what you do, for it is a reflection of who you are.
The Haunting Grounds
-
SKAustin's Reef Diary - Part 2 (the 75g upgrade)
lol, THAT says something about my friends tank! it was half dead when i gave it to him because hes got 10 stalks that are thriving. i figure when i get the new 10 maybe it will be one of those tanks where it lives so im just going to try again.
Alright it may sound crazy but since the death of my xenia and the resulting algae bloom, AAND the big scratch i put on the front glass i just said forget it ill make a new one! here it is: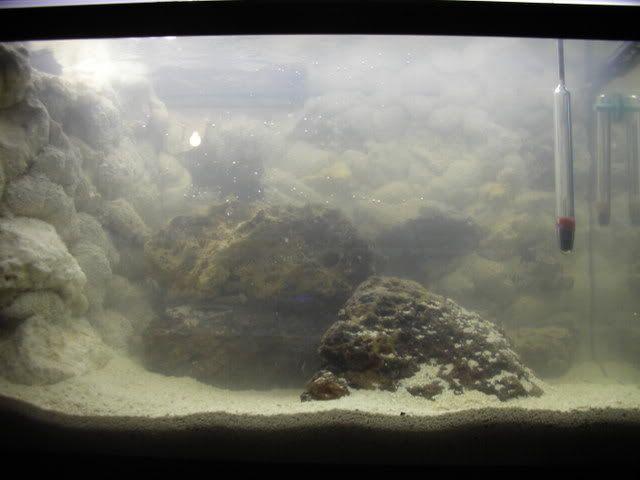 Its pretty cloudy from setting it up at like 2 o clock today but have faith everyone. Right now im using the old lighting but when I finish setting up and move corals over ill use the new lighting. its got the AC 70 on it and i made a back rock wall using Joes DIY version. Its eggcrate with rocks siliconed to it, then I sprayed foam inbetween that. After that i found some marine 2 part epoxy made for saltwater environments and coated the fake rock with it, and sprinkled on aragonite. I used the leftover as a substrate and I like it. The left side is an overflow because i like to see my evap. and i can have a place for an ATO system. For filters all i have right now is some LR rubble in the overflow and some chaeto in the AC 70. Ill give an update tomorrow when thing clear up, and another after the cycle is done (shouldnt take too long, I used 50% water from the old tank and cycled live rock, then i used stress zyme too). As it turns out this thread is NOT dead ;p .
Posting Rules

You may not post new threads

You may not post replies

You may not post attachments

You may not edit your posts

---

HTML code is Off

---