View Poll Results

: A Goby or Sexy shrimp?!?

Goby
9
52.94%
Sexy shrimp
8
47.06%
Voters: 17. You may not vote on this poll
ahhh right,thanks for letting me know. :)
Ok we got a little update on the salt today, still just kind of letting things do what they need to do but i did pickup some LR rubble and a bit of coral and some chaeto today. i had to battle with some cynobacteria a couple days ago but its pretty well gone. the coral i got was only 20 bucks because its only 7 little polyps of some green and red zoos. i really liked that they came on a chunk of tonga branch with good coraline all over it. I saw some life today too, because i looked hard and saw 2 small bristel worms following each other! they were only like half an inch but hey life is life
New FTS:
you can see all 7 polyps if you look hard (sucky camera):
I hope to get my flash back working then i can grab a shot of my overflow with the LR rubble and heater and cheato. i also want to get a shot of my HOB refugium its got some chaeto and LR rubble in it too.
Dont worry its not as long as you think. anyways on that rock ive got aptasia i think, i cant get a good pic but its there. im a natural kind of guy so i think ill just get the shrimp and they might eat it. i also want a pom pom crab there so neat!!
Your nano reef is very cool too. I found Cody's first, but I also really like yours. Someday I hope to have my own saltwater. Thanks for sharing!
---
"One fish, two fish....red fish, blue fish."
Alright since tuesday was my b-day i got 4 margarita snails to work on the diatoms in my sand and on rocks and i also got this really neat porcelain crab that i named Mr. Krabs. my dad ordered me an 80 pc light fixture and a 250 gph skimmer rated for 20 gallons so i will go to his house and pick those up this weekend. i hope to get some pics of my new inverts tomorrow!
Nice! Sounds like a good b-day. Mine was too. :)

Can't wait to see how it looks.
Alright here it goes, i just snapped some pics, Mr. Krabs was hiding from me so ill catch one of him later, but for now i got some bristle worms, my margarita snails and a new polyp on the zoos.
1 of the 4 margaritas: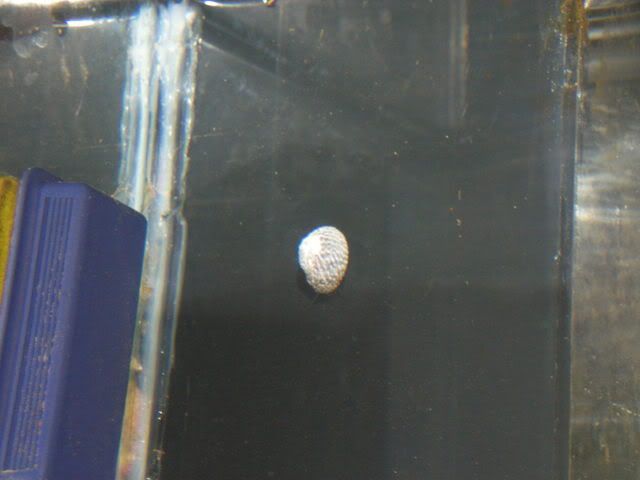 My hitchiker mushroom is doing good: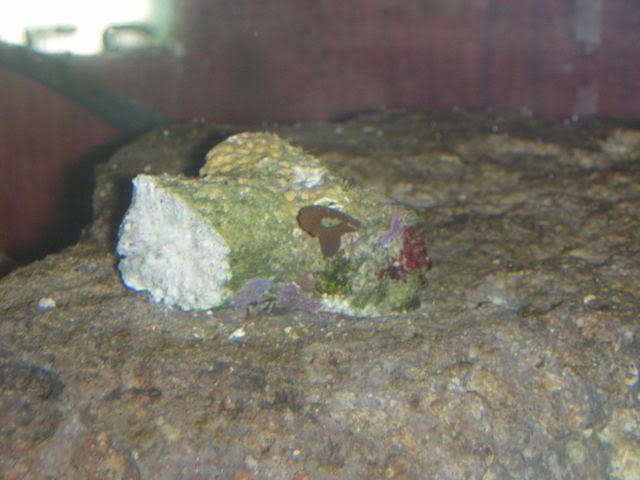 Heres a little bristleworm saying hellooo: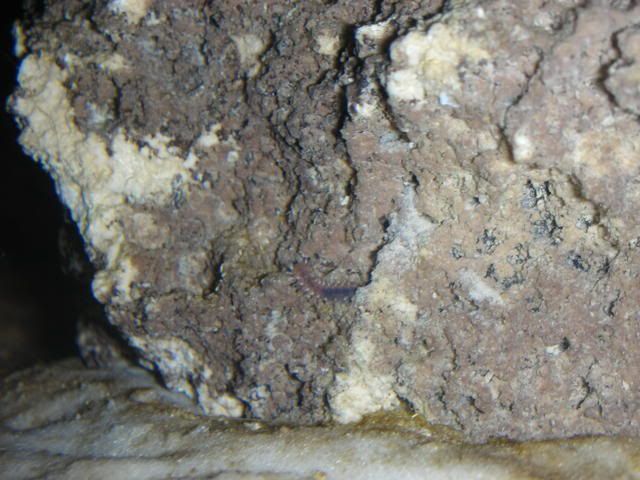 My HOB chaeto factory that needs its own light: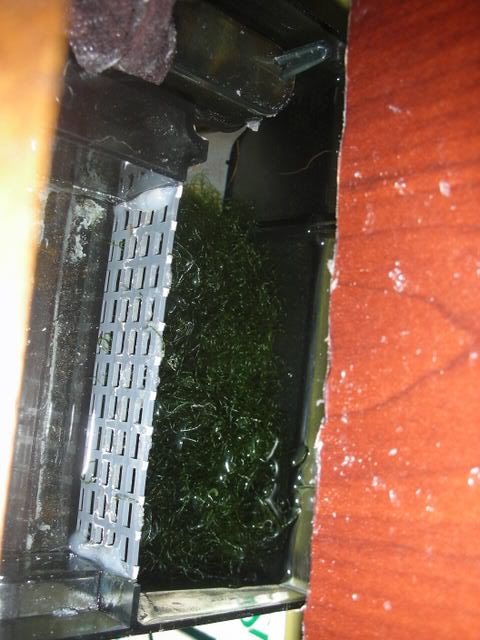 look right in the middle of the pic, see the new little polyp??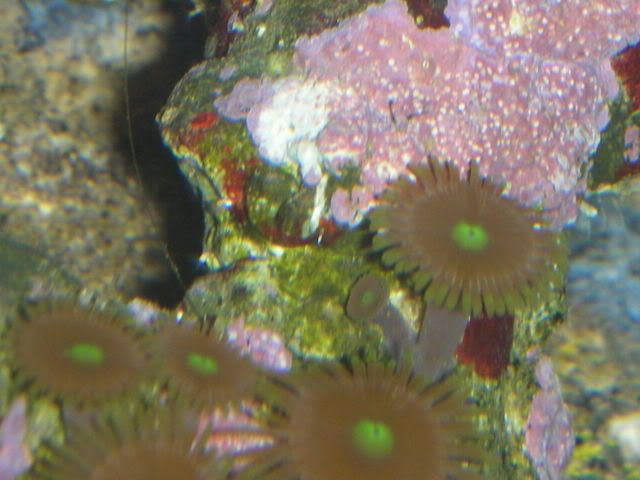 I hope to get a shot of Mr. Krabs when he gets out of his hidey hole, its really neat to see him do his little dance.
Finally an update!
well my cycles been done for a bit and the diatoms are going away thanks to my margarita crew. I did have a little trouble with the lights recently, they sat right on the tank and heated things up to nearly 86 today :mad: . i got them up on stilts and a pc fan underneath them until i get the new lights and the temp is slowly climbing back to normal. tomorrow ill do a cool water change and see how things go. In other news i picked up some nice corals for a great price from a local reefer. heres some pics:
This is my crab, not a full shot because hes shy but its the best i can get at the angle he gives me: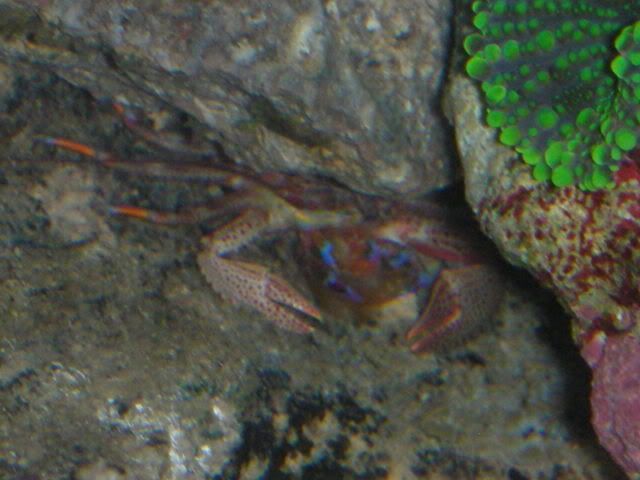 this was 10$ and i counted 23 polyps:D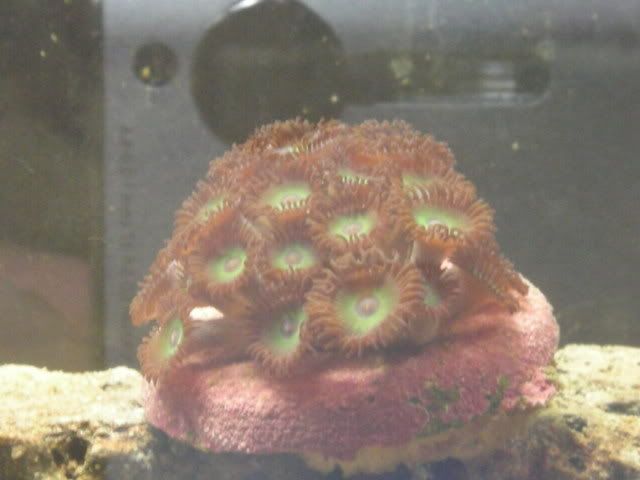 another 10$ piece with 17 polyps: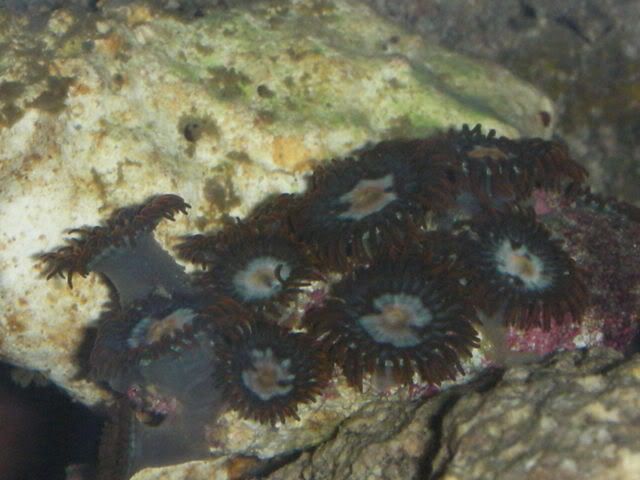 heres my xenia, he didnt like the hot water so much so hes not really open that much at the time: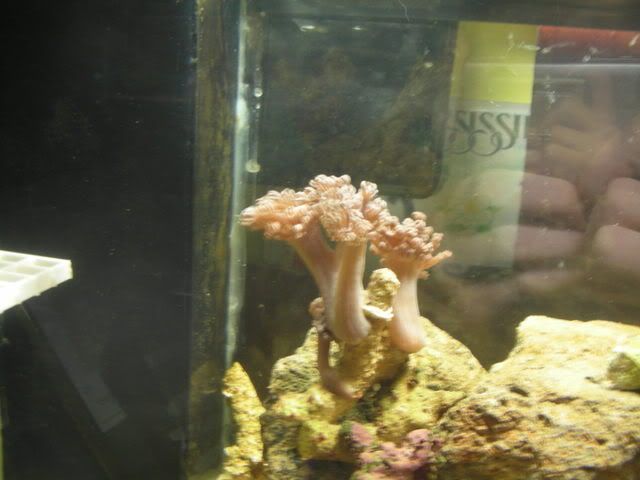 The next couple are my ric rock, 35$ and it seems to have around 16 polyps on it: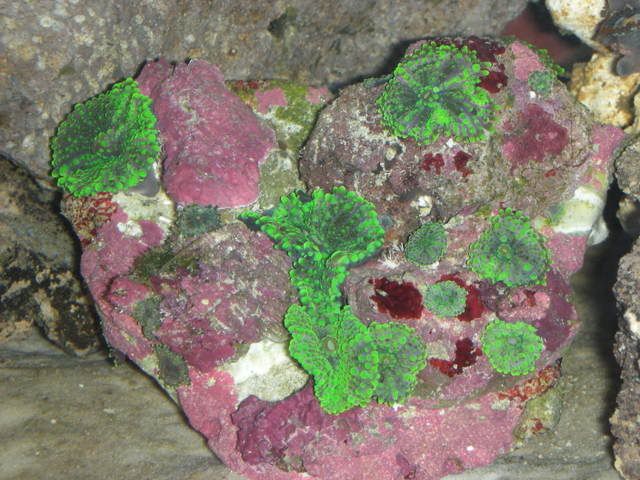 I could take pictures of this all day: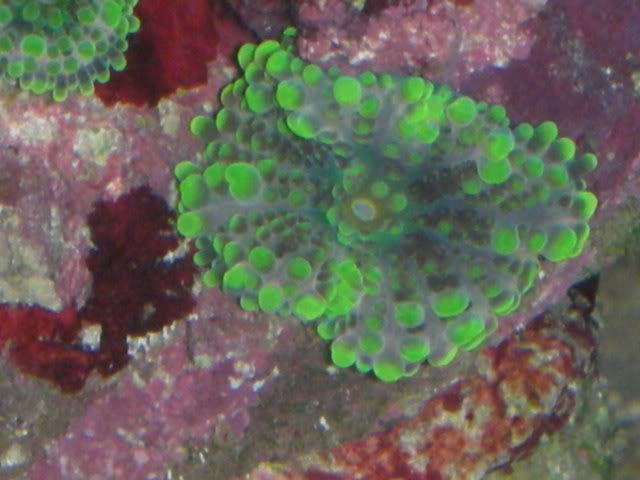 this gives you an idea on how theres alot but most are pretty small:
heres my frag rack for when i frag one of those ricordea polyps:
Looks really good! These nano reef threads are really getting me interested in doing my own.
Posting Rules

You may not post new threads

You may not post replies

You may not post attachments

You may not edit your posts

---

HTML code is Off

---