View Poll Results

: A Goby or Sexy shrimp?!?

Goby
9
52.94%
Sexy shrimp
8
47.06%
Voters: 17. You may not vote on this poll
10 gallon nano diary (picture heavy)
---
Well i wouldnt say that i got bored of freshwater, it just got un-challenging. So i decided id try out my first saltwater, a 10 gallon, and see how things go. Keep in mind i dont have a job and therefore arent willing to pay 100 dollars for lighting so alot of this stuff is DIY (100 dollars or free? you be the judge). It should be a little slow because of revenue but i hope you stay tuned. As of now all i have is a 10 gallon with a small overflow (for lr rubble), a 50 watt heater, an AC 30 fuge (for lr rubble, crushed coral and chaeto), a glass top, and a DIY compact flourescent hood giving me 54 watts. For substrate ive got some plain white ocean sand. I plan on a reef with maybe 1 goby, but more likely just a heard of sexy shrimp and snails.
I heard tap water wasnt good, but i couldnt get RO, so i just used distilled:
Heres my AC fuge:
Heres my little overflow (i made a line at where i want to keep the water):
Heres my DIY hood, one of my ballasts super glue came unhinged so its just sitting there, i hope to maybe make a better more powerful one soon but this should do for now: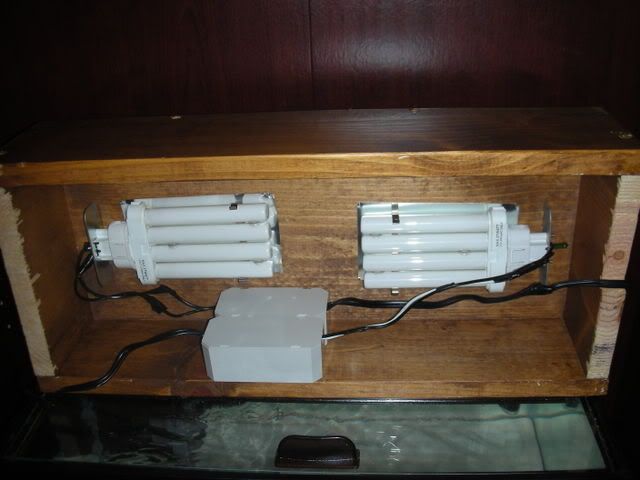 And heres a little FTS:
I hope you stick around to see how this turns out.
You beat me!
19 days left for me...
Looks great so far. Can't wait to see what you will do with it later on down the road.
Hmm, sexies or fish. 5 Sexies would look cool, but so would a lot of other things. I do think it would look best with 5 Sexies, 2 Pom-Pom crabs, a Porcleain crabs, and the CUC. Plus the addition of the softies would make it look great.
i swear i didnt know :D . anyways im amped for yours, are you sure you couldnt start a wee bit sooner??
Eh, I could. Still have to convert my AC110 into a fuge and make a DIY stand and canopy. I am starting on that next friday/saturday when my dad gets home. Then I got to paint it, and get the water/rock/salt. He said he will buy all of that for my birthday in May since I payed for everything else. But I still need a few more things (fuge light, extra heater and powerhead, 5G buckets, etc). I am going to sell my PS2 and a bunch of other stuff for like $150-185 soon for extra cash.

You know someone looking for a PS2? :P
I hear ya, i have to sell my old gamecube and some fish stuff so i can get some 5 gallon buckets, corals and a new hydrometer and junk. it should be worth it though. my birthday is the 27th so hopefull by then things will be cycled and ready for some corals.
alright today i went down to sea dreams and got 10.56789 whatever pounds of LR, it only cost me 34 dollars! anyways i washed them off a bit and threw them in the tank, i might re-scape later but it looks pretty cool right now!
Heres before i washed:
and heres the new FTS:
hi
i like the way the rocks are,i think it looks good.
i'm not a salt water person,but can i ask this,.............
if it's live rock how come it's dry ?
they just take it out of the water and let it dry, its just cheaper because it takes about a month for all the old stuff to die off, and then you seed it with cured rock so new stuff to start moving in. cured is 9 dollars a pound and this stuff was 3 so when i need to seed ill just get a couple pounds of cured tonga.
Posting Rules

You may not post new threads

You may not post replies

You may not post attachments

You may not edit your posts

---

HTML code is Off

---