Hello everyone;
i'm new to this forum and thought this would be a good place to ask questions. I have to apologize in advance for any stupid questons - i have a couple of fish where i'm clueless to what they actually are I have a 45gal tank right now with the following fish:
1. Blue Tang
2. yellow tang
3. clown fish x2
4. damsel x2
5. eibli angel fish
6. unknown fish - see picture below
I have had the tank set up for about 2 years now and was looking for some advice on adding coral - i have grown tired of the fish + liverock look and perhaps i'm ready to try coral now. i have no clue in terms of what is required, so i thought i'd ask here to see what kind of things i should start investigating. For example: the fish i have - are they coral safe or are there certain ones i should avoid? What type of light should i investigate for this if i do it? and so on. All the fish were purchased very small and have no grown and the tank is over crowded. i will most likely be transferring some to my brothers tank which has just finished cycling if i go coral. in the meantime, i have been feeding quite heavily to keep them "happy" and not aggressive and over cleaning on a weekly basis (vacuum, wall clean, empty skimmer, bi-monthly rinse/change for various sections of eheim filter system). not really a long term solution i admit...
I don't know if it matters but i am in Canada and purchase my supplies from Big Al's.
here is a picture of the tank - the fish i do not know the species of is the white one that fades to black with the yellow beak and tail.
any advice, tips, articles would be greatly appreciated. i am finding the information available on the net overwhelming and would like to look at the system step by step and take everything into account before i make a decision.
Thank you.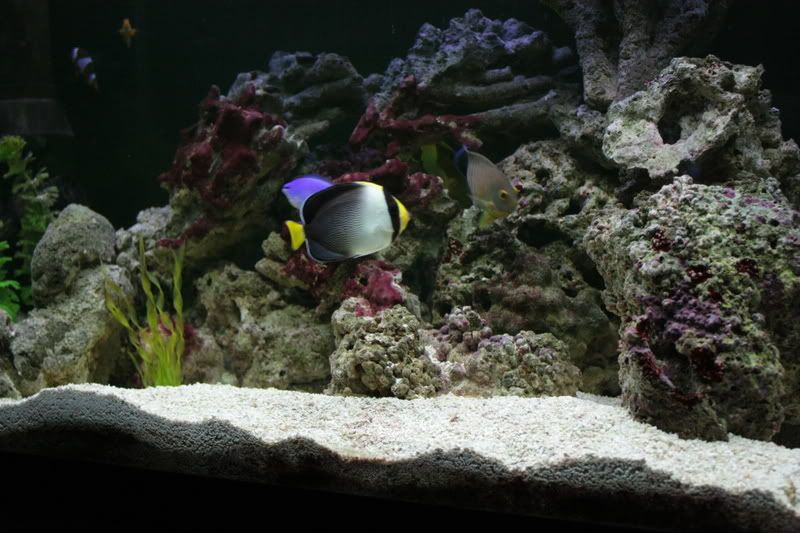 this is unnecessary - but my favourite picture: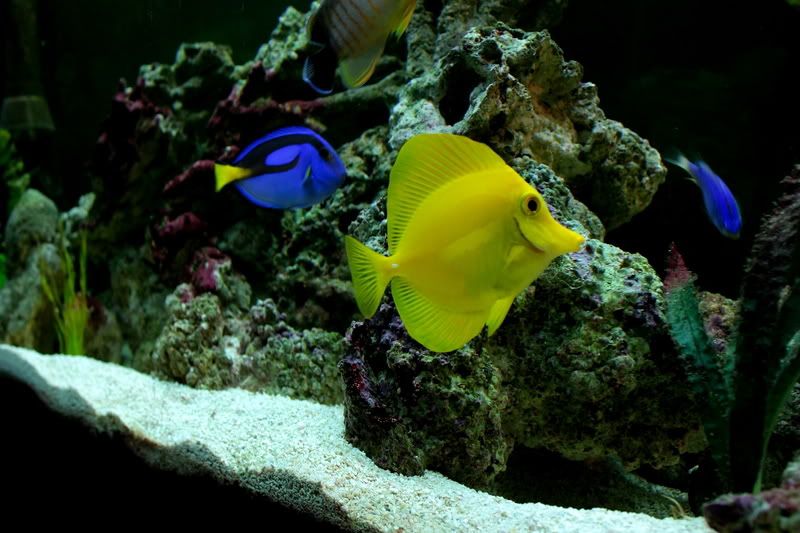 Just realized this might not be the appropriate section for this - sorry!