need ID
---
sorry about the pic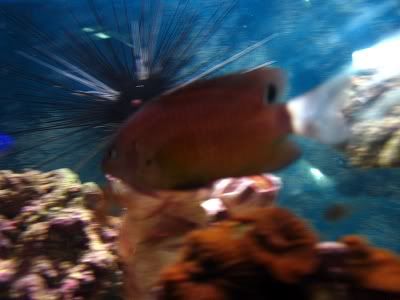 ---
save on gas........ride the handicapped
Nice fish :D
looks like a dwarf angel, and it looks to be like a coral beauty angel. But not 100%
are salt-water angels different from FW angels? cuz that looks nothing like a FW angel...
here is a good site for comparing pics from the angel family...good luck!

bri
I was using
www.liveaquaria.com
Angels are different because of the regions they are found in, they are built for their soundings. FW angels shape makes them harder for them to handle fast water conditions but marine are water dynamic and are designed to handle the stress of water movement.
That is not a coral beauty angel. I'm 99.9% sure that it's not a coral beauty angel. I'm almost sure that it's not even in the angel family. To me it looks like a damsel or a type of chromis the back fin seems to come to two points instead of one round fin which is common in the Angel family. I would need a better pic to tell. :D
Posting Rules

You may not post new threads

You may not post replies

You may not post attachments

You may not edit your posts

---

HTML code is Off

---