current usa sunpaq bulbs
---
I think that one of my compact flourecent bulbs on my light fixture is screwed up. I have a current usa duel sattalite fixture with two 65 watt pc bulbs. Each bulb has two different like spectrun in it. One bulb is a 10k/65k and the other is a 420/460nm actanic. The actanic one is the one that is worring me. It seems to me that the purple side(460nm) has worn out or something. When i first got the fixture i could cleary see that one side was purple and the other was blue. But i think the purple side is not working anymore. This makes be very nervious about putting any corals in the tank cause i dident think i had enuff light even with a fully functional fixture. Heres a little diagram of what the bulb is sposed to look like.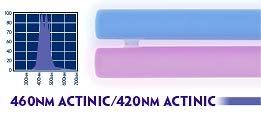 So have any of you guys heard about these bulbs failing? Is it even possible for one side to dim and the other remain bright?
Heres a pic The inside one is sposed to be purple but as you can see its not. Is it possible the colors blended?
P.S. I already tested the balasts and there not the cause.
My guess is that it has "burned in" finally. All of my purple bulbs turn blue after about 3 months.
Similar Threads
Thread
Thread Starter
Forum
Replies
Last Post
Too much current??

Austin

Freshwater Aquarium Equipment

5

02-06-2010

01:24 AM

too much current

foureyed_dragon

Beginner Freshwater Aquarium

9

03-27-2008

05:02 PM
Posting Rules

You may not post new threads

You may not post replies

You may not post attachments

You may not edit your posts

---

HTML code is Off

---