Shiro Utsuri
---
Hey All,

I just picked up a great Koi. Shiro Utsuri! I actually just feel in love with the Shiro Utsuri variety very recently. This particular fish is a tosai (one year) and will not reach it's full potential and finish CHANGING until 3 to 5 years of age.

I am looking forward to watching the changes over time to better understand this wonderful fish. If there is interest I will post photos of the fish's progression. I hope she is female as the female koi reach jumbo status and the goal is to have her with a balanced checker board pattern. Sumi (black) touching the nose, big patch of pure Shiro (white) in the shoulder and montoguro which is a black spot at the base of the pectoral fins.

I will work on posting a picture later!

Yeah, I'm a little geeked about her. Happy New Year!

The Pond Digger
I saw a picture of that fish in TFH's story on the Japanese Koi Extravaganza. A real knockout!!!! I also liked the new one that is colored a pearl metallic and black. WOW!!!!

Just a note here to some readers. Many fish are bred and purchased because of how they look from the horizontal view. The Japanese breed koi and other goldfish to be viewed from the vertical. The reason is that these are watched from above while they are swimming in Japanese water gardens. As Eric can attest, some of these fish are truly works of art in nature. Much labor, love, and dedication has gone into the developement of these breeds.
fish
---
test
i really like Koi,beautiful fish,
i would like to see the progress,if you wish to post it. :)
You can count on it! :D

The Pond Digger
Another Shiro Utsuri
---
I went and added another Shiro Utsuri to the family. Have a look! It has a gnarly split fin but I will keep her in a warm quarantine system to speed along the healing process.
The Pond Digger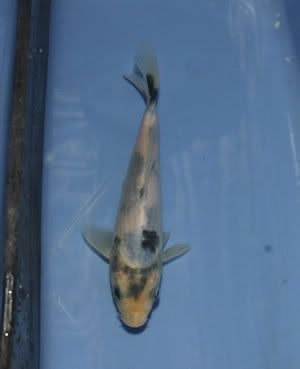 Yet Another Shiro Utsuri
---
Here is yet another Shiro Utsuri that I have added to the family. It is not a text book selection show koi but it is very different than the other two Shiros I picked up. This will allow me very diverse trio of Shrio's to watch develop over the next several years!
I am curious as to the groups opinon of the three fish. Which one do you like the best? Which one(s) to you think will be a female? Which one to you think will turn out the closest to a text book Shiro Utsuri?
I'm thrilled!
The Pond Digger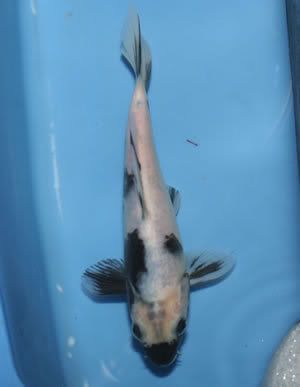 hi
i like the first one and the last one.
as to which is female i shall just say the first one
feels to me that it's a girl.
My Selections
---
Thanks for your feedback. I'm hoping for more. Feedback that is. Actually at the very last second, I picked the first fish over a pile of others because I was convinced (gut feeling) that she would bless my pond with a female gene! :D
The Second fish I picked was completely opposite of my first selection. The sumi (black) on my second selection is suppressed and is waiting to surface, while my first pick is covered with sumi.
The third selection was totally based on the fact that it is cute as a button. Yeah, I am softy but I can be macho so don't start talking behind my back!
The goal is to grow out a large female Shiro with a checker board pattern, montoguro (black circles in the pectoral fins) with a heavy sparkling white (shiro) on the sholder with a sexy black design in the face among other things. But you get the picture! Wish me luck!
I will look forward to everyones feedback.
The Pond Digger
Posting Rules

You may not post new threads

You may not post replies

You may not post attachments

You may not edit your posts

---

HTML code is Off

---