Here are some pics:
(I apologize for some being so large - will try to figure out how to resize them)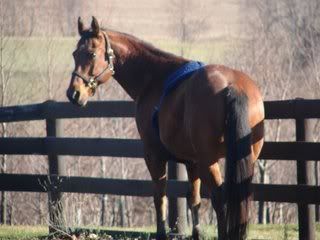 Gulliver in the ring shortly before a training sesh. He was previously pretty badly abused but he's coming around.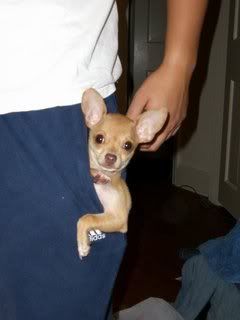 Addy "Adderal" - the chihuahua in my roomie's pocket lol. She and the horse actually adore each other. She follows Gully
everywhere
and he's very careful not to hurt her.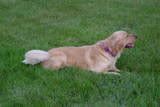 Madelyn - 5 year old golden retriever. She's a love and frequently "adopts" rescued kittens and pups until they find new homes. The horse is terrified of her. All she wants to do is play tug with him.. haha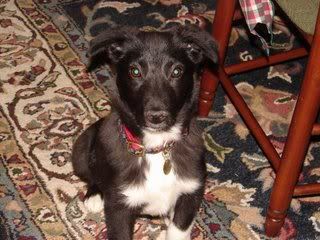 Delilah - the latest rescue pup. I drove all the way up to OH to get her - they were 15 hrs away from putting her down. :(.
Everyone has beautiful animals.
Well I have had many animals in the past including this little guy. He was the first calf that I bottle fed. I have had about four more in the past year since him. I have a new one now but no pics.
Little Man
Here are a few that I have now. I have 11 cats, 3 dogs, a rabbit, and a bird, plus of course my fish.
Kujo
His sister Cricket
Miss Prego Fuzzball (My son named her!)
Her sister and possibly preggo too! Smokey
My Husky Kodai
Trixie - my fiance's 14 year old rescue German Shepard mix
Sampson - our German Shepard pup
Ash - my son's mini-lop
Like I said, I have a lot more animals than these. But these are the pics I have right now. My new calf, Gravy, is a real light grey color. He is very pretty
currently 2 dogs that are mutts
Alice from an animal shelter, huskyish and epileptic, at times she is so lazy i use her as a pillow but she can kill and eat wild rabbits
Nicky my dad found, pomeranianish, he needs loafs of attention and food and barks at the slightest disturbance
and a big fat floppy eared tan wabbit

used to have 2 other rabbits, 3 guinea pigs that had babies which went to friends, and gerbils

i always used to be fascinated by the fish as a kid when we got pet food and my parents had no interest at all so one day i asked if i could start an aquariumand they said if you maintain it, then we dont mind... that night i bought my 20 gallon and loved it ever since
Besides my fish I have....
Zoey my 3 year old flat-coated retriever that I show in agility and Rally-o
T.j my 6 year old English setter, who hunts and goes to nursing homes
The ducks (mallord almost 1)
And the cats
Keshaw
Kasey
and Kendy
[/list][/url]
Quote:
Originally Posted by Flatcoatluver
Besides my fish I have....
Zoey my 3 year old flat-coated retriever that I show in agility and Rally-o

T.j my 6 year old English setter, who hunts and goes to nursing homes

Thats so weird! I had never seen or heard of an English setter till last Saturday when I went to the petstore. I did agility with my x-large Labrador, but arthritis got too bad. I did one rally practice with my trainers queenslandXdoberman, and hopefully I can countinue with another persons pitbull :D I love it!
Very cool. I do coemptive agility and just started showing in rally-o both are very addictive doggie sports! I had to put Zoey on glucosomene today because she is getting sore after agility practises hopefully that will help.
This thread is really dipressing
the bird got away, the kitten died, i stopped there :(
me and my family have owned lot sof different animals since i've been alive...
but the ones we currently own are...
like 8 horses
5 dogs
?? number of cats (barn cats, one house cat wich is my sisters)
bearded dragon
two parakeets (boy and girl, getting old enough to have an egg, lets hope so!)
4 chickens (mine, 1 rooster, 2 big brown ones, one white fluffy one)
Fish, and related animals:
guppies
miniature bass (ask in pm if you are owndering "WTF?")
young bluegill babies (temporary tank fish, moving to pond when done)
ghost shrimp
2 freshwater flam clams
1 large mussel
pond snails
ramhorn snails (workin on my own strain, with blue and red in the middle of there shell!)
periwinkle snails (i believe that is what they are)
young crawdad (i'd say over 7 months old, i got him with some plants from a pond when he was only a day or so old, very small)
i think thats it..
oh yeah! miniature donkeys, can't forget them.
R.I.P. -- recent deaths
hermit crab
4 chickens (in one day, all from new castle disease, wich the others don't have now thank god)
a few guppies (some type of white fungus that came after i redid there tank, it's gone now thanks to salt)
newly arrived clam (i didn't treat him good enough before putting him into a tank, he was wild caught)
baby ramhorn snail died in my pond environment tank, have no clue why [yeah i even whatch for the tinyest of deaths])
i think thats all of the recent deaths. the chicken thing was probably the most depressing, 2 of them died in my arms
:(
Aww thats so sad about the chickens! I love mini donkeys, I was helping load one onto a trailer, and it bucked straight up and nearly hit my face. Never stood behind him again lol. We just have the zonkey now :D
i have 2 dogs back home (im at college)
a 3.5 year old St. Bernard named Lucy. and a 14 year old cocker spaniel named Sherlock.
we arr currently looking for a stud so we can breed lucy. then i will get another puppy! he will be named Griffey... after the best baseball player in Seattle history: Ken Griffey Jr.
---
women want me, fish fear me
here are a couple other pics that i meant to add to that....
LUCY!
she is my teddy bear.... and thinks she is the size of the cocker! this is her trying to sit on my girlfriends lap....
so she has never been allowed on my bed. and we brought her over for a couple weeks to stay with me at college.... and i go to work one day and come home and she has taken over my queen size bed!my girlfriend thought it was hilarious... i was not amused lol
Sherlock!
---
women want me, fish fear me
Similar Threads
Thread
Thread Starter
Forum
Replies
Last Post
Pets

Kaisa

Off Topic Discussions

18

05-07-2010

12:28 PM

My pets!!

fishyinpa

Other Pets

11

03-24-2009

08:35 PM

Other pets =D

Guppy Girl

Other Pets

10

01-08-2009

06:32 PM

Other Pets

dprUsh83

Off Topic Discussions

18

09-27-2006

12:48 PM
Posting Rules

You may not post new threads

You may not post replies

You may not post attachments

You may not edit your posts

---

HTML code is Off

---