Our Zebra Finch eggs hatched.
---
Hi there people, hope somebody out there has experience with breeding zebra finches? Our pair of zebra finches laid eggs about 2 1/2 weeks ago and the eggs started hatching today. Is there anything we should do extra?? Or just keep the parents on a good diet and let them take care of the babys. This is the first time.
Thanks for any help.
the parents will feed them well just be sure they have lots of water and food i have 2 baby zebra finches that are 3 weeks old they do grow fast
december 15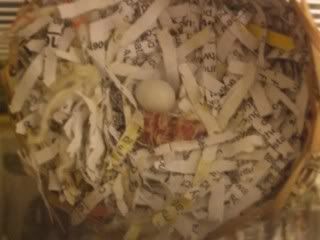 january 3rd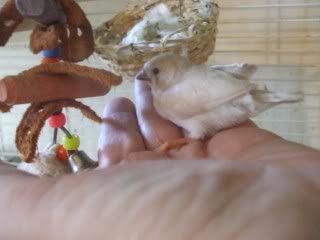 Awesome! Congrats to both of you and your new baby finchs.
---
Animal testing is a terrible idea; they get all nervous and give the wrong answers.
con grates,it can be a wonderful thing nature.
hope yours look after the chicks better than mine did.
---
when you set up a new tank,hide an extra
sponge or two behind some decor,that way you have
something seeded for you next filter.
Me and my wife are very sad to say both babys died???? We thought the parents where taking good care of there young....but woke up this morning and herd no cherping coming from the nest and both finches where out of the nest for a long time???? So I checked the nest and the babys where dead?? We have been feeding them daily and everything looked good!! What happened??? :(
sorry to hear this,perhaps yours are a young pair and inexperienced ?
mine did that with a clutch,and a couple they actually threw out the nest,
search the internet for a finch forum,someone will be able to offer a suggestion
i would hope.
---
when you set up a new tank,hide an extra
sponge or two behind some decor,that way you have
something seeded for you next filter.
I know nothing of baby birds but normally the parents feed their babies in a special way depending on the species. Eg some will eat and regurgitate the food and feed the babies. Robins collect bugs and worms and basically shove it down their throats.... Do you know or did you see the parents feeding the babies? you would have only fed the parents correct? Was there a special food that baby finches should get? Have you been able to find anything on the internet?
I know this is extreemly upsetting but you do infact have a breeding pair and they will re-produce again. Often fish Mommies eat their babies. So do Hamsters... just takes some time to get experience and comfortable with it all. You are also going to learn from this tragic experience.
Hang in there... try to keep reading. Is there a "bird person" or expert at the Local pet store who may have experience or try calling a bird breeder in your area. You can maybe find them on Kijiji for your area... they would be listing baby birds for sale. Worth a try.
---
Every kid, regardless of what they are going through, is ONE caring adult away from being a success story. ~ Josh Shipp, Teen Behavior Expert
with zebra finches they are very finicky you can,t touch the chicks at all just have to make sure they have lots of food and water with first time parents it is normal for the chicks not to make it
Similar Threads
Thread
Thread Starter
Forum
Replies
Last Post
hatched killie eggs

kitten_penang

Beginner Freshwater Aquarium

20

10-22-2010

03:42 AM

Eggs hatched !!

bhone20

Fish Breeding

10

09-07-2008

03:16 PM

Eggs hatched !!

bhone20

Freshwater Journals

14

06-07-2008

01:27 PM
Posting Rules

You may not post new threads

You may not post replies

You may not post attachments

You may not edit your posts

---

HTML code is Off

---