oooo ok :D
thanks jeaninel, dont worry about the diagram, its the thought that counts really :D
Ahhhh, just discovered this topic goin on in here, knew I should have waded into the Off-Topic sooner :)
So, basically horses are my life, I work at a National level Arabian farm and then I also have an appendix QH (that's a thoroughbred/Quarter Horse cross) that I show locally but haven't gotten to do much with these last couple years . I started riding him when my first horse was too sick to be ridden since she had heaves, and got along with him really well so we showed a bit and then my trainer-his owner-passed away (not suddenly but it still sucked very very much), and I ended up inheriting him. His name's Spenser and I'm hoping to show this summer, we shall see. Right now the weather's been too cold so I haven't done anything with him.
ooo Flashygrrl your horse is gourgeous :D:D and its know we have another experienced horse keeper :D

crazy4fish in my first dressage i was young and my horse kept on riding out of the arena lol, so i had spent alot of time learning the dressage, but my pride was broken when a women took me around the course. I cried so much lol. my second one was much better and i didnt do to badly :D
Hi Flashygrrl!
Spenser looks very handsome. What kind of showing will you be doing with him?
---
150 Gallon - Mostly American Cichlids
135 Gallon - Angelfish Community
75 Gallon - Odd couple (Polleni/Angelfish)
55 Gallon - African tank
20 Gallon Long - QT
10 Gallon - Empty

We just do little local shows, I stick to the hunter classes. We were working on other stuff like showmanship and western and trail and then Kim got sick and passed away and I lost a great trainer, so now I'm stuck in a rut :(

And thank you for your compliments, he was actually a rescue from Florida and came up here because he has skin allergies that keep under control better in Michigan so it's doubly great to have him here.
he is a beautiful horse!
is he a stallion or gelding? do you have any more pics? we would love to see some more!
and southafrica dont feel bad... i have had some not-so-great shows too.
at my very first show we brought 2 horses one for me and one for my sister. they apparently didnt like the fact that only one could go in the ring at a time. i was riding splendor and my sis was riding a horse named flo(she unfortunately passed away).
i went into the ring on splendor and she wouldnt move at all! i was sooo mad! one of the show workers had to come and lead me to the rail and get her moving. once they did that she wouldnt stop moving! she kept trotting faster and faster and wouldnt slow down!!!!!
the whole time my dad is trying to hold flo still and isnt doing a great job of that. flo is trotting back and forth behind the ring calling to splendor and getting her worked up. it was just terrible!!!!!!! my sister was going to ride flo in one of the next classes but we couldnt get flo undercontrol so that didnt happen.
it really wasnt a great first experiance....... i dont know why i ever wanted to show again after that!?!?!!?
Gelding. I don't really have a whole lot of decent pictures because some got lost, some are old, and some just look pretty crappy :) But let me look really quickly.
Hmmm...these are at a "fun" show a couple years back, we were FREEZING cold.
Yeah, I looked like death warmed over by that point.
And another show...not freezing for sure! This was before I got the darn coat tailored.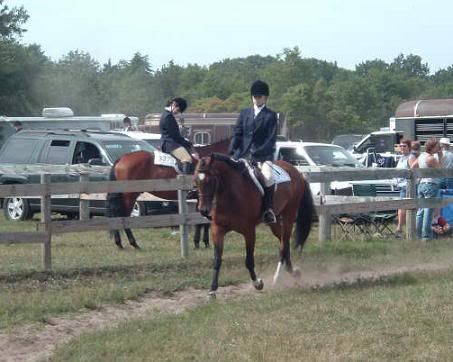 Silly pony :) And that was when I was still actually actively working on my riding. But the weather's getting better so here's hoping we start working on it again soon.
he is so pretty. our shows are for fun too. we TRY not to get too competetive.
but sometimes when you can just feel you are going to win (or when you see the judge look at you and smile) its kinda fun to show off. :D
lol, I got 3rd out of 16 riders in Sr. Horse Pleasure at the fun show and I swear I was going "neener-neener" as I left the ring. Either that or laughing my butt off at my barnmate.
Similar Threads
Thread
Thread Starter
Forum
Replies
Last Post
my Horses!

EvilPunkLlama

Other Pets

4

07-28-2009

09:02 AM

1-Sea horses / 2-sick fish

mtilton

Freshwater and Tropical Fish

8

05-18-2009

02:37 AM

Sea horses.... help?

veganchick

Saltwater Fish

11

01-13-2009

11:39 PM

Horses

Amphitrite

Off Topic Discussions

18

09-29-2008

04:39 PM
Posting Rules

You may not post new threads

You may not post replies

You may not post attachments

You may not edit your posts

---

HTML code is Off

---