Dinty Moore had her kits!
---
Baby Gathering- Torts and Blue torts (the blues are the silvery colored ones)
Baby Belly!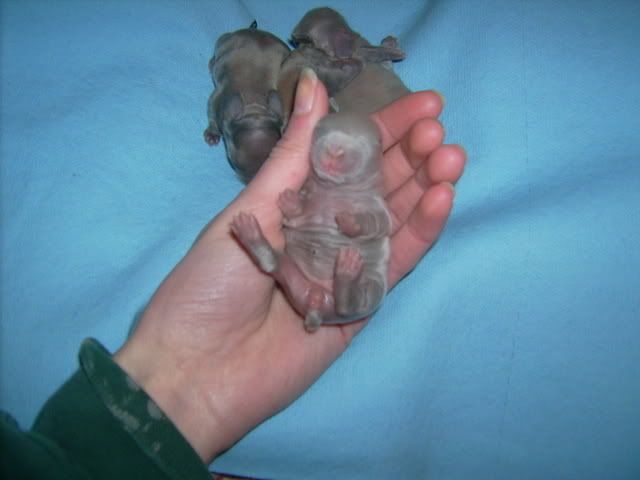 Torts VS Blue Torts
Dinty Momma- She's doing great, just a little grumpy! :D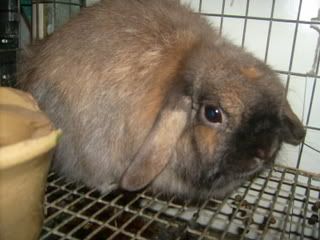 Thanks, Megan
wow so thats how babies look like

very nice job, you planning on keeping them?
They are so cute. Makes me wanna find a girl for my little boy and have some of my own!!
Is there anything cuter than a baby bunny? :) Congrats!
---
You know what the definition of hobby is: something of interest that is going to cost you lots of money!
Oooohhh.Cute.
---
Sent from my desktop or phone or whatever else I am holding on to

I'm ready for the pressure.
The drama and the pleasure!

If there is one thing I want to see here, it's HUMOR.

I believe I can fly!
I believe I can touch the sky!
I think about it every night and day!
I stand in awe of my body.

GORGEOUS! I can't wait to see them when they get a bit bigger. Have fun with them and congrats!!
They are absoutely adorable!! They are just turning 2 weeks, their eyes just opened.They are getting lots of fur in and getting big, about the size of my fist. 4-5 inches long now- pretty fat! I will decide whom to keep depending on qualtiy and stats when they are older.
Shavon: *whistle*
Tracy: No, I don't suppose their is anything than a baby bunny and watching them grow up.
Kate: Don't worry I'll keep you updated!
Musho: Plan on keeping as many as I can,(probally will end up selling one or two) but I really want to get a blue female out of this litter thats nice, I'd keep it. yep, thats what they look like!
Haven't gotten any name Ideas yet. (I do a coffee theme for names)
I kinda like Mugzy for a girl. (you keep coffee in a mug)
Here's my list of names, the ones with a star have already been used.It took me forever to find all of them. Some are not really good but their just ideas.
• Coffee swirl
• Mocha swirl
• Café Latte
• Café Mocha
• Mocha Java
• Caramel Latte
• Vanilla Latte
• Frappuchino
• Cappuccino
• Starbuck
• Caribou
• Arabica
• Mocha
• Lattes
• Swirls-Coffee
• Macadamia Nut
• Amaretto
• Jamaican me crazy
• Shuffle Carmel Truffle
• Truffle
• Coffee Bean*
• Gevelia
• Swiss Miss
• Vanilla Nut Crème
• Caramel Kiss
• Irish Crème
• Cinn Ful Nut
• Crème Brule
• Toasted Almond Crème
• Strudel Delight
• Caramel Macchiato*
• Fluffy Latte*
• Hazelnut*
• Café
• Almond Amaretto
• Mudslide
• Chocolate Almond
• Chocolate Thunder
• Mugzy
• Blendi
• Chocolate Tiramisu
• Pecan Perks
• Caramel nut clusters
• Nut Clusters
• Soft Cream
• Chocolate Squares
*If you have any ideas not on here, much thanks*
Chai latte!!
Cute babies! Its baby season here with the bunnies, I have (thank god) been riding my older/non-spooky horses lately on the trail and all the bunnies are running under their hooves and staring at us through the bushes, really cute :D
I like that!!

The babies are getting soo big now, post more pics soon!
Similar Threads
Thread
Thread Starter
Forum
Replies
Last Post
Testing kits

lowco1

Beginner Freshwater Aquarium

3

02-22-2009

12:22 PM

Help Please...black moore

kgirl

Cyprinids and Atherinids

5

12-15-2008

09:54 AM

best test kits

scouseROB

Beginner Freshwater Aquarium

6

09-02-2008

09:29 AM

test kits

vinoth1465

Freshwater Aquarium Equipment

6

10-09-2007

07:57 PM

Best testing kits

sweetwaterarabians

Freshwater Aquarium Equipment

5

08-03-2007

08:15 PM
Posting Rules

You may not post new threads

You may not post replies

You may not post attachments

You may not edit your posts

---

HTML code is Off

---