Chinchillas
---
Anyone else on here have Chinchillas?
I have 2, both boys... they are hetero Beige. Toshi and Yukio.
If you don't know much about them, Hetero Beige are not normally found at pet stores, they are usually the normal "grey". My beige boys have pink ears and red eyes like an albino also.
They are completely spoiled... live in a 6.5ft tall homemade cage, have a chinspin wheel.
I will post some new pics later... for now here are some old ones...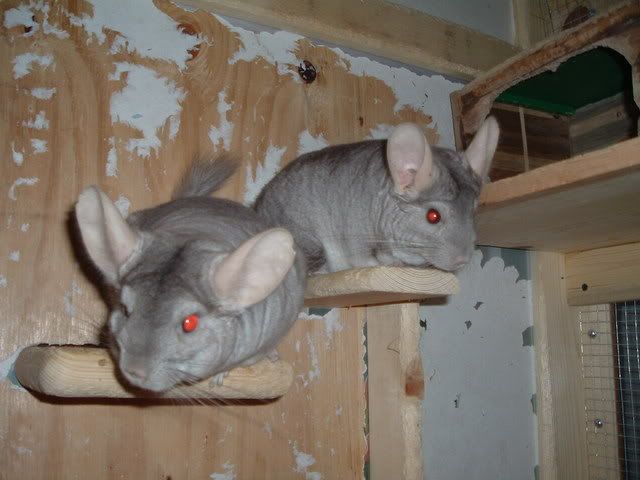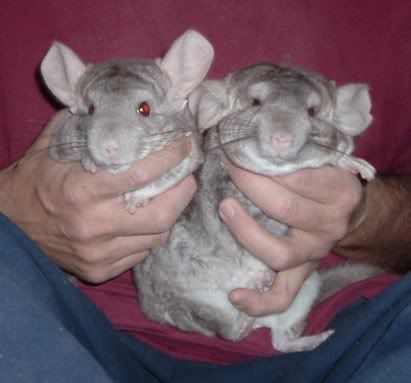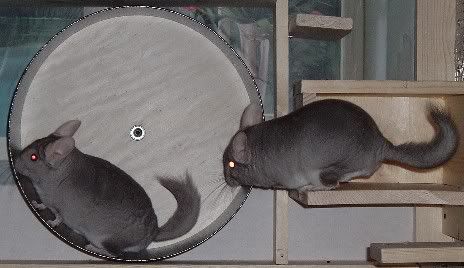 ---
JoAnn
custom 7ft 125g softie/leather Reef
44g marine predator fowlr
100g outdoor pond/waterfall

Adorable.
---
If you don't stand up for something you'll fall for anything...
awsome!
---
Subject: Larry LaPrise dead at 93
With all the sadness and trauma going on in the world at the moment, it is worth reflecting on the death of a very important person, which almost went unnoticed last week.
Larry LaPrise, the man that wrote "The Hokey Pokey" died peacefully at the age of 93. The most traumatic part for his family was getting him into the coffin. They put his left leg in. And then the trouble started.
awwww what lovley little fluffies :)
---
when you set up a new tank,hide an extra
sponge or two behind some decor,that way you have
something seeded for you next filter.
I use to have one when I was like 15-16, that damn thing hated me. He always tried to bite me lol. I think I was to young to take care of it correctly and never handled it.
---
5 gallon
Beta
3 MTS(sure to be mean more soon)

55 gallon
Bloat who is a Fahaka puffer
Plants
Chinchillas are super cute. I've always wanted some, but never had the money and space (at the same time, anyway) to have them. Some day, maybe.
---
4 8 15 16 23 42
Thanks everyone!!! :)

Batman - they are actually a LOT cheaper once you get past the initial cost of the Chinchilla itself, and its cage! Seriously... I order their pellet food in a huge bulk bag directly from Mazuri, its way cheaper than going to petsmart every other week, and I get their bedding from TSC, its actually Horse bedding. Cheap!

Xray - they all bite at first especially ones that have not been "hand raised", as in ones from a pet store that got picked on by passers-by, etc... To be really hand raised, they would need to be physically handled a LOT from birth. Mine were, as I got them from a very hands-on caring breeder.
---
JoAnn
custom 7ft 125g softie/leather Reef
44g marine predator fowlr
100g outdoor pond/waterfall

Oh, and I forgot to add... they are almost 5 and I have had them since they were abt 6 mos.
I do not worry about my kids getting bit while feeding them their raisins either. They will occasionally give a "test nibble" that is very gentle, and that is only because they are trying to determine what exactly is in their face, lol. (Now of course I would worry if my kids got crazy and grabbed one or something, but I am definitely teaching them to respect animals.)
---
JoAnn
custom 7ft 125g softie/leather Reef
44g marine predator fowlr
100g outdoor pond/waterfall

Posting Rules

You may not post new threads

You may not post replies

You may not post attachments

You may not edit your posts

---

HTML code is Off

---