I would reccomend the opposite, 1/4 land and 3/4 water, i have a 10 gallon with just a water bowl before with 2 firebellies, and they spend all their time in the water!!
if you go to the page with all the subjects i just posted one called "My firebellies & new tank!!"
go in their and check mine out, its mostly water and they love it!! they spend all their time in the water!
OKKK nevermind, i didnt even look at the pictures, i was just replying from your first post, but that 1/2 and 1/2 looks good! thats how my 20 gallon was set up at first, but then i found this wall at petsmart and i got that instead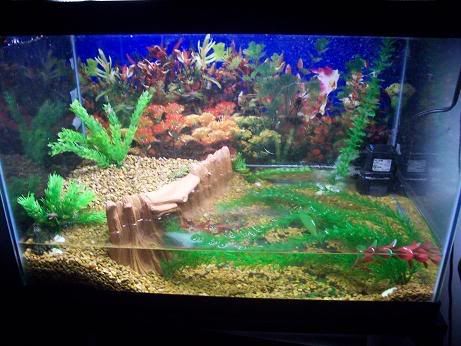 ooo thats a really nice looking vivarium! is that for frogs or what? also what type of little pump thing is that and whered you get the dividing wall?
love the tank!

OFF TOPIC: blueblue is that your goldfish in your av? it's awesome!
no i wish it was my goldfish! its the world record holder for a non-koi goldfish. that right there is an 18 inch red cap oranda.
heres the new looking vivarium! i added bamboo and some fake plants and then made the back all land and the front all water so i could see the frogs better when i get them. but still no frogs yet....maybe get them tomorrow? or possibly by next weekend!
tell me what you think i should add and etc. also tell me if i really need a mister or not and whether or not i should get a background.
my madre said that if i can get a ride from my sister tomorrow i can go get the fire belly toads. now i need serious help. should i have treated the water? and can i fit 2 in there comfortably or can i put 3 just fine?
didnt get the frogs i skated all day but whatever. tomorrow after school my friend eric is giving me his tokay gecko and a 20 gallon for FREE!! so im excited to make his habitat.
lol oops i totally forgot. i got a 20 gallon for them but one ended up dieing of unkown causes :( . its ok though i still have one in the 20 gallon. also i added some type of small palm plant thing. it looks like a mini yukka ( i hope thats spelled right) bush only red instead of green.
Posting Rules

You may not post new threads

You may not post replies

You may not post attachments

You may not edit your posts

---

HTML code is Off

---