There is a car insurance company here Called Geico, their spokes animal for their commercials is a Ghecko.

Awesome pictures. Does he change color at all with temp or surroundings? I know not a cameleon but had to ask.
Ah, that explains it - thanks Chris!

No, he doesn't change colours at all, although his markings have changed dramatically as he's matured.
yeah its been a long running ad campaign here for many years now, sorry for the ethnocentrism :)
---
Dedicated, converted, lowes / home depot bulb buyer!
Charlie has started coming out of the tank on a daily basis now and loves to explore the sofa. If he doesn't get out at his usual time he starts pawing at the glass. Here his is having a wander :)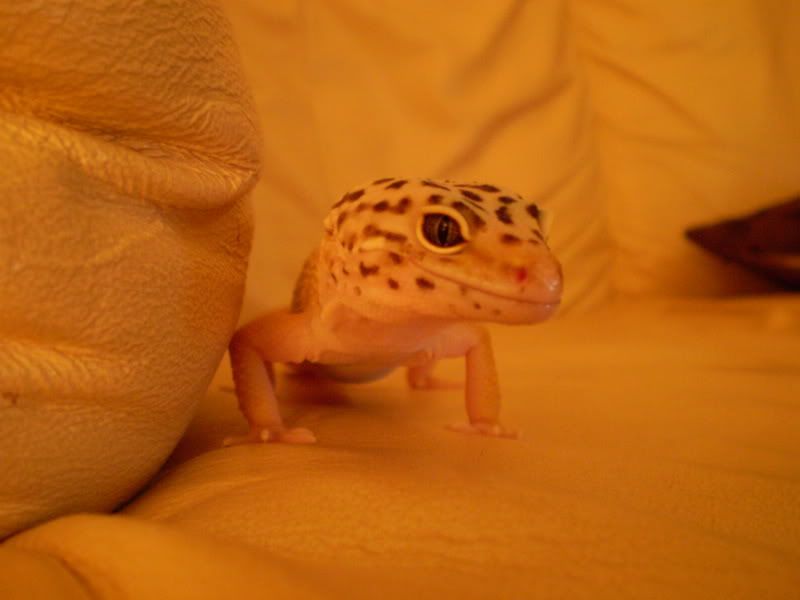 I've never been much of a reptile person but that is an impressive looking animal. Does he interact much with you?
---
Tetra Fanatic
Watch my tank progress from Craigslist salvage to fishy habitat:
Aaron's Tank
The only things that happen quickly in an aquarium are bad things.
Thanks Tyyrlym. He never used to tolerate being handled or having anyone too close to him, but recently he's become a lot more tame. He'll sit in my hand or wander about the sofa while I'm watching tv beside him. Last night he climbed up my sleeve and I had a job getting him back down again. All in all he still doesn't like being handled too much although he will let me stroke under his chin.

If I go up to the tank and call his name usually he'll come out of his cave and up to the front of the glass asking out. When I talk to him he looks right up at my face almost as if he can understand what's being said and has a really comical expression.

I'm always quite wary when I'm handling him though - if they get a sudden shock they can drop their tails.
He's a gorgeous little lizard! I think it's really cool that he has a daily stroll around your couch. 8) And it's also neat that he comes when you call him! That's impressive for a reptile.

It's amazing to see how he's grown too. (I looked back at your first pictures.)

Have fun with your handsome little guy! :D
---
"One fish, two fish....red fish, blue fish."
Thanks Wendy. If you ever stop in for that cup of tea on your travels I'll introduce you :P
aww he's doing so well,glad he's enjoying his sofa time.
does he lay in your hand for warmth kate ?
Thanks Lainey :) I think he must like the warmth. It's surprising how cold his little body is to the touch. I love the feel of his little feet on my hands, they're just so cute! :D
Posting Rules

You may not post new threads

You may not post replies

You may not post attachments

You may not edit your posts

---

HTML code is Off

---