Quote:
ummm excuse me…pictures of the Carnivores
……gulp !
Lol! Jes got it, but ya I have a collection of carnivorous plants. Venus flytraps, pitcher plants, butterworts, and sundews. They're only deadly if you're a couple of MM long and have an exoskeleton!
Actually, there used to be a small cave in the back, Jes. I would go exploring when I was a young girl. Came back all muddy! Just as kids should!
ahhh yes,i've seen the plants…very impressive
i remember someone posted a picture of a mountain lion sitting
on their front porch one time……i mean how amazing…a mountain lion…!!!!!!
---
when you set up a new tank,hide an extra
sponge or two behind some decor,that way you have
something seeded for you next filter.
Oh no! We don't have those around here. Well we actually do have them in my state but in the mountains. I have a friend who had a close encounter with one. We do have bears around here tho. Thankfully not on my front porch. Only carnivores in my neighborhood are the plants and some foxes. Oh and me :D
On the topic of mountain lions. I saw a video of a mountain lion on someone's back porch and her CATS were taunting it from the patio door!!! Bad kitties!
Hahaha! Housecats can be full of bravado! I've seen a video of a cat swatting at a bear and the bear running away in fear.

There are a couple of cats that come to drink from my pond. I've only seen them a handful of times, but I'd love to get a picture of it.
So I know I said I wouldn't be updating this until spring, but something happened! Not anything bad. Don't worry. For the first time in ever, I saw ice over the entire surface of the pond. Took some polar air to make it happen, tho. Before work this morning I took these pictures.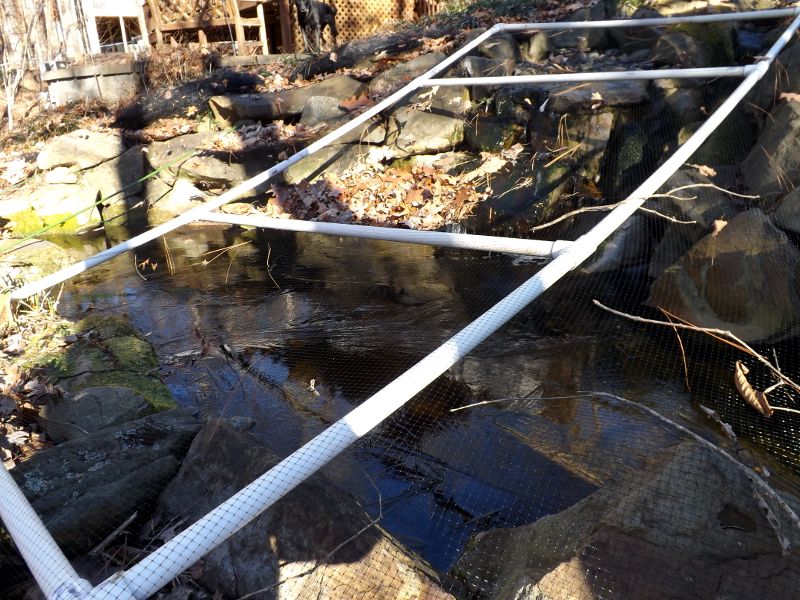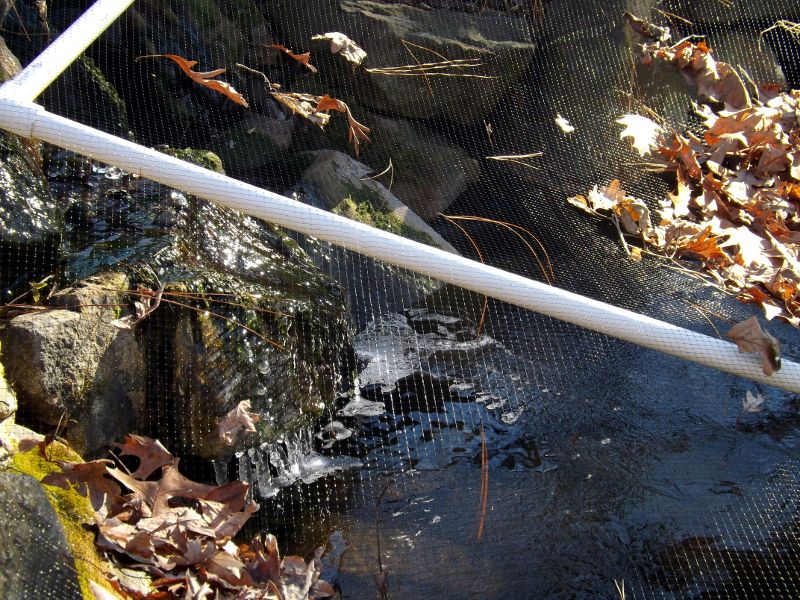 It's hard to see because it's so clear, but it's there! And a few icicles!
wow! and your pond's surface is constantly moving by the waterfall isn't it?
izzy,i just found this.wonderful pond. i am deeply jealous.you are one lucky gal.beautiful fish.
---
bettas-goldfish-shrimp-snails-planted tanks
wow sheet ice…at least having the waterfall on it gives the
pond a space to gas off,unlike mine that will get completely covered
new year resolution is to get pump and outside electric outage socket !
---
when you set up a new tank,hide an extra
sponge or two behind some decor,that way you have
something seeded for you next filter.
Most of the pond surface is usually rippling a bit from the waterfall, but it just got soo soo cold the other night that didn't matter. I went outside again today to check on it and the surface is still frozen. I'm not worried at all because the stream isn't icy and the water is still flowing. But it's really pretty to see it all icy like that!

Thanks, Sandy! I do love my pond a lot. It was a present from my mother and the fish within are my oldest fish. I'm guessing them to be at least 6 or 7 years old.

Willow, having the pump going year-round makes a huge difference in ice! But that electrical outlet outside is a big part of it! We had to get one installed specifically for the pond.
Posting Rules

You may not post new threads

You may not post replies

You may not post attachments

You may not edit your posts

---

HTML code is Off

---