Neps will eat anything that falls into the pitcher. There are documented cases of them eating mice and frogs in the wild. Snails and stuff have also been found. Pitcher plants have sweet nectar around the lip that draws all manner of insects. Mine are too small to catch roaches and house centepedes, but I have a feeling when my plant grows up it will be. Also neat fact about tropical pitchers: they have genders. Flowers are either male or female.
While we're on the topic, here are some updated pictures of my indoor pitcher plant. It's still a baby. It's seed grown, so it will take a while to reach a size that large.
Another tropical carnivore that does well on a sunny windowsill (and is quite deadly in my experience) is
Drosera adelae
. Sometimes called the lance-leaf sundew (and is also commonly available at stores). I might actually have a few to give away in the springtime as mine appears to be replicating like crazy. They are also covered in bugs. Mostly small flies and mosquitoes. Here are some photos of mine since I'm not sure I've shared any.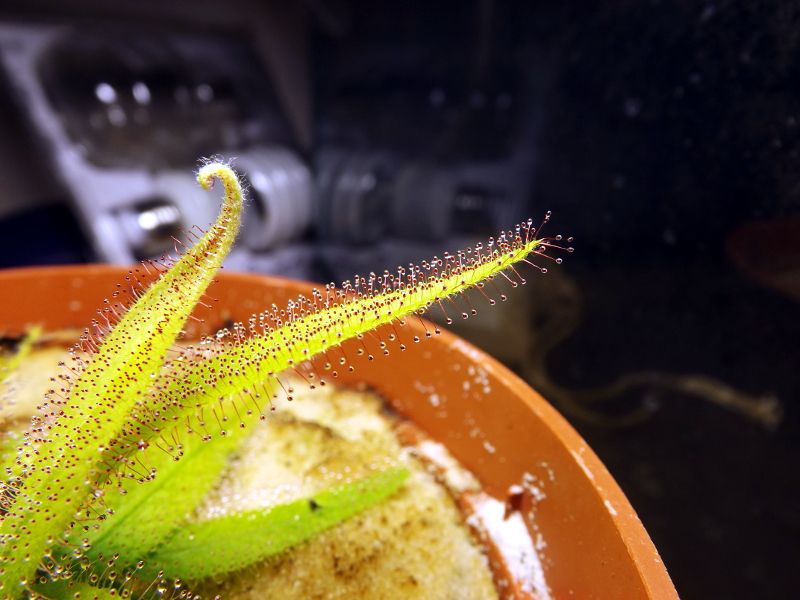 Most people assume that because carnivores are exotic, they are also difficult to grow. In my experience that couldn't be farther from the truth. Like fish, there are some more difficult ones to keep but you don't need to keep those to enjoy the hobby.
I want ur babies ;)
But no really, i think my mom would like a carnivore for the kitchen. we get flies and she haaates them.
Posted via Mobile Device
So pretty!!!! I'd take either!
OH we got Christmas present kit things at work and one is a grow carniverous plants from seed kits!! I thought of you. i might buy it this coming payday
Posted via Mobile Device
Quote:
So pretty!!!! I'd take either!
You and Bekah may get your wish! I'm going to have to repot my D. adalea in the spring. Who knows how many plantlets I'll come out with! Cory, you might fall in that line of fire, too. Depends on how much this plant want to clone itself.
Quote:
Moar nep houseplants!
Yes! I do want a few more species that I can hang by the windows. There is a nice spot on my front porch that I could hang a couple from. I might put some out there next summer. I just gotta find them locally. I don't want to ship a large nep! N. ventricosa is the one I'm searching for. I like how the pitcher shape is rather different from my N. tobaica.
Quote:
OH we got Christmas present kit things at work and one is a grow carnivorous plants from seed kits!! I thought of you. i might buy it this coming payday
Posted via Mobile Device
Yikes. I'd actually caution against growing them from seed. It seems easy, but from what I've heard it's not. The seedlings are rather sensitive and depending on the species, some need to have a "frost" before they can germinate. I'm going to try some of those come late winter/early spring so I can let you know just how difficult (I'll document it here!). It's a real shame they sell kits like that; it makes people assume that carnivores are difficult. But it's like, you'd think fishkeeping was difficult if you started off raising fish from eggs.
Good to know! it looks interesting though, but i'll look t the box before i buy. probably says nothing about types of plants in there though!
Posted via Mobile Device
Update: after looking at the box it says it has fly traps, sundews, pitchers, cobra lilies?? and one other plant with a name i didn't recognize. it'd probably be easier to wait for plants from you or online, but at the same time i really want to try it lol.
Posted via Mobile Device
Was it Heliamphora? Or Cephalotus? Both are pretty difficult plants to grow. Cobra lilies are really difficult plants to grow. I can't imagine what they would be like from seed. They are only found in northern CA/southern Oregon. I bet the sundews are cape sundews. They're considered bomb-proof lol. I luff mine. It's a shame you can't just ask for seeds to certain plants with that kit. I wouldn't want to try to Helis or Cobra lilies as my first CP's.
Oh! My seeds came in yesterday! I'm going to be growing these beauties next spring!

Sarracenia leucophylla 'Hurricane Creek'
Ahh so pretty! i kinda want to try anyways...if i get one or two plants it'll be worth the price i pay with a forty kr fifty percent coupon, right?
Posted via Mobile Device
Similar Threads
Thread
Thread Starter
Forum
Replies
Last Post
Izzy's Koi Pond

thekoimaiden

Other Aquatic Environments Journals

110

02-07-2015

09:17 PM

Izzy's Goldfish!

thekoimaiden

Freshwater Journals

75

02-09-2014

08:41 AM

Bog plants

SinCrisis

Beginner Planted Aquarium

5

10-27-2010

08:08 PM
Posting Rules

You may not post new threads

You may not post replies

You may not post attachments

You may not edit your posts

---

HTML code is Off

---