Did you lower the light on the stand? It was to get the light closer right? Not just because you saw you could add a second layer?
Lol. I haven't lowered the light yet. I'm thinking about just repotting everything in taller pots instead. Those guys really do best in 5 inch or taller pots. They're in about 4 inches right now. I'm just kinda feeling it out as I go. If they start to look too pale or don't produce dew than I'll think about moving the light faster. lol
The 'dews are gorgeous, Izzy - fantastic shots! And you did such a great job on your light stand! You make it look deceptively simple. . .
So I got a new addition yesterday! :3 A baby! I was given some seedlings on a trip to NC. I'll get some pictures of them tomorrow as well as show you guys what flytraps in hibernation look like!
Babies and hibernating flytraps sound fun!
*waits patiently for promised pictures*
As promised, the latest images from the hungry bog! Not much is happening right now and it'll probably be the same way until spring.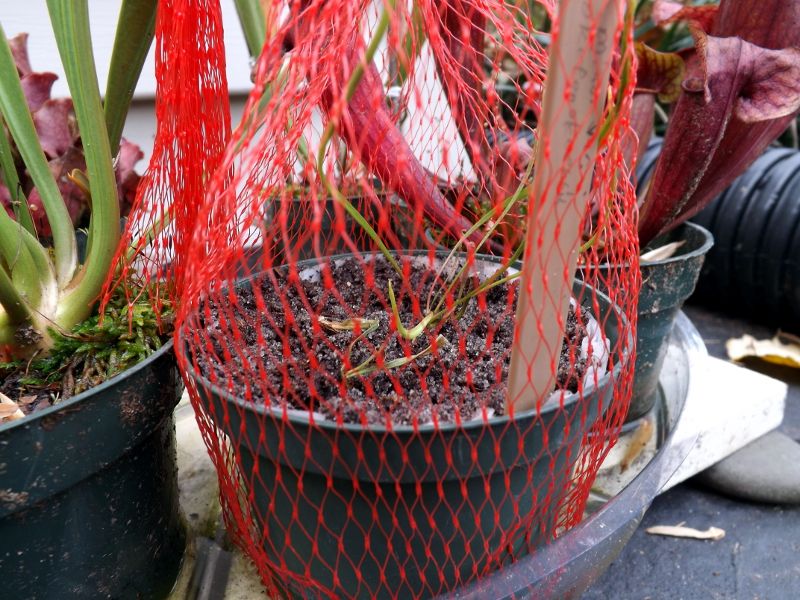 This is my latest addition, seedling
S. minor var okefenokeensis
. Otherwise known as the Okee giant. They are some of the largest Sarracenia. These plants have the potential to get like 3 feet tall! But these are babies sown this year. I'm hoping they survive the winter!
This is what a flytrap looks like in the winter. They form these ground-hugging rosettes. They will still feed, but mostly not much is out triggering the traps.
One of my favorite plants hasn't done too well this summer. This is my S. leucophylla 'tarnok' (maybe). This is the first pitcher I've seen from it in months. But it's so pretty!!!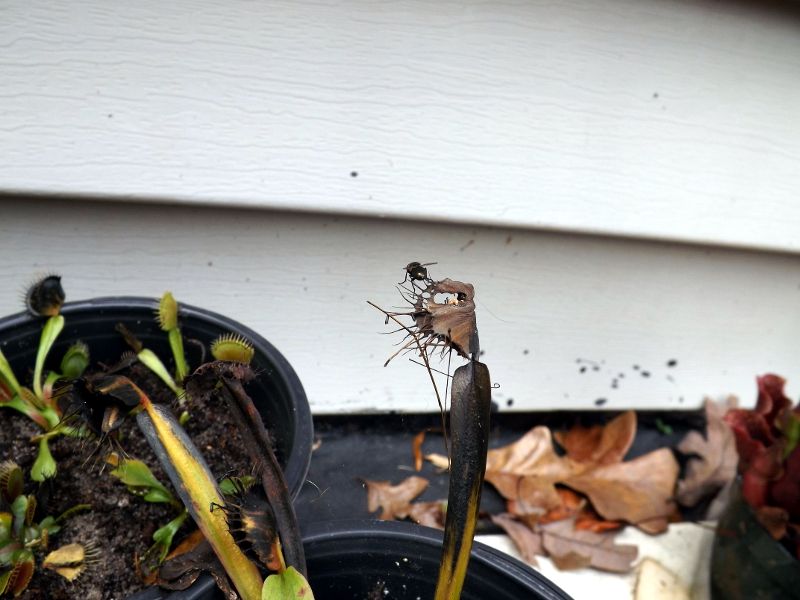 This is just too funny. A fly crawling around on a spent flytrap trap.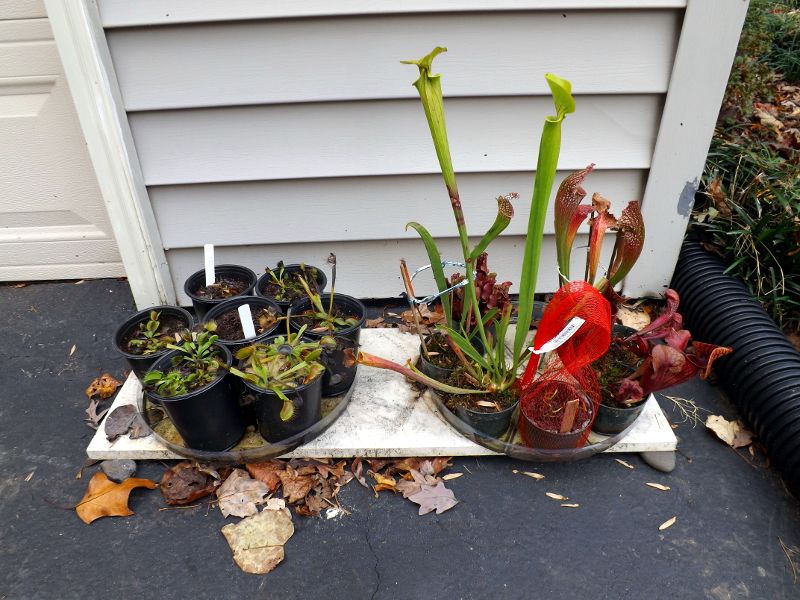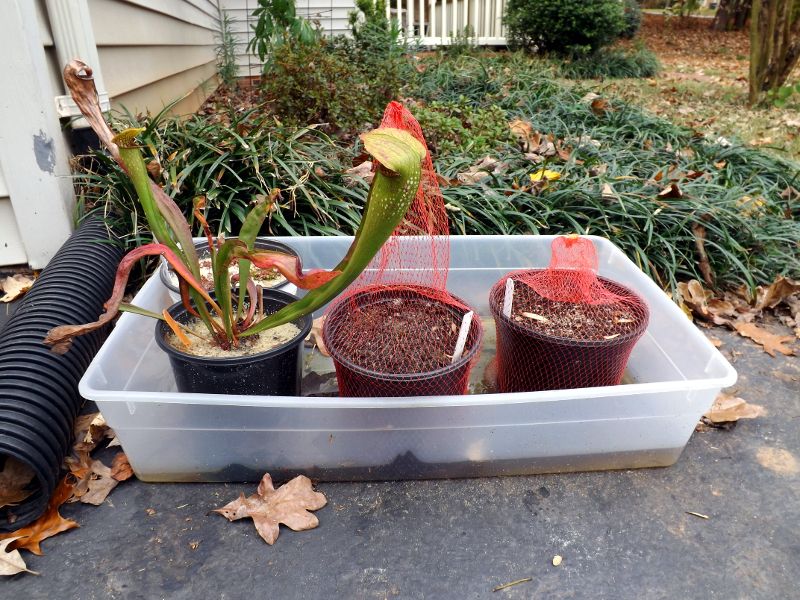 And finally group shots. Those nets over some of the pots are to keep the squirrels out. They dug into my
D. filiformis
and I really hope they survive! I'm hoping to grow my collection next spring!! More Sarracenia!!! :D
I really loved going through this entire blog! I now wish we didn't have a screened in porch so i could have some of those awesome plants! They're just so pretty! And right now, I could use one in my kitchen. Apparently one of my bell peppers got crushed in the groceries and I didn't know it until I started seeing a flew flies around that area. Now those dang flies are flying around my house!
Actually there are some you can keep inside (and even outside, knowing your climate). I don't post much about mine, but I have an indoor, tropical pitcher plant. Grows year-round and has decimated the fly population in my kitchen after we had a similar incident with a tomato. Check out Nepenthes sanguinea, N. ventricosa, N. x 'miranda', and N. tobiaca. You might even be able to find some at local grocery stores or nurseries. A lot of people hang them in baskets in front of sunny windows.
They would look something like this:
I'd eventually like to do something like that.
Oh! I like that plant. Looks really nice! I'll have to hunt down one for my apartment(mainly kitchen)

Do you know if they attract and eat roaches as well? Don't have an infestation, but I've found 1 tiny roach once in a blue and attack it with the sprayer shouting "No bug will live to tell the tale of being in the Burgess home!"
Similar Threads
Thread
Thread Starter
Forum
Replies
Last Post
Izzy's Koi Pond

thekoimaiden

Other Aquatic Environments Journals

110

02-07-2015

09:17 PM

Izzy's Goldfish!

thekoimaiden

Freshwater Journals

75

02-09-2014

08:41 AM

Bog plants

SinCrisis

Beginner Planted Aquarium

5

10-27-2010

08:08 PM
Posting Rules

You may not post new threads

You may not post replies

You may not post attachments

You may not edit your posts

---

HTML code is Off

---