Dwarf sag submerged or emersed Izzy?
---
My submerged dwarf sag took foooor eeevveeerrr to do anything! Now its growing like crazy!
---
Submerged. I think it's putting on like a leaf a month or something stupid like that. If it weren't for the fact that I'd feel bad about just killing it, I'd pull it out.
Mine did that to at first too Izzy. I swear it was like a year before it did anything! I started out with 2 plants of it and now have bunches. I came soo close to pulling it out some many times! Glad I didnt now.
Posted via Mobile Device
That's good to hear. It's only been in its current position for like 4 months now. I'll give it some more time lol.
WoW its been a long time since i have updated this thread!!!!
Not much has happened in this tank. I let it go for awhile as i have been really busy since the last time I posted on here.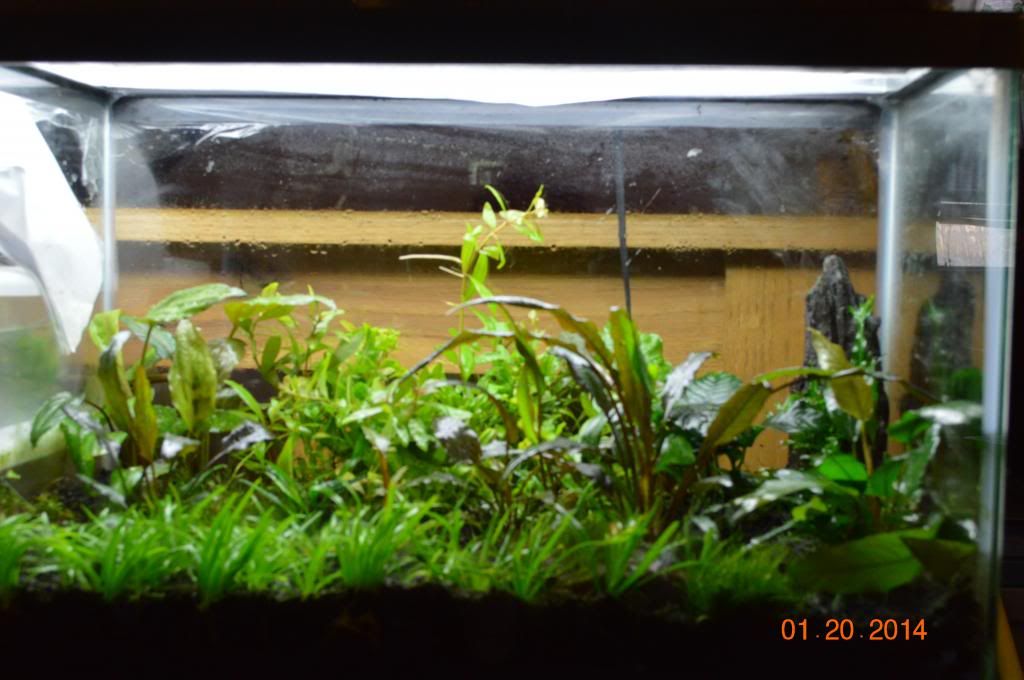 Not much there for now as I just trimmed the crap out of it. LoL
---
It looks gorgeous! I'm LOVING those crypts and all that D.Sag! My emersed D.Sag never did much of anything! That plant is so weird, I swear it is!
I wished I could get my submerged crypts to grow like that!! That would be awesome!
The dwarf sag. has gone nuts in this tank for whatever reason it loves it in there. Next trimming I am going to have to pull some out!!!
---
What a difference from picture #1 to now. Looking great
---
Animal testing is a terrible idea; they get all nervous and give the wrong answers.
You do have an amazing green thumb! My how everything has grown! I'm a firm believer that sometimes plants just need to be left alone to do their own thing because amazing results often come out of that!
Similar Threads
Thread
Thread Starter
Forum
Replies
Last Post
Dirty Tank!!?

tomncassie

Beginner Freshwater Aquarium

2

01-01-2013

04:33 PM

First Tank terribly dirty!

Kiwifish

Beginner Freshwater Aquarium

6

09-01-2012

09:43 PM

Update.. Dirty tank

ladayen

Freshwater and Tropical Fish

3

09-01-2011

06:13 AM
Posting Rules

You may not post new threads

You may not post replies

You may not post attachments

You may not edit your posts

---

HTML code is Off

---