Quote:
I already have a 36" Odyssea light. I never had any problems with it after a year. It's super bright so has to be raised for a fish tank or else be high tech...in other words should be perfect for dews.
Ah ha! Sounds like it will be perfect for a handful of 'dews! One last question... does it have rings to be hung?
I got my coffee made and things ready to go. So I sit down to look at some pics just to find out they are not here......
We want pics! Please......
---








I've read all the same things as you. Buces are easy for some people. Buces have to be submerged if you want them to grow or need to be in and out of the water from others. I'm getting new leaves, albeit fairly slowly, but for the current light and nutrients that's what I'd expect. I'm still happy.

Again haven't felt the greatest thing week so I haven't had a chance to do anything with the 55. I'll get there someday though. Really no need to rush. The mist system is more than just a low for high tech systems. I mist two or three times a day now. My thinking is that with the system and the frequent watering from the top I can keep high humidity (hasn't been a problem so far in the same tank) and it will also lessen the chance of fungus. No idea if the fungus idea is true or not. That is the thing I am most worried about though at this point.

I'm absolutely clueless if the crypts will care about the change in lighting. Submerged would obviously, but these are surprising me. Taking the crypts from submerged to emerged I lost a plant and maybe two or three other leaves. That's it. The rest of the leaves sag, but are still there. I halfway expected a total melt followed by regrowth. I am pretty good at getting new crypts to melt after all. Grrr That free C. affinis 'metallic red' could have gone in here if I had this set up months ago instead of dying that quick death.
BWG is all good! LoL I just couldn't resist. I pasted out pretty much as soon as I signed out last. EVERYONE in my house is sick but me and am hoping I dont get it. Cause riding a bike to work sick would not be good!
---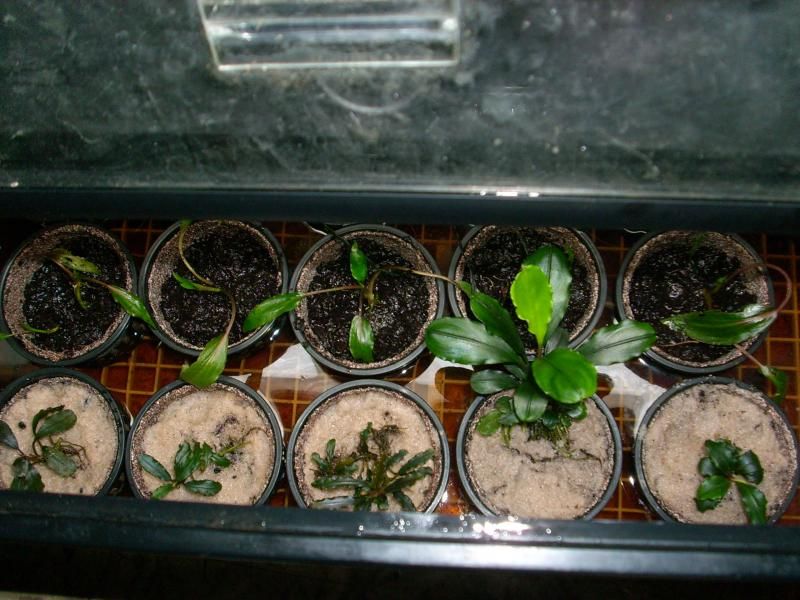 Topdown view without me taking the full lid and light off. Same plants everyone has seen before. The Bucephalandra 'gunung sumpit' finally finished opening today. It grows that slow.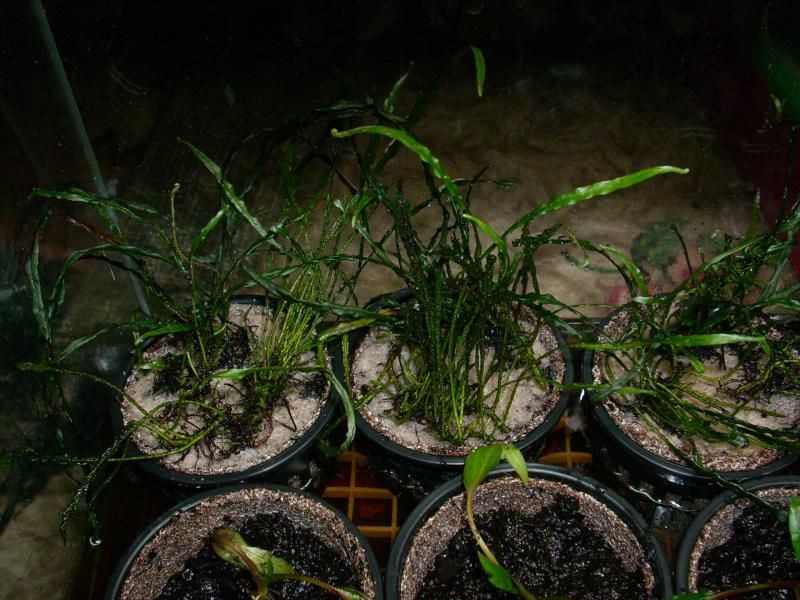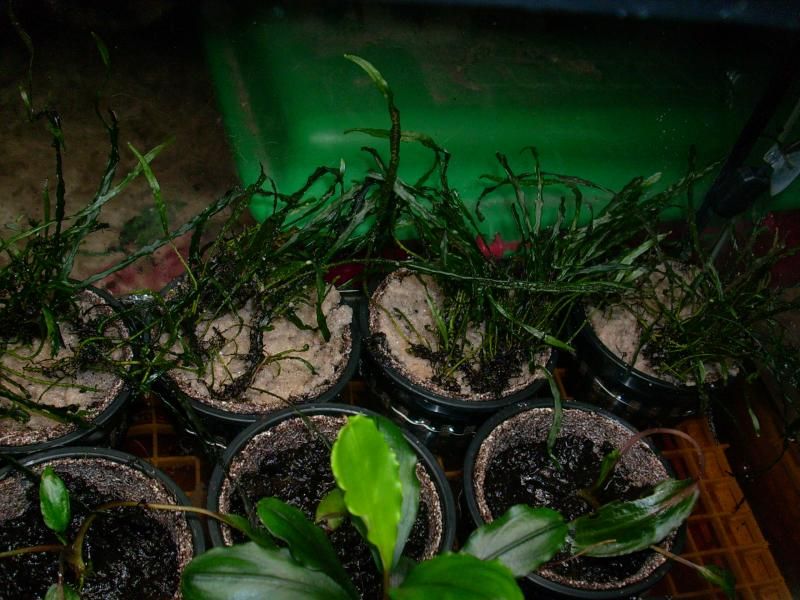 You never see this from the usual topdown view because I don't remove the lid. There's the Java fern 'threadleaf'. Some blackening, but that seems to happen when I get Java fern. It's alive and that's all I care about. One baby plant forming that you can see on the top left of the second picture. These pictures are taken with flash, which I should have left off.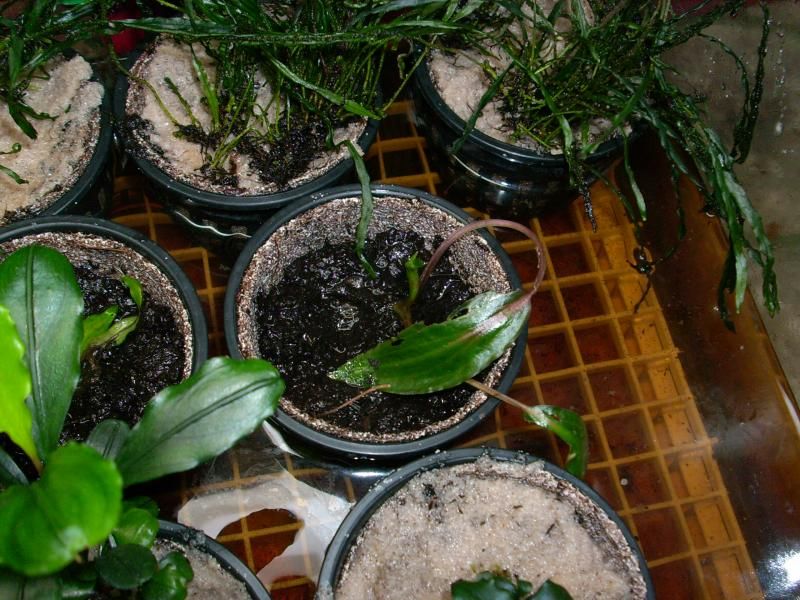 Cryptocoryne nurii pics. The gunung sumpit is hiding a pot of mush in the second pic. All the new leaves can be seen. In the first pic, third pot a second new leaf is forming to the lower left of the new leaf. Hard to see though.
Kir royale and artemis in that order. Look close inbetween the leaves and you might be able to see where a new leaf on each is just starting to form. Maybe not though unless you know where to look. Try anyway, you've obviously got time to waste if you're reading this thread.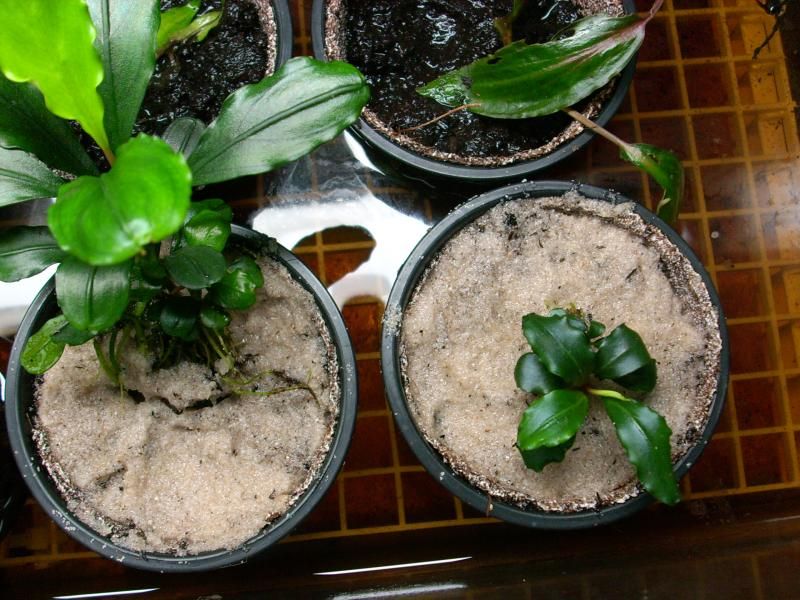 Part of the gunung sumpit and the mentarang kal-timur. The light green new formed (and cut off in the pic) leaf on the gunung sumpit is much easier to see. So is the leaf forming on the mentarang kal-timur.
One buce missing, the green chile. It was in my last pictures. I'm saving it last for a reason.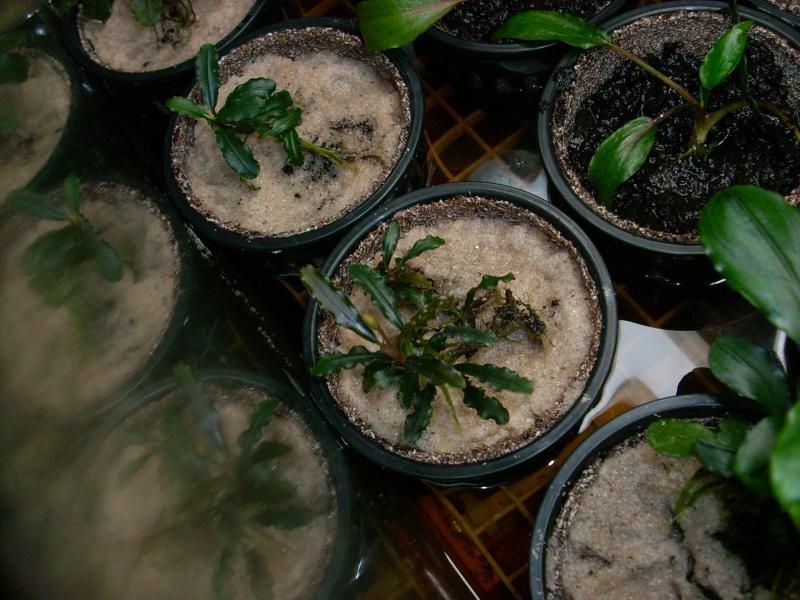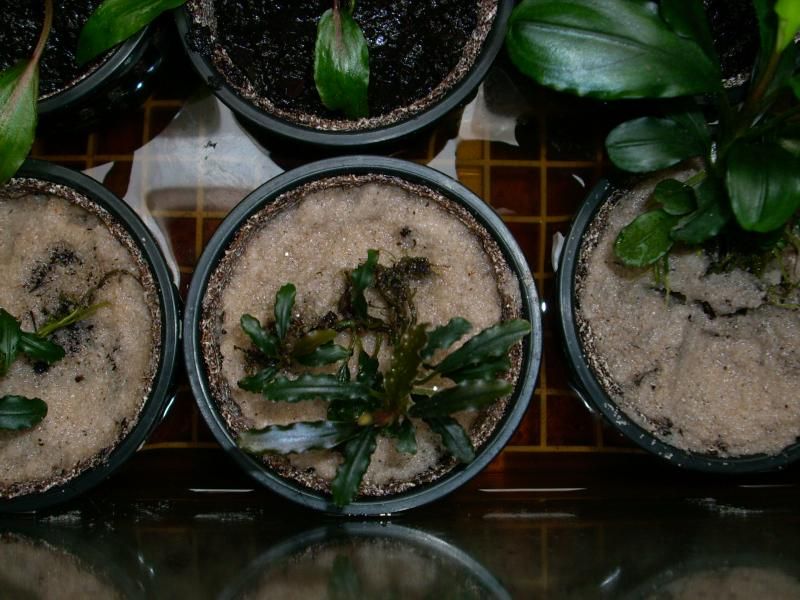 Barely visible and not pointed out by me on the picture the other day was a spathe. It is still unopened, but I'm hoping with the bit of growing it did and these new pictures that you'll be able to see it. First flower!
Cory man those plants look soo awesome! Am jealous that first you have buces and now that you actually got one to flower!!! Great work man, keep it up!
---
SPAAAAATHE!!!!
*ish green with envy and . . . pink(?) with EXCITEMENT*
Three cheers for great pics, fantastic growth, and SPATHES! ^.^
---
Last edited by Chesh; 09-04-2013 at

07:57 PM

. Reason: derp! ^.^
i still think you're a master photographer compared to me. but seriously they all look so awesome. i'm jellyyy
Posting Rules

You may not post new threads

You may not post replies

You may not post attachments

You may not edit your posts

---

HTML code is Off

---