Sounds like those plants are struggling a lil more then you last batch. :(
Hopefully they all rebound for ya BWG!

Have no clue on how long to QT a plant for never done it.
---
i'm probably way far off...but i'm going to ask anyways...
what about if you qt the plant for the same amount of time as a fish ?
---
when you set up a new tank,hide an extra
sponge or two behind some decor,that way you have
something seeded for you next filter.
I've been out of the loop for a while, but I've heard things like 2 months or so for CP's. I'd honestly just do it until you are comfortable the plants are free of infection. That was like 2 weeks for some weeks and the entire summer for other plants. :/
Hmmmmm. . . gorgeous pictures seem so long past now, and a bit of a rocky patch has me worried! :/
So what's the story, Cory? (Inquiring minds want to know)
Hath thou slain the vile fungus? How fare the last lovelies? Those that came before?
Anything snazzy, anything new? Anything fresh and green to show?
I'd so love to see. . .
(though I'm seeing green now, where blue used to be!)
And a spook! lol, just in time, too!
Such a sweet little ghost to go haunting with you!

It MUST be time for an update by now???!

*demands*
Batteries died so I didn't get to take all the pictures that have been demanded of me (yes demanded!). Some of the pictures came out bad, since I'm becoming a snob, so they won't be shown either. Tomorrow after they recharge there will be more.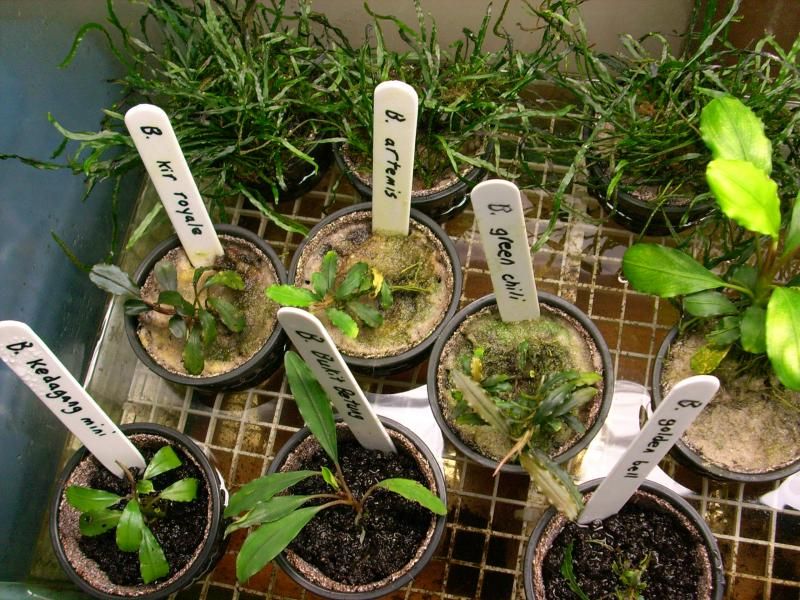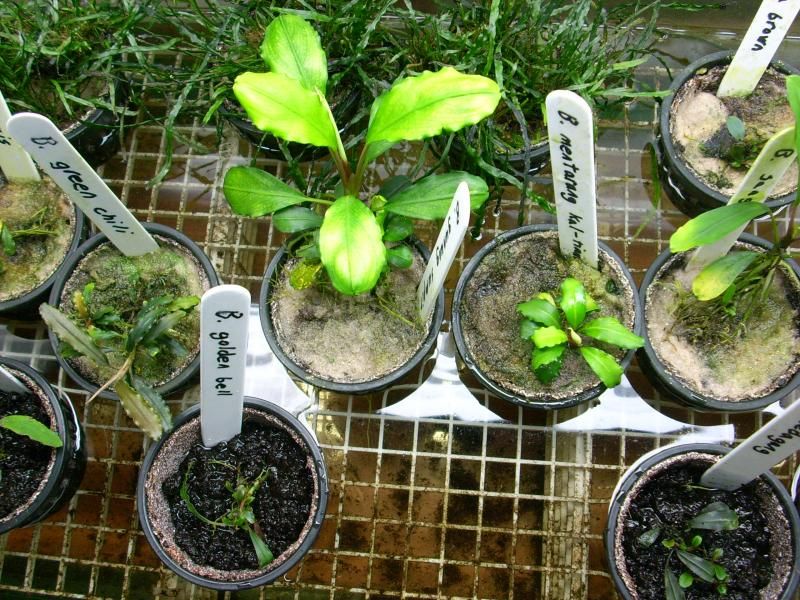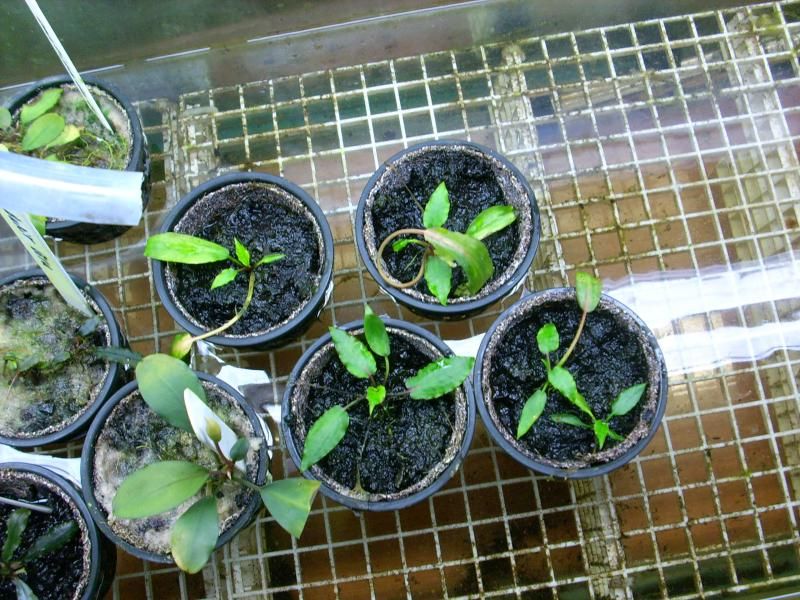 Ok some of those suck too, but Jes is pushy and Bek is an enabler of that pushiness. Note some yellow leaves. Not sure if they are just old. I have been misting just every other day with modified EI water. The results have been good for growth. I'm wondering if I should get a second bottle just for more frequent misting of plain water. The humidifier doesn't even run since the temperatures have cooled.
The water is clearer because I changed 8 gallons today, which isn't all that's in there. That's right my emersed tank has more water than some people's fish tanks. I'm a fan of irony. If nitrates or low pH were a cause for the leaves instead this should correct it. Been a couple weeks since I did a water change anyway.
The submerged C. nurii leaves have just about melted off all at once.
What you can't see in there well is the spathe that still hasn't opened (Sorry Kitty). If you can spot the second spathe in the pictures you're really good. Go ahead and guess.
I did manage a few close ups of one plant that came out right. It's our good friend Gunung Sumpit.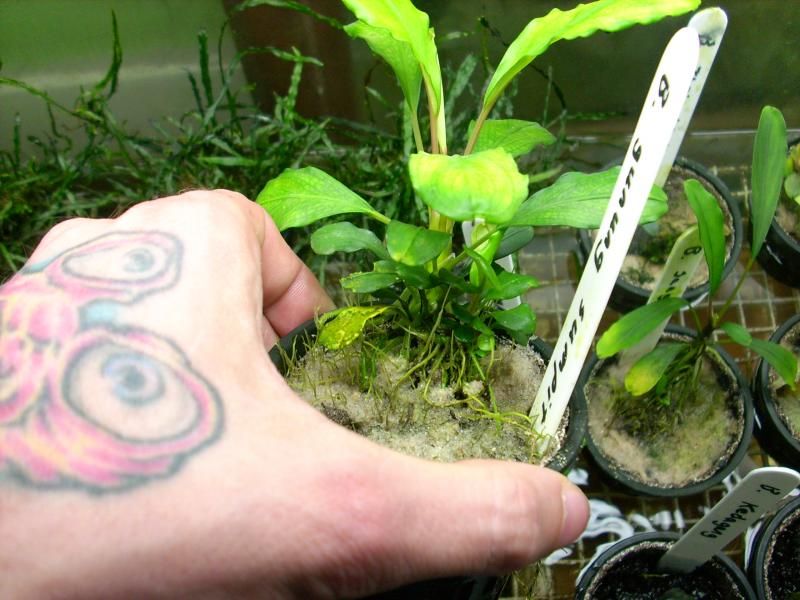 The yellow leaf there was pitted when I received the plant. I'm surprised it lasted so long. The picture I took of the sideshoot didn't come out well, but you can kind of see it there. I think the time has come to split this guy. I'll take a picture tomorrow and we'll call it Exhibit B. Why B? Because I have an Exhibit A...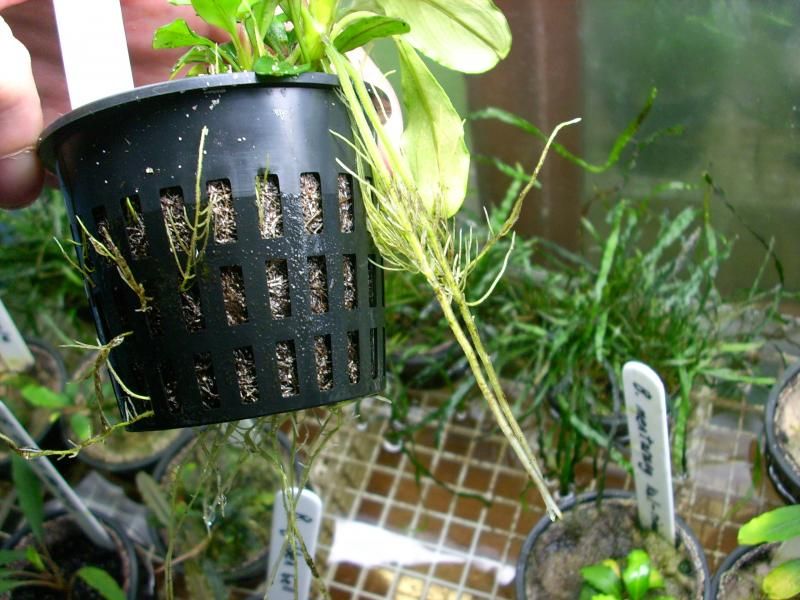 ...apparently my pots aren't good enough.
---
Last edited by BWG; 11-01-2013 at

10:45 PM

. Reason: Chesh isn't really pushy. Incapable of selecting though!
I took about 75 pictures for you guys tonight. I just went through to delete any bad ones, but I still have a decent amount. I realize I didn't reply to some of you previously and that's rude so first a post about that.
John, the new plants honestly aren't doing too bad. I have had some in the past that have died way back. I gathered up some pictures to show you. Some of these you've seen before.
Here's theia brown when I first got it.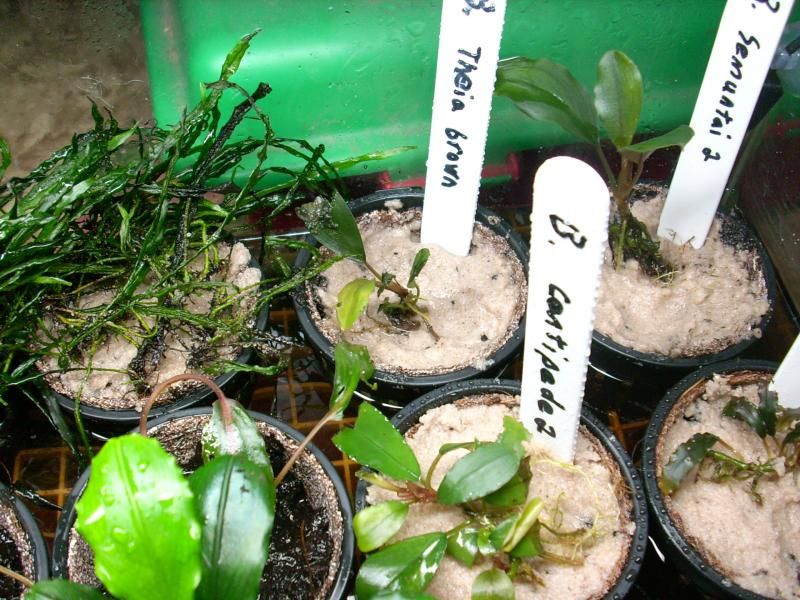 Here it is dying back and eventually leaving one leaf.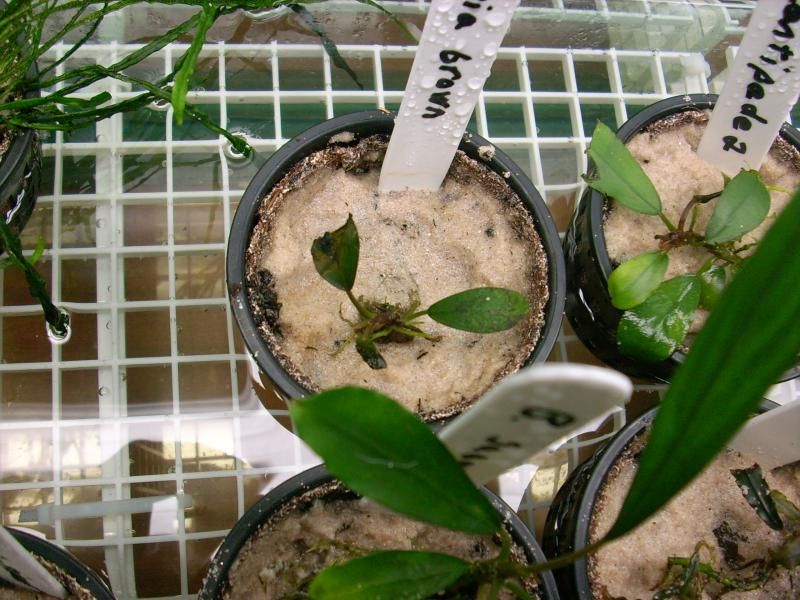 Sideshoots starting to form.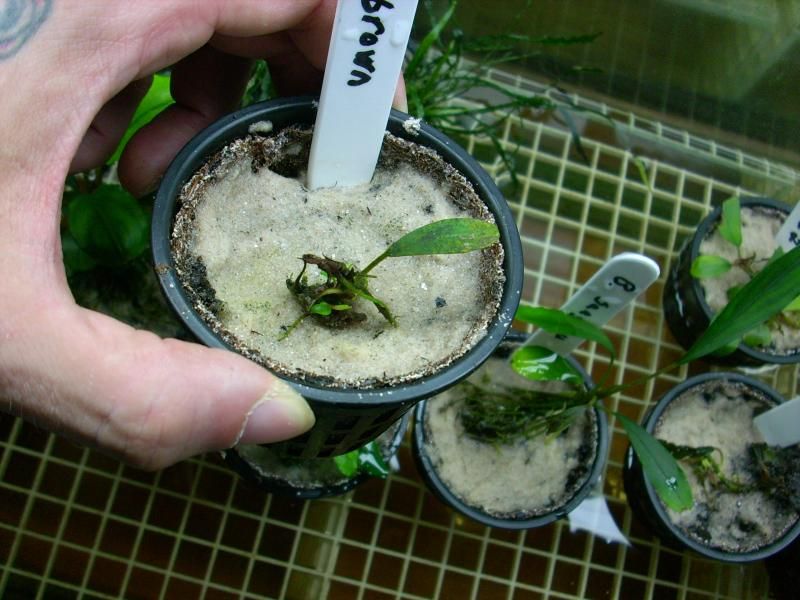 Tonight (algae ugh!) I expect thaat old leaf to die eventually from the looks.
With some patience they will come back even better than ever, since you now have more growing points.
Willow-lol The last fish I got were like 4 or 5 months ago. They haven't left QT, because I liked them in there. I'm making plans to finally move them though.
Izzy-Thanks. I am eager to get them under the good lights, but I can be patient.
Bek-Yes, yes you are.
SPATHE WATCH!!!!!
Semuntai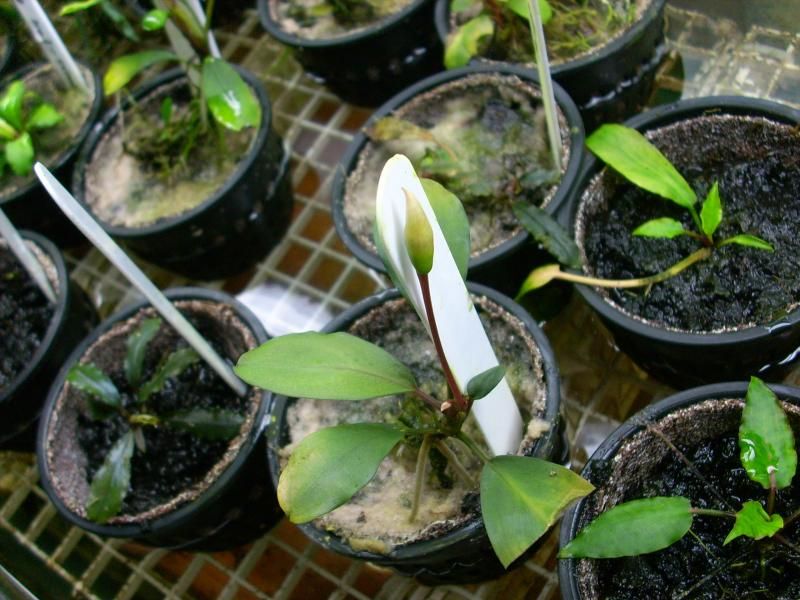 (Jes I know the picture will look better without the plant tag providing a white background! Those didn't come out so :P )
Artemis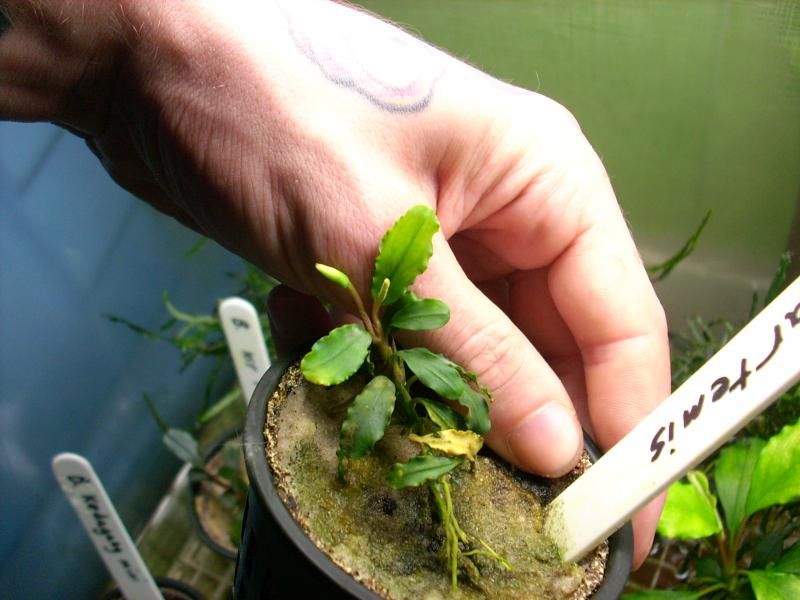 Yellow leaf there. This is another plant that doesn't like my pots. Small plant, long roots.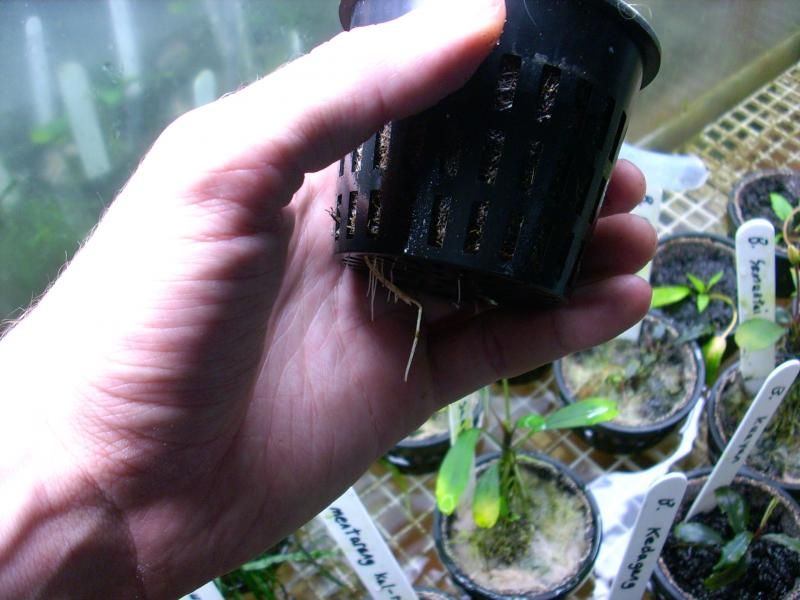 SPATHE WATCH?????
New spathe or new leaf? I'm waiting to see because I'm not sure.
The fungus seems to be gone on Miranda. Mod helper asked around and it seems common when gone from submerged. It was suggested to dunk them for 24-48 hours. I didn't try that yet. One yellow leaf, but you can see a new one forming as well as new roots.
Gunung Sumpit hopefully showing why I want to split it better than last night's pics.
All the plants before the newest are growing. Here's an example. That plant on the left is still not Kedagang mini!!!!!
QT Tank shots
See the bare rhizome there in the Alamanda 2 pot? Failed experiment since you can see how it is turning to brown mush.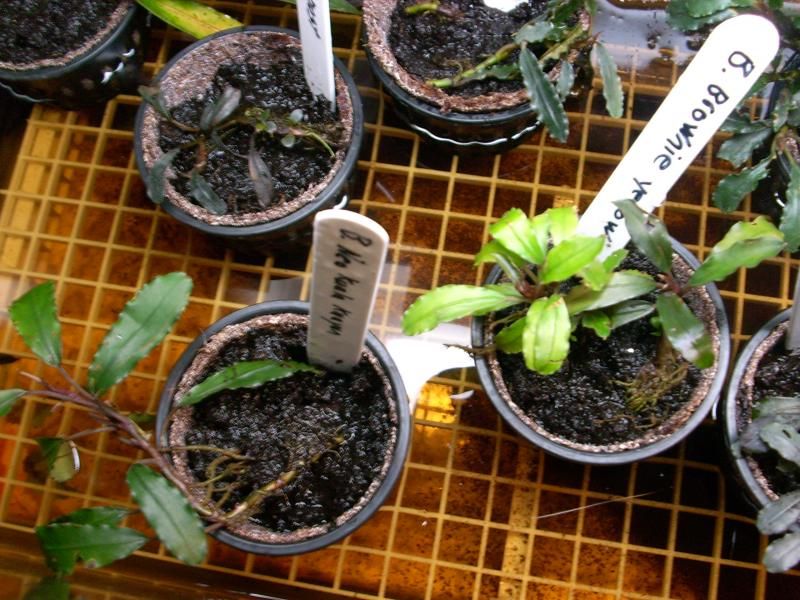 The Buce in the lower right is growing new roots (not shown, didn't come out). That's the only new growth I've noticed so far in the newbies, but I haven't had them that long.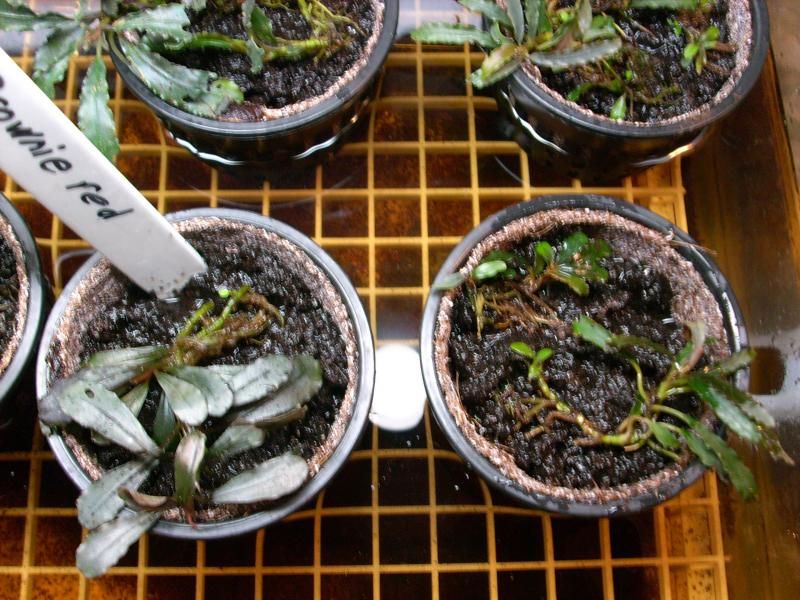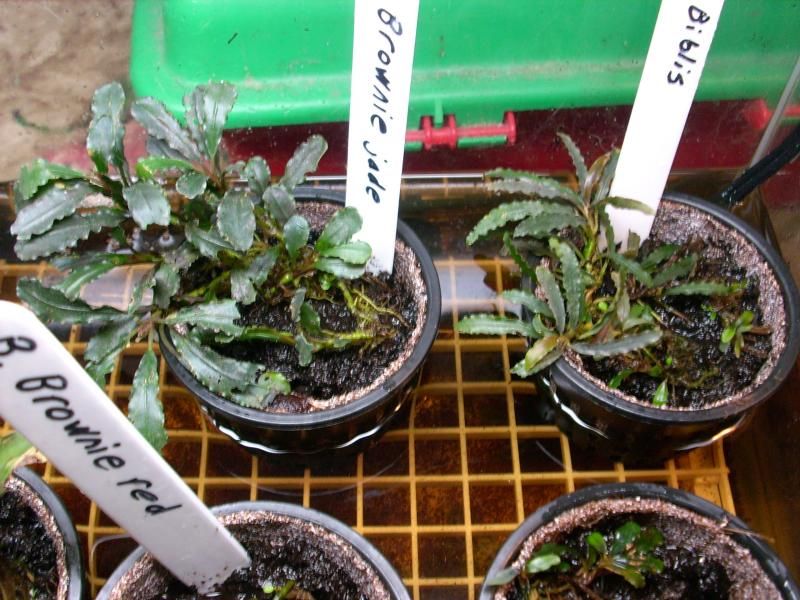 WHEW! I think that's it.
Posting Rules

You may not post new threads

You may not post replies

You may not post attachments

You may not edit your posts

---

HTML code is Off

---