Everything has now been gathered for the building of the fogger. This is so incredibly simple that even I should be able to do it. I'm following the method set out on the Dendroboard link so full credit to that person.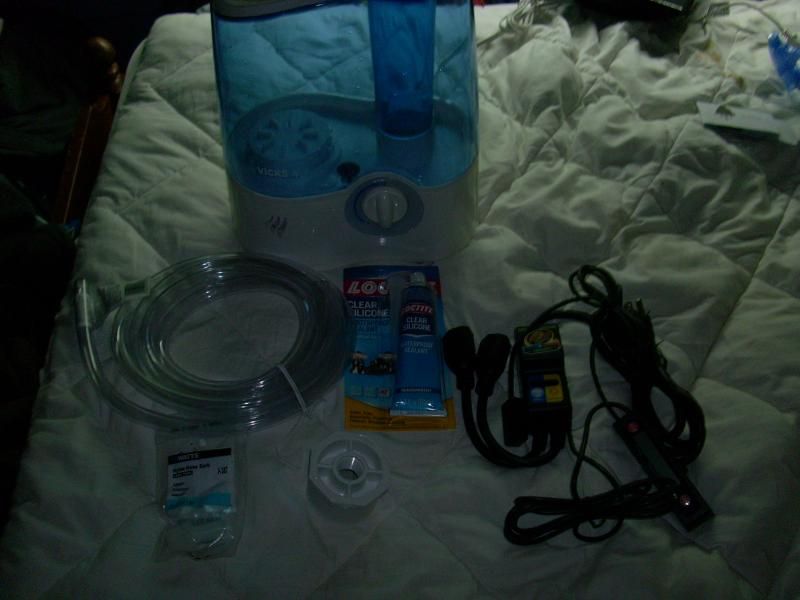 Vicks ultrasonic cool humidifier, 1/2" ID vinyl tubing, aquarium safe silicone, 2" to 1/2" bushing, 1/2" barbed something or other (too technical?), and the ZooMed hygrotherm controller.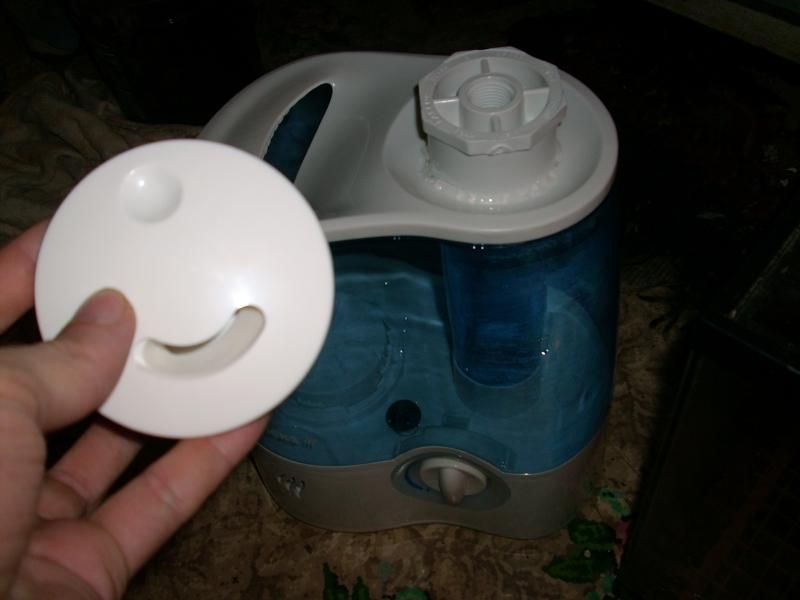 I took the directional nozzle off the humidifier and siliconed the bushing in its place. That is currently curing. This is most likely the sole sum of things I have to do beyond screwing in the barbed whatchamacallit (still too technical?), attaching the hose and plugging everything in. All this building has me tired. I need a nap.
| | |
| --- | --- |
| The Following User Says Thank You to BWG For This Useful Post: | |
i'll come out of Lurking to say....happy napping
---
when you set up a new tank,hide an extra
sponge or two behind some decor,that way you have
something seeded for you next filter.
Naps are excellent, Bekah!
Willow-No lurking. Read post one. I know there are other lurkers and they need to stop! Even if they have to join the forum to post!
I bet everyone is wondering about the fogger. I realized last night I probably should have screwed on the barbed thingamajig before siliconing the bushing to the humidifier. I said to myself "Self just be careful and it will be fine. Nothing to worry about. You got this! I bet you won't even rip the silicone if you just don't overtighten."
So after resiliconing it tonight I decided to distract with some pictures. Yeah you can read between the lines for what happened. Don't make me say it. One tool (a wrench for crying out loud!) and bad things happened. Well not even bad, since it's harmless, but a delay. I could lose my man card for this.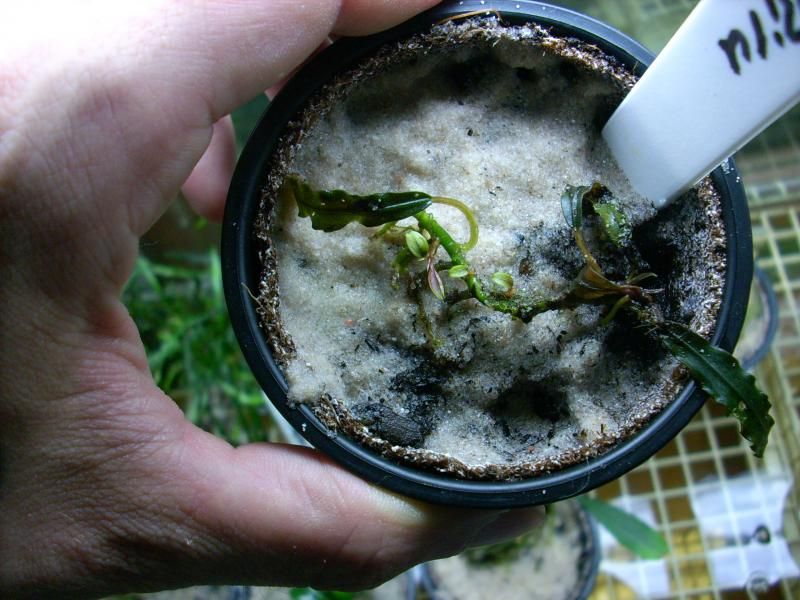 There's an upclose picture of the Bukit Biru. Those little leaves are definitely sideshoots since you can see the one on the left forming a second leaf. Chesh asked me what a sideshoot is, that's just what I call it. If it was stem plant it would be a sideshoot or sidestem. Don't know the correct term but I have heard people call these either of those or even plantlets.
Remember the other Buce that died back? The Theia brown? It has sideshoots as well, both growing a second tiny leaf. You probably can't see it so well on the first picture so I took a second that hopefully you can.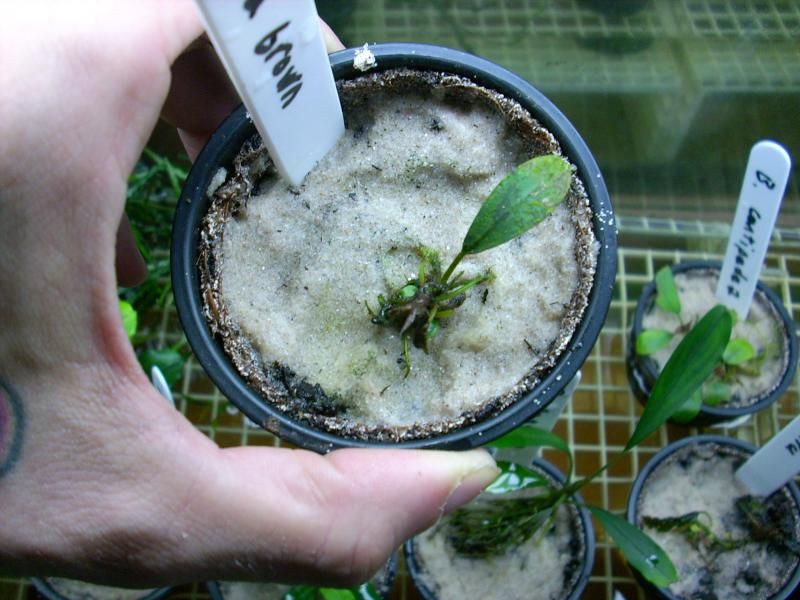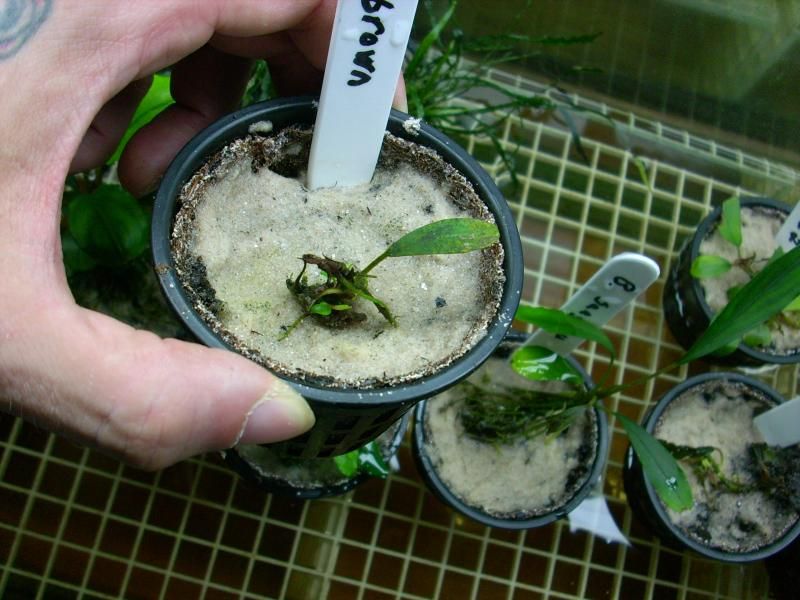 Chesh always wondered if the original rhizome would die. That's a no. Here's the Gunung sumpit and green chile so you can see what happens. Honestly I could cut both of these off and have a second small plant no idea if that is something I should consider or not.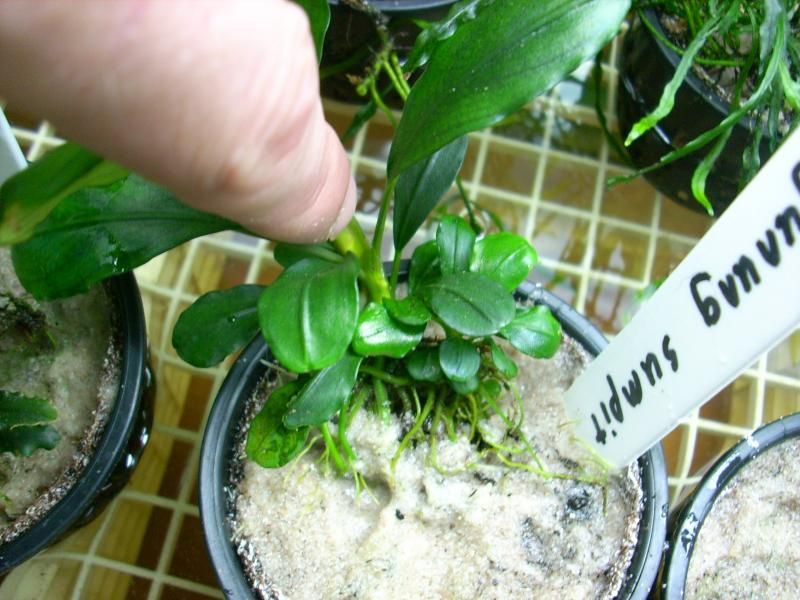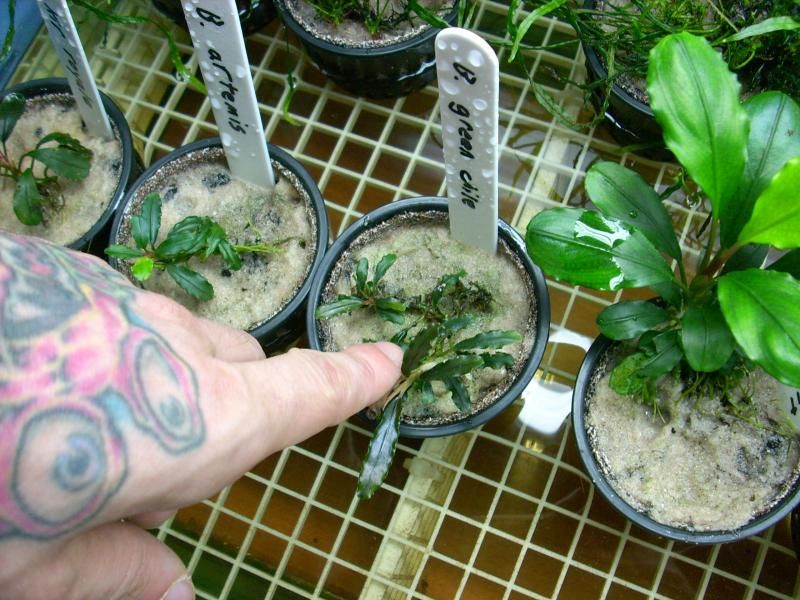 I should have gotten a closer picture of green chile. The centipede 2 also has a sizable sideshoot, but I didn't take a picture of it. I can if anyone wishes, but only as a further distraction.
Cory you are soon going to bunches of baby plants!! They are looking great! Can't wait to see what difference the fogger makes!
---
Here is to hoping you will soon be overrun with baby plants!!
Ur excellent

also joining the people who hope you get baby plants!!
Posted via Mobile Device
babies..and photos...what a combo
( man card )
what is this terminology ?
---
when you set up a new tank,hide an extra
sponge or two behind some decor,that way you have
something seeded for you next filter.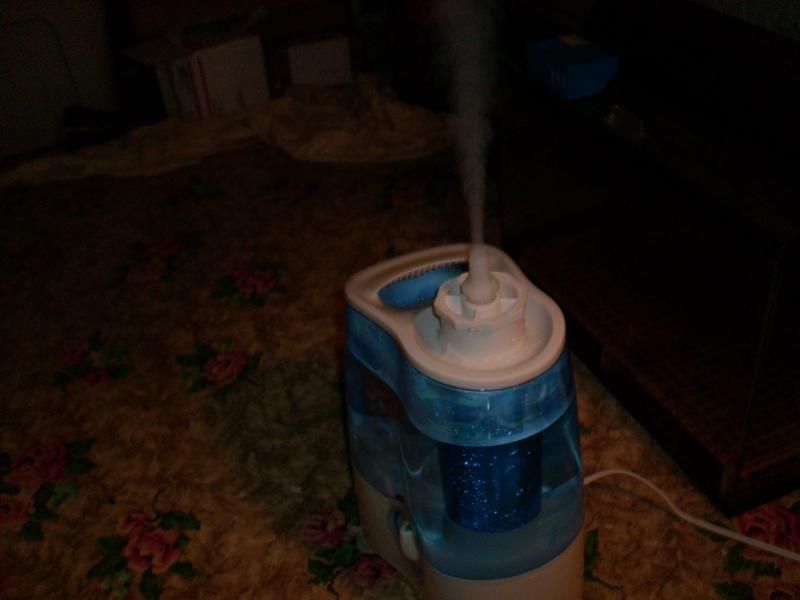 Testing everything out and...IT'S ALIVE!!!!!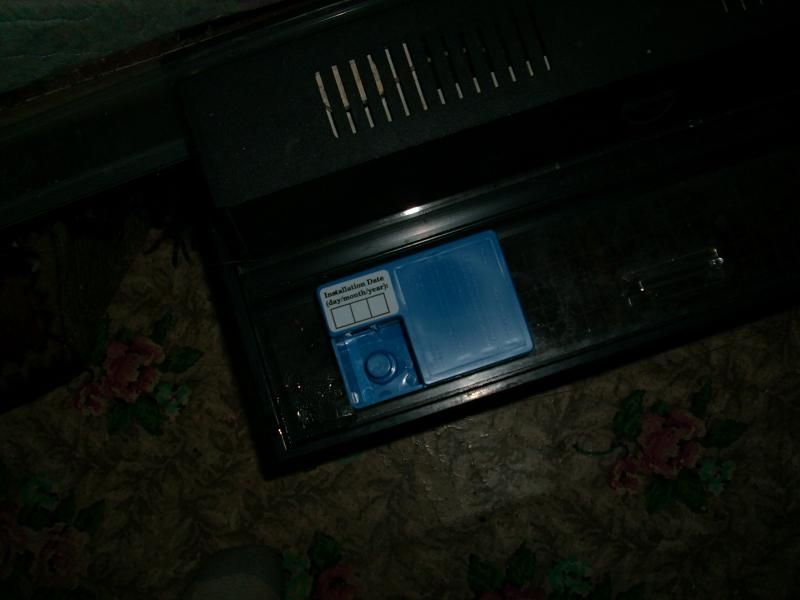 This here is a demineralisation pad. My water is soft so I'm going without using this. No sense in having to keep replacing this. White dust is possible? Oh no! Wait...so it'd be the same as if I was spraying with a bottle and got some water marks? Whew.
After getting the kink out of the hose. Going...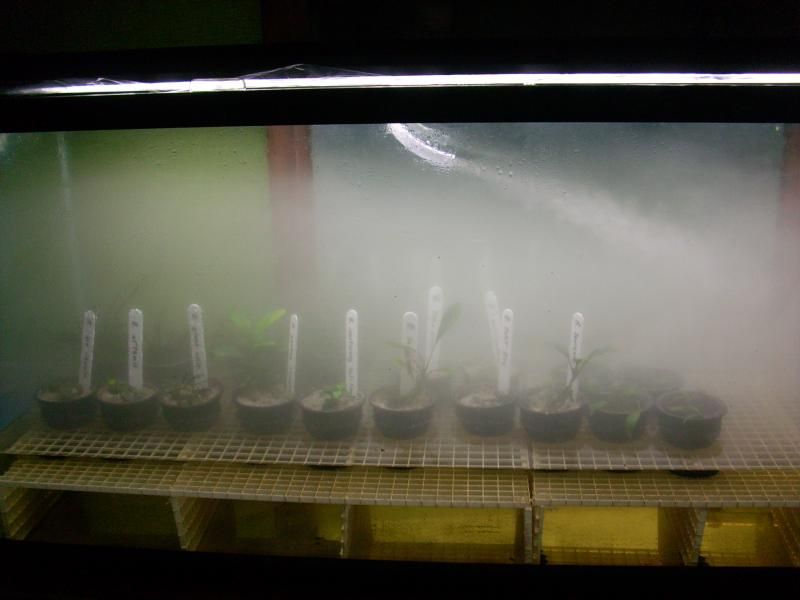 going...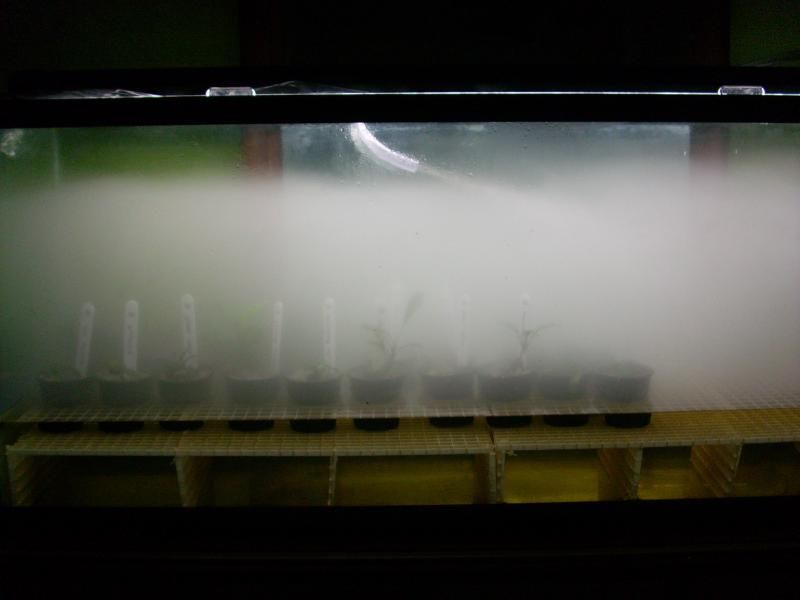 Gone! This is 85% (less than the broke hygrometer read) which is about as high as I can get. I'll have to work on trying to seal things better if I want it higher. It's late, I was lazy and didn't cut the plastic at the back, just slid the big hose under it.
---
Last edited by Chesh; 09-29-2013 at

11:37 PM

. Reason: OP is cute
| | |
| --- | --- |
| The Following User Says Thank You to BWG For This Useful Post: | |
LoL told ya you weren't be able to see inside your tank with the fogger!
It looks great ans hopefully it makes a big difference in your plant growth!
---
Posting Rules

You may not post new threads

You may not post replies

You may not post attachments

You may not edit your posts

---

HTML code is Off

---