Get it set up, and remember to sing them songs. i did an experiment in middle school and...i don't remember how it worked but music and plants *nod*

Hope they bounce back!
Posted via Mobile Device
Well it finally happened. I upgraded to the 55 gallon. Still have the 10 gallon set up, although I did steal the heater from it. That means I have a whole, whole lot of room for pricey plants. I guess people want pictures. I must be getting better or the new light helps me since every single picture came out.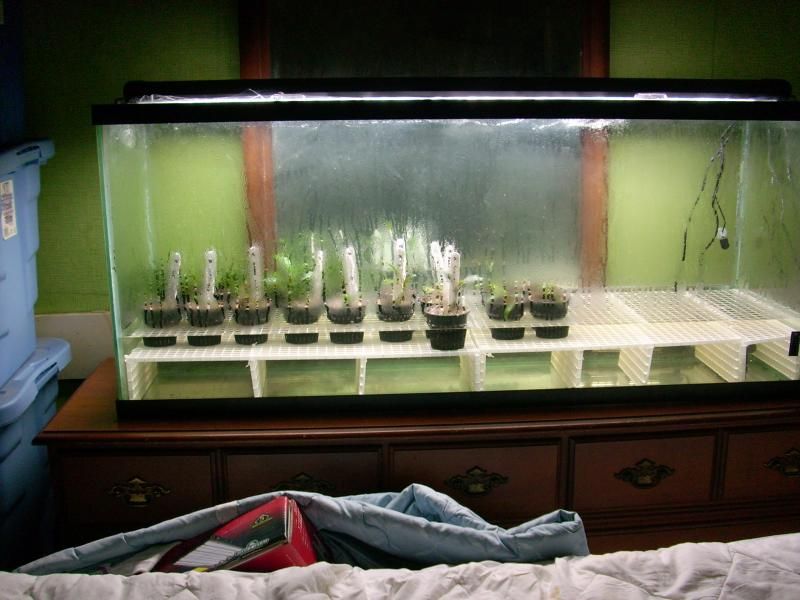 All steamed up. The Odyssea dual T5HO is on there so hoping for lots of new growth (some of the plants could use it, but more on them later). All that egg crate was cut by hand since I couldn't find a single person willing to trust me to use a power tool. Took quite a while to cut and trim it all. Without having the 10 set up I might have gotten away with using one sheet.
The reason the egg crate is so high. A cheap Maxi-Jet 600 set up as a powerhead. Seems to be doing the job since I can see a bit of current throughout the tank. I'm hoping that will cut down on any algae and also help to spread any ferts I might put in the water. Can't hurt. I was actually smart enough to put the powerhead under its own small stand. That way when I have to take it out to clean I will only have to move a few plants at most...if I ever get to having that many.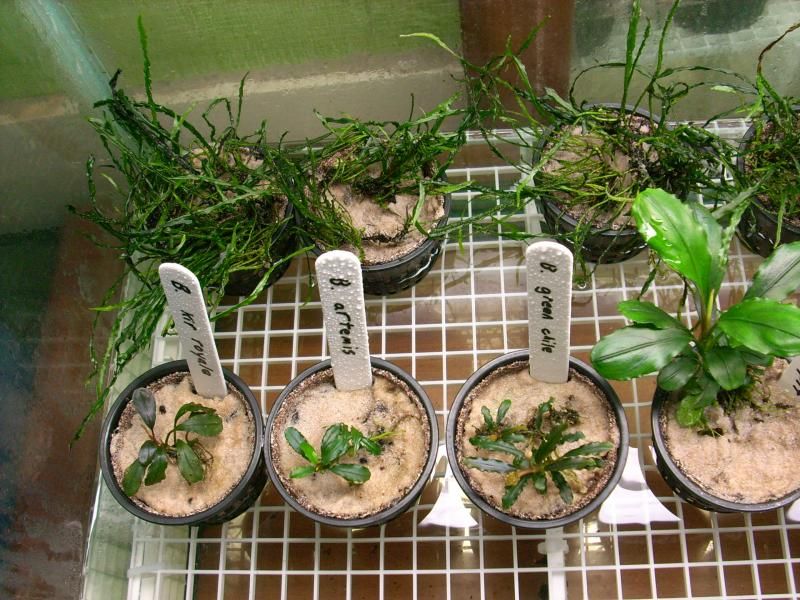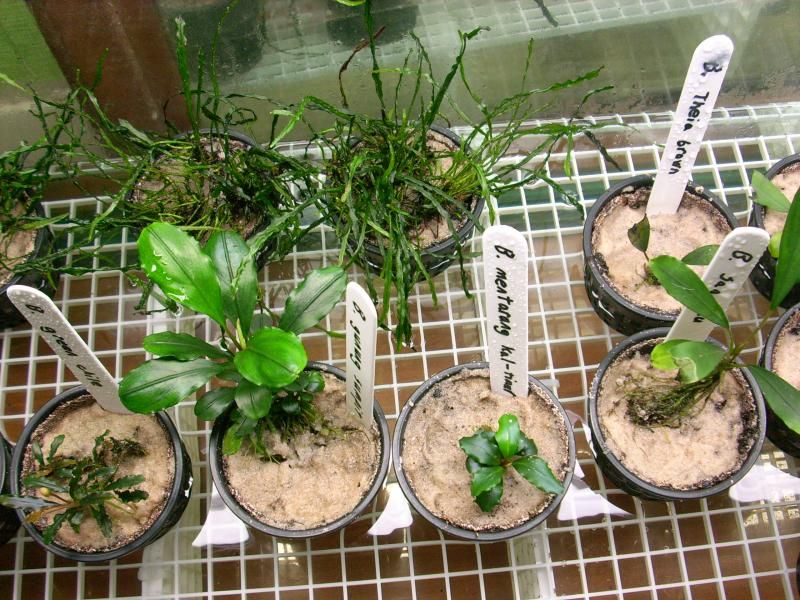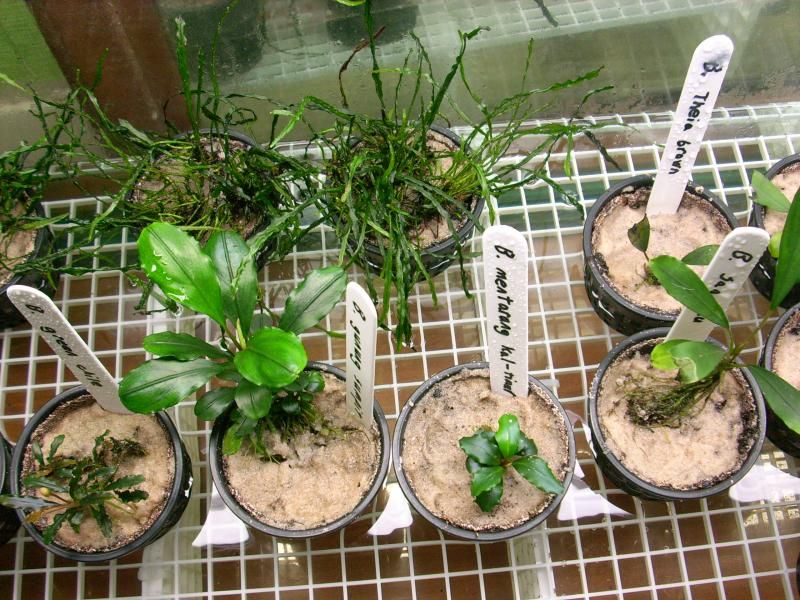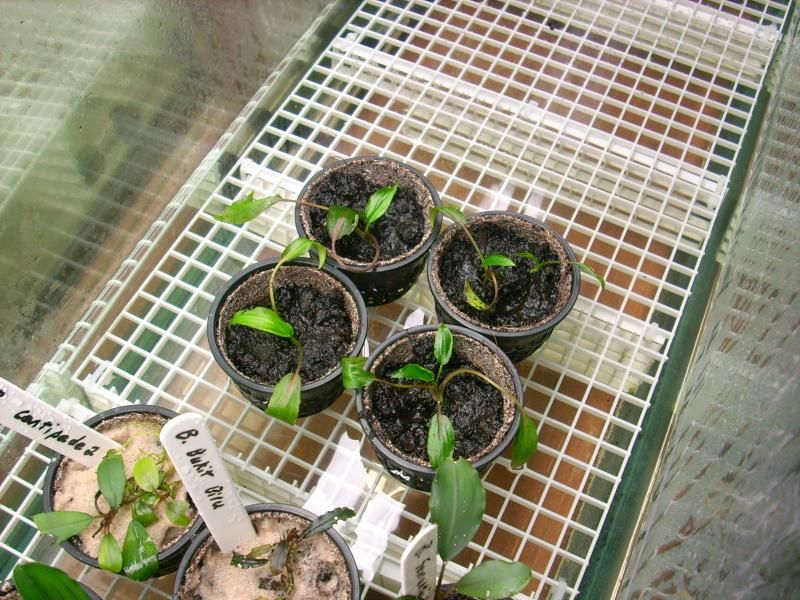 Same plants, so I don't know that I have much to say as a whole. The tank is taller so to get close ups I'm going to have to pull the pot out or either hang into the tank. Zooming makes my camera turn off. Yeah you read that right.
Next I'll show the two fullest ones and the two that seem to need some TLC.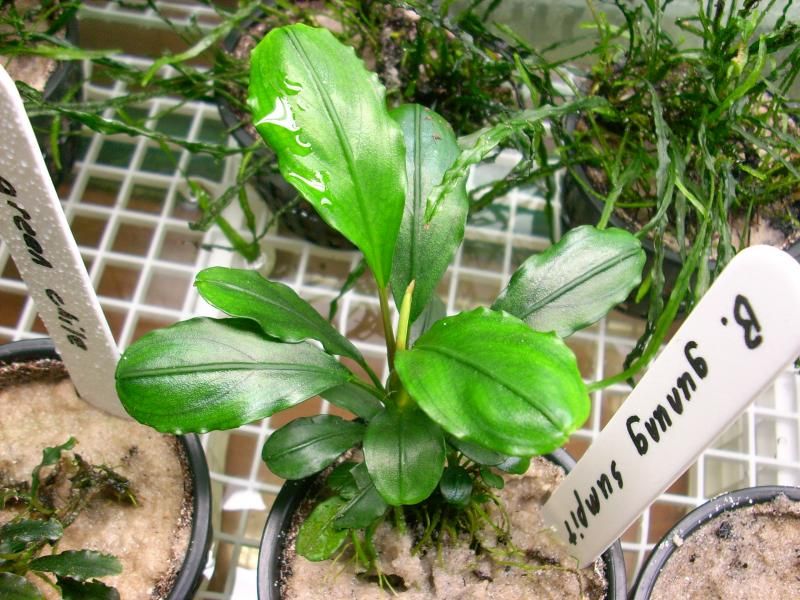 Yep, it's growing a new leaf again. I should take this one out to get a shot sometime. There on the lower right is a sidestem with plenty of leaves of its own. It's just always hidden by the larger ones on the main stem. Wonder if I should separate it, but it's growing now so whatever.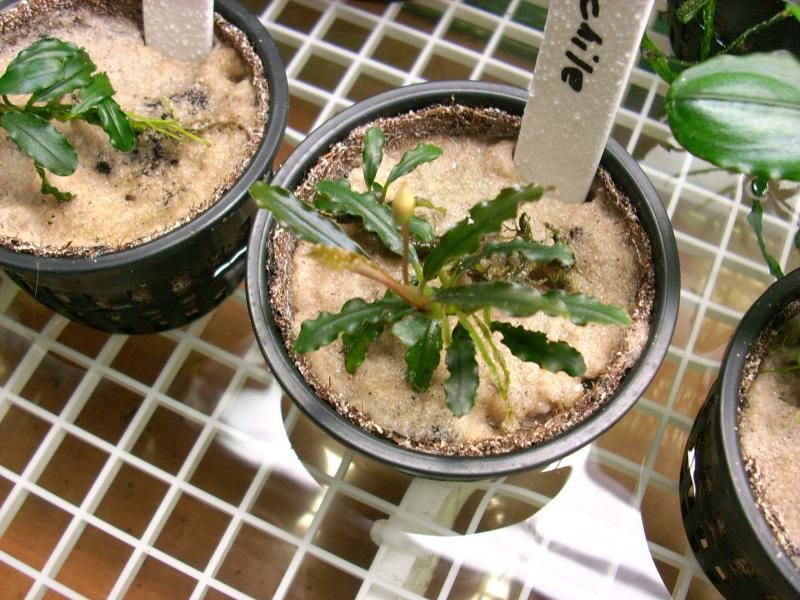 Spathe still hasn't opened, but it's grown two new leaves this week so I'm not complaining.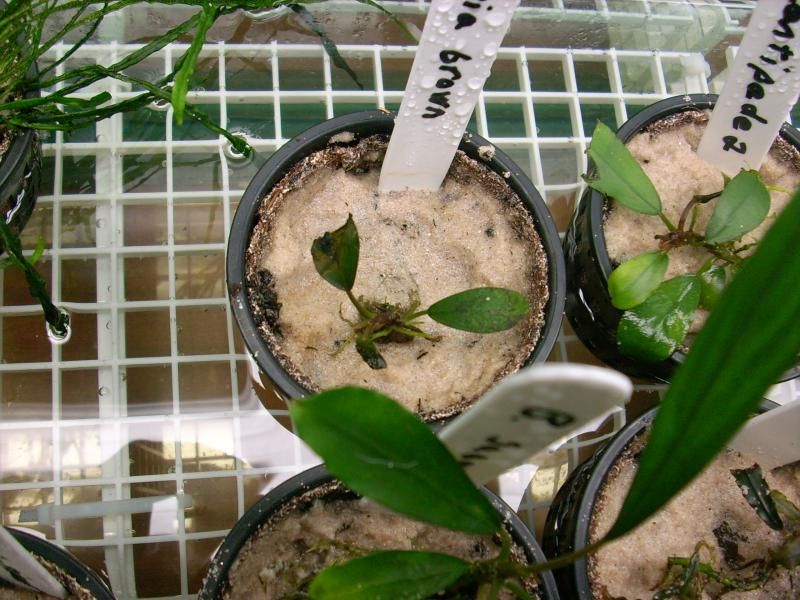 The theia brown had some issues when I got it. As I kind of expected the damaged leaves have gotten worse. Hope it recovers.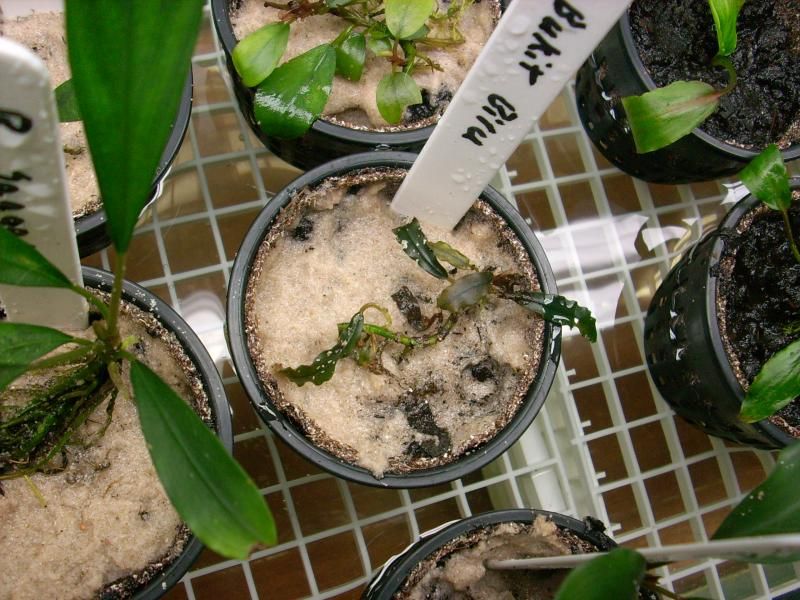 The rhizome is fine on the bukit biru, but it did lose leaves as I've mentioned before. I'm hoping this and the theia brown are just adjusting issues. I'm caring for all the plants the same.
---
Last edited by BWG; 09-16-2013 at

10:42 PM

.
Man that must have been a pita to cut all that by hand! It looks great man! Keep up the great work! Hope the two newest ones recover and start to grow for ya!
---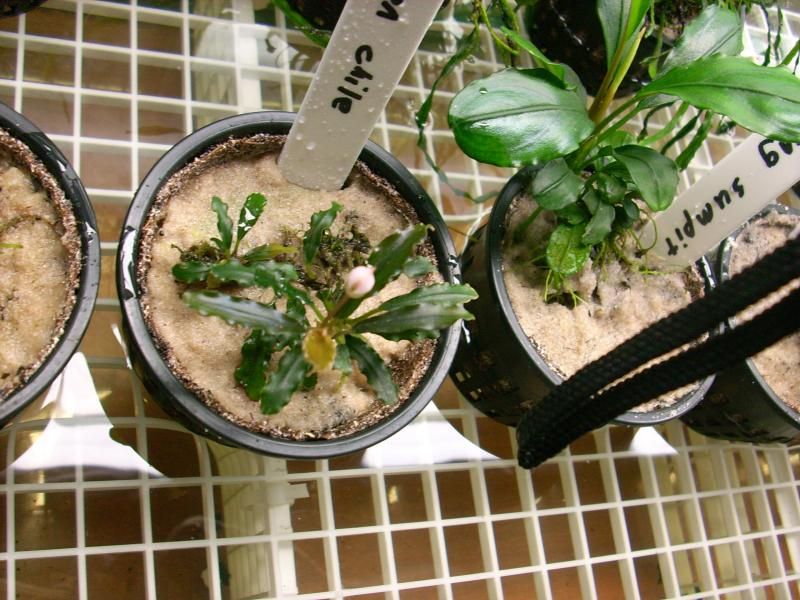 Not the best picture (and look I forgot to hold up the camera strap!), but I come home today to check on the plants, well actually to see if the timer I started using was working, and see the green chile spathe is now white. How was that for a run-on on sentence? I first noticed this thing growing 2 and a half weeks ago, so it's really hard to say if one day under the much brighter lighting was the cause of it looking like it finally wants to open up.
IT LOOKS AWESOME!!!! And you got a flower!!! Sounds to me like you are doing an amazing job!! Your photography skill has certainly increased, too! You are becoming one with the camera.

Also... it honestly doesn't look like you have much more room for more plants...
Quote:
Also... it honestly doesn't look like you have much more room for more plants...
I'm older, means I was doing sarcasm before you. My signature even comes with a sarcasm fee. Space was never an issue, money and finding plants were. So in the spirit of that you can send me a royalty fee for the schtick stealing.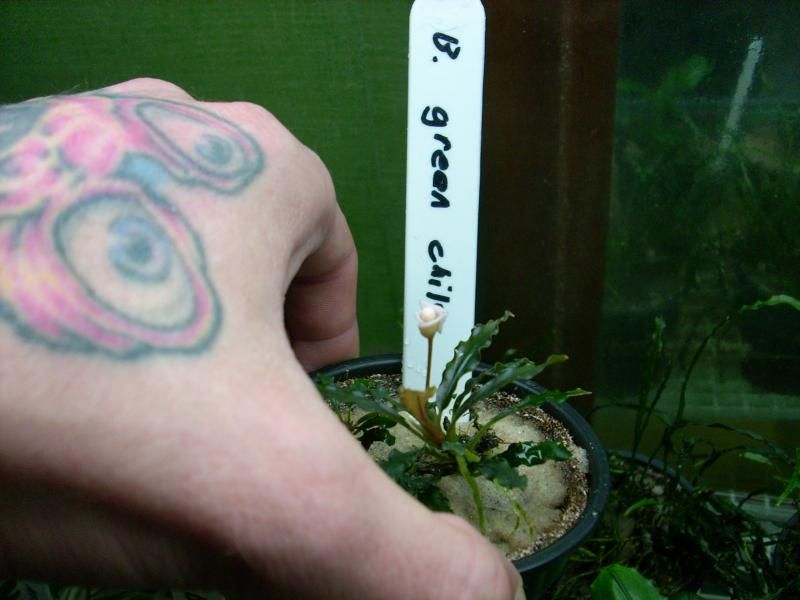 The flower opened up today. This picture should also prove once and for all that I have a left hand and that hand has a tattoo on it. There is still no proof however that I have a face.
| | |
| --- | --- |
| The Following User Says Thank You to BWG For This Useful Post: | |
It's beautiful, Cory. . . so tiny and so perfect. Makes me happy. . .



(You do have a left hand. That had does have a face tattooed on it. This *also* makes me happy.
The face that's on your head is much nicer, though - I have proof!
Spathey baby has both hand face and face face beat for pretty, though your face makes me happy, too!)
Posting Rules

You may not post new threads

You may not post replies

You may not post attachments

You may not edit your posts

---

HTML code is Off

---