xrayjeeper83!!
---
HaPpY BiRtHdAy!!
I hope you have a great day
---
If you don't stand up for something you'll fall for anything...
thanks yall
---
5 gallon
Beta
3 MTS(sure to be mean more soon)

55 gallon
Bloat who is a Fahaka puffer
Plants
Happt birthday to you.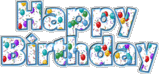 ---
when you set up a new tank,hide an extra
sponge or two behind some decor,that way you have
something seeded for you next filter.
Happy belated birthday!
---
Puck (Yellow koi HM king) / Scar (White HM) / Salt 'n Pepper (Silver HMPK) / 'That fish' (Copper butterfly HM) / No name (White DT) / No name 2 (Turquoise/white marble HM) / No name 3 (Lilac HM)

Bo Peep (Cambodian VT) / Goldilocks (Yellow VT) / Joie de Vivre (Multicolour VT) / Lil' Peep (Blue VT) / No name (Dalmatian VT) / No name 2
Happy Birthday!
(This message was sent at 8 pm on the 11th. Must've been a server error, or something
)
---
4 8 15 16 23 42
hahaha

thanks yall
---
5 gallon
Beta
3 MTS(sure to be mean more soon)

55 gallon
Bloat who is a Fahaka puffer
Plants
Posting Rules

You may not post new threads

You may not post replies

You may not post attachments

You may not edit your posts

---

HTML code is Off

---