new dog and cat
---
Our friends are moving out of the country and can't take their dog and cat so we took them
We've been wanting another dog but didn't want to pay $350 to get one from the SPCA so we took this guy to save him from ending up there.
His name is Dane and he's the sweetest guy ever
I wil post pics of kitty once she comes out of hiding.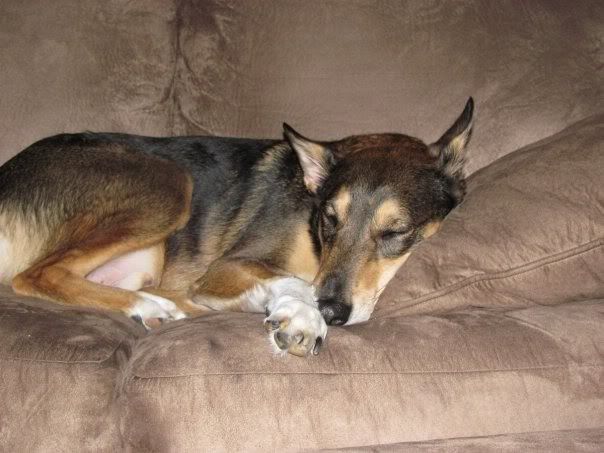 That's great that you were able to take them in. Dane looks just as sweet as Max.
I'm not worried about Max getting along with Dane but I wonder how Diesel's going to take to another cat in the house? How is he doing so far with it?? Diesel's such a maniac, but in a good way.
---
If you don't stand up for something you'll fall for anything...
im so happy we were able to take them :) now as long as our landlord doesn't find out....

max loves his new buddy :) they both old and laid back so they get along great... the only problem is everytime we give any attention to Dane , max whimpers and cries then sulks away ;(

Diesel hasn't met the cat yet. It should be interesting because hes never met another cat but he gets REALLY excited when he sees one in the window. Right now Zipper is locked in the bedroom so they can just smell eachother for a bit. we'll probably let them meet tomarrow but knowing how rough and crazy Diesel is I just hope he doesn't hurt or kill Zip.

Loovee him (:
Hope they get along ): When we brought my kitten in, my older cat HATED him. Now, though, she mothers him, and whenever he's ever upset she attacks the one who made him upset x3 She's attacked my stepdad (love her for that). I hope the same eventually happens for yours. It might be tense at first, but hopefully they'll get used to each other. Loud noises will happen, but that's all it (usually) is; loud noises. Good luck!
---
Marina- VT ; Leopold- HM ; Sylvester the Ghost Shrimp


He is so cute! Has Deisel met the new cat yet? I hope they can get along...or at least tolerate each other.
---
Puck (Yellow koi HM king) / Scar (White HM) / Salt 'n Pepper (Silver HMPK) / 'That fish' (Copper butterfly HM) / No name (White DT) / No name 2 (Turquoise/white marble HM) / No name 3 (Lilac HM)

Bo Peep (Cambodian VT) / Goldilocks (Yellow VT) / Joie de Vivre (Multicolour VT) / Lil' Peep (Blue VT) / No name (Dalmatian VT) / No name 2
how cute! I have a cocker spaniel named Daisy that is too furrie to see if she is not shaved occasionly, and is to round to be a cocker. we call her a "yakker spaniel".
---
My Bettas:
Pixie
R.I.P Francisco
(you are missed!)
i
2ski!!
GO fishies!!!!
"Give a hoot, don't pollute!"~the one creepy owl dude who is friends with Smokey the Bear
"A pessimist complains about thorns on rose bushes, but an optimist rejoices fo rroses on thorn bushes"~some guy
"the glass is either half full or half empty"~some guy
Posting Rules

You may not post new threads

You may not post replies

You may not post attachments

You may not edit your posts

---

HTML code is Off

---