Well I don't think he looks too bad as I've seen much, much worse on my cat the one time she threw a fit while being groomed. There were able to zip off only 1/2 of her top coat and tail, but not her legs so she looked very bizarre and uneven. I think the vet/shots put him over the top. I had one cat who always felt grouchy and pissy after shots and I couldn't go near her for 24hrs after the vet visit. Diesel will recover and in the meantime know that he really doesn't look that bad.
---
If you don't stand up for something you'll fall for anything...
he just looks so silly. the way he walks around the house makes me burst out laughing everytime i see him. lol at least they did a good job on what they could. its all nice and even/smooth and he looooves to get pet there now. it must feel good now all that furs gone.
He's calmed down now and decided it was okay to show his face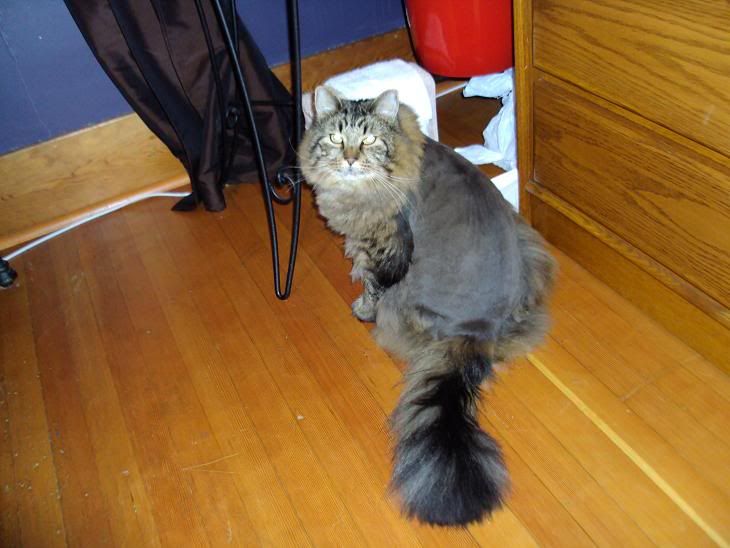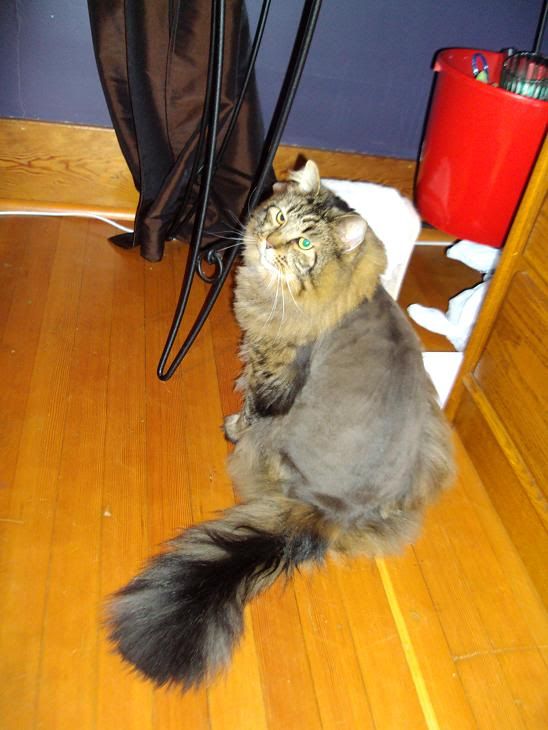 awwwww i bet he felt so embarassed when you laughed at him,
couldn't contain my laughin,but he can't here me.
but i have to say the last picture he looks like he's thinking
"hmmmmm go on,go ahead one more laugh and you're gunna get it "
---
when you set up a new tank,hide an extra
sponge or two behind some decor,that way you have
something seeded for you next filter.
Ummmmm.....eeerm.....
I got nothing.

Poor thing.
---
Animal testing is a terrible idea; they get all nervous and give the wrong answers.
And what does a naughty boy look like? Just show him that last photo
He looks so
smug
at getting out of half of his haircut.
please pray for Diesel or keep us in your thoughts.
I woke up this morning at 5:30am to him coughing up a hairball. Fairly uncommon for him but he does get them once ina while. Then every half hour after he kept throwing up liquids and having diarreah. He seemed fine and went to sleep so I went back to bed. When I woke an hour or so later there was a medium size pool of blood that he had thrown up.
He seemed fine and was purring and wanted to be held. When I touched around his belly it didnt seem to bother him. Regardless this is something you never ignore so I rushed him to the vet where there keeping him for observation and some sort of treatment. Needless to say i'm a nervous wreck and can't stop crying
Sorry to hear about that
---
5 gallon
Beta
3 MTS(sure to be mean more soon)

55 gallon
Bloat who is a Fahaka puffer
Plants
It's good you took him to the vets. Maybe he ate something he shouldn't have, or something that disagreed with his system. That and a hairball could cause all those symptoms. D-man is in my thoughts and all my prayers are headed your way.
---
If you don't stand up for something you'll fall for anything...
thanks kymmie. even my bf who always gets mad when i want to take the animals to the vet said to take him right away. he also may have a heart murmur that wasn't picked up on saturday. and lord knows diesel eats everything and anything so maybe he did eat something and he was throwing up so much to get it out that he caused irratation and blood.

it feels so weird not to have him here with me. usually hes right beside me or following me around everywhere. even the dog is upset, but he just doesn't like to see me crying
---
Last edited by Kaisa; 04-28-2010 at

01:51 PM

.
Similar Threads
Thread
Thread Starter
Forum
Replies
Last Post
Poor ABF. :(

MattD

Ancient Fish

7

12-04-2007

04:27 PM

poor BKG

cullens089

Ancient Fish

12

09-28-2007

11:51 PM
Posting Rules

You may not post new threads

You may not post replies

You may not post attachments

You may not edit your posts

---

HTML code is Off

---