Wouldn't ya know it!!!
When I was much younger, my granddad had a Chris Craft, wooden hulled boat. For the past several, like 15, years I have been trying to find one in good condition at a reasonable price. Well, guess what!! Now that I have no more room for more boats, I found the boat. It is in perfect shape, completely restored.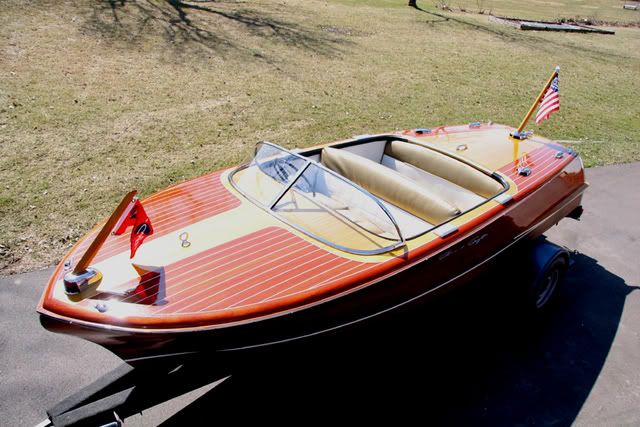 The better half says that I can only use one boat at a time. She's right there. She also said that we have no room for another boat. Correct again. She then said that if I got the Chrissy, I might be sleeping on of the boats. Do you think she means it? It sure is tempting.
She has threatened to shoot Scott, my buddy, who told me about the boat. He and I have looked at many of these boats and he said the boat is by far the best he has seen. And the price is right. She said I could get the boat if I sold one of the larger boats. I really hate to do that.
I was told long ago that being a man, toys are always a part of your life. And that the one with the most toys when one dies....wins. If I were to buy this boat, I may die a premature death though.
Isn't your wife the one who said she was gonna kick you out about a million fish tanks ago?
Not my wife, we co-habitate. She just said "No more tanks." But, then she wanted me to set up tanks to grow plants, which I did. So, I guess that deal is off. That was about 50 tanks ago.
Ohhh, it's a beauty too. What's the asking price?
---
This is the song that never ends...
Quote:
Originally Posted by Flashygrrl
Ohhh, it's a beauty too. What's the asking price?
$24,000. Not bad for a classic, totally restored boat. All of the hull is still the original wood, and the engine was 100% reworked. I have seen these boats have price tags as high as $40,000. I'd almost bet those owners still have those boats.
Willow, I already have a sign like that. lol
Hate to say it but I think you'd be dead meat if you bought it :)
---
This is the song that never ends...
lol nice boat on the big one and that small one would like nice but an IO? All the problems of a OutBoard (70% of engine problems are from lower units) and all the problems of an inboard with almost none of the benifets
But free is free and i like free.
---
http://img374.imageshack.us/img374/2559/bf2kingnq9.png
Signature Created By Codey
Oddities Aren't Wrong, Their Addicting
Please tell me that someone else noticed that the wooden-hulled boat is the exact boat Indiana Jones fought the guy on as it was being chewed up by a ship propeller in The Last Crusade. C'mon...someone?
---
4 8 15 16 23 42
Posting Rules

You may not post new threads

You may not post replies

You may not post attachments

You may not edit your posts

---

HTML code is Off

---