My New Old Boat
---
Got her for free. Can't go wrong there, eh? Finding it to be a money pit, though. Anyone got a tank big enough for this fish?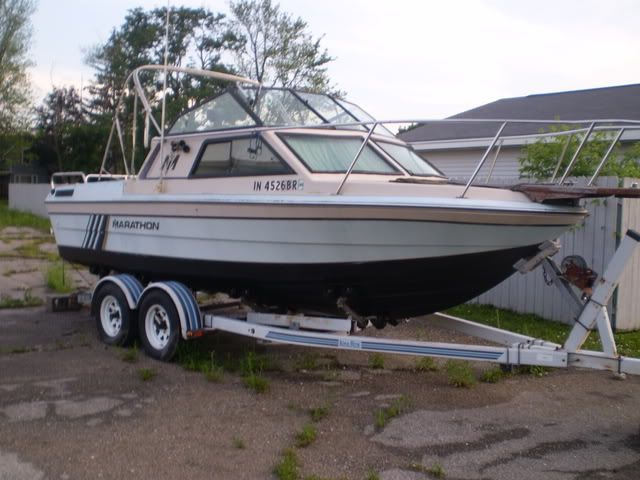 Bow, Starboard Quarter
Bow, Port Quarter
Starboard, SternQuarter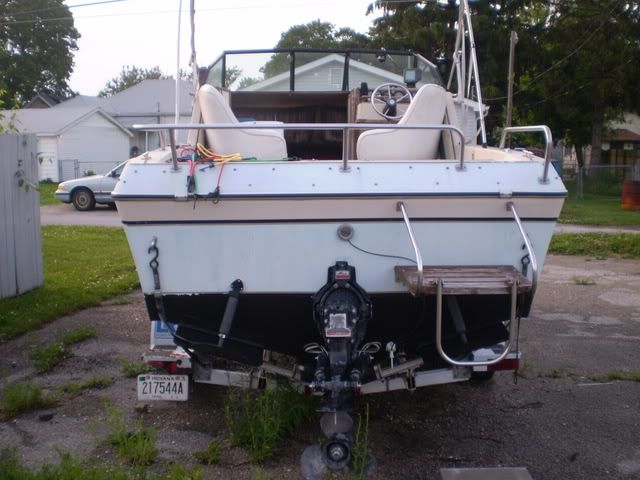 Dead Astern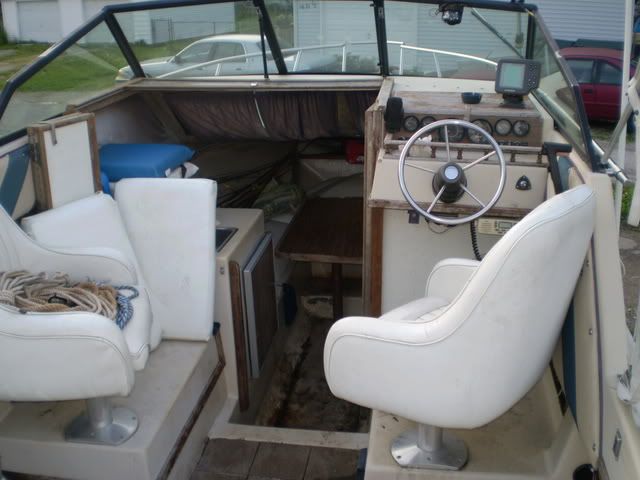 Yep, that's the Captain's seat on the right.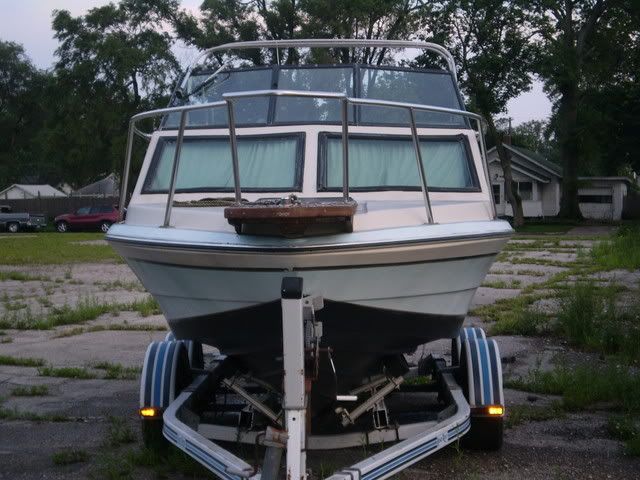 At the Bow
I hope to be 85% done by July 4th, going to get her wet then, regardless. Rewired the entire boat, scrubbed out the cabin and rear deck, and painted below the water line.
Not as big as the other boat, but at least I can trailer this one. A 32' Carver 3207, the other boat, is not something to pull behind your truck for any distance. This will do just fine for that. And she doesn't leak!!! All of the rain and storms you've been reading about in Northern Indiana have been right in my yard.
Here fishy, fishy.
You got it for free? Why can't I find stuff like that? Just today my girlfriend found a $50 bill on the sidewalk. Where's my luck?
What're you going to do with it? Catch some fish to stock your 720g?
No, I already have the fish for the 720g. I am going to use this boat as my trailer boat. I have a Carver 3207 that stays on the Great Lakes. BIG boat.
Here it is: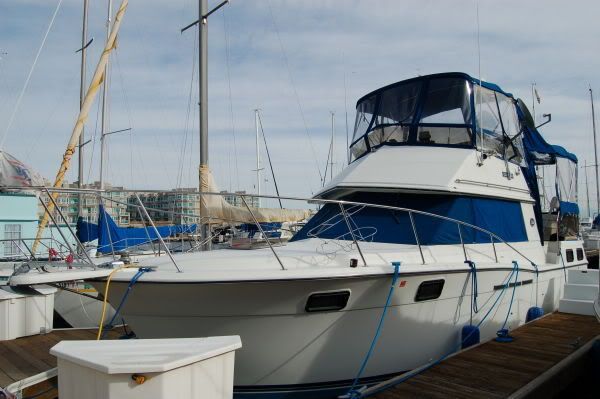 Now that's a boat!! I inherited this one. But, I like to fish and go boating and the Carver is just too far away to get to too often, about 1-2 times a month. Besides, gas is expensive and the big boat has two engines to feed. Both are 400hp gas guzzlers.
One of the neatest feelings I've ever experienced is piloting from the flying bridge, hot cup of coffee in hand, getting out past the sea wall an powering up. Almost better than .....well you know.
Ohhh, you're one of those guys I see cruising around in our channel that I envy for the totally awesome boats :) They use their boats for parties at night, do you? :)
---
This is the song that never ends...
So you got the boat for free? You aren't a Pirate are you? :P
---
The most important medication in your fish medicine cabinet is.. Clean water.
Quote:
Originally Posted by Flashygrrl
Ohhh, you're one of those guys I see cruising around in our channel that I envy for the totally awesome boats :) They use their boats for parties at night, do you? :)
Too old for parties. But I do have a pretty good sound system on the boat. Flat screen TV, too.
You live on the other side of the state. I am building a house just north of Cheboygan and south of the Straits. We vacation alot in Indian River. The better half's family has been going there since 1958.
Gonna walk The Bridge this Labor Day. Ange turns 50, said she'd do it. She is afraid of heights and deep water, we'll see.
Thanks for the compliment on the Carver. I know that you are talking about it and not the Marathon. But, just to let all know, both boats, when the Marathon is finished, will be great boats. I may have the price of a Carver in the Marathon when I'm finished. I have just ordered new wood for to replace all of the woodwork this morning. Stereo system for that boat is going in today, I'm just taking a break. Union rules, you know.
An anagram for BOAT, Break Out Another Thousand. The Marathon is proving that true. lol
We are planning a trip next year, taking both boats, and having the keels touch water in each of the Great Lakes. The trip should last about 2-3 weeks as we will do some sight seeing along the way. We'll probably start in New Buffalo, Michigan stay overnight in Petosky then on to Mackinac, for a day lay over. We would then hope to make Saginaw for an overnighter. Then to Luna Pier, Michigan, again stoppng overnight. We would make sure to take the boat into the Detroit River and Lake St. Clair. Then on to Lake Erie, the Carver's present homewater.
The rest of the trip would be a stop somewhere around Buffalo, New York. Then on to Lake Ontario. Lay over a day on Lake Ontario and head back.
The downside is that I have to make the return trip to Cheboygan, as we should be living there by then. I sure hope gas prices drop!!
1077, a pirate. No way. Pirates are the people on jet skis challenging you to hit them. Most of them are IDIOTS!! Then, you have the people with the big, high performance boats... Besides, I'm more like the "pirate" in the Jimmy Buffet song, "A Pirate Looks at 40". More my style. I may be a little "crustier" at times though.
And if anyone thinks these boats are really free, you can pay for one year's maintenance, gasoline, licenses, and marina charges for me. It'll take a BIG chunk out of your aquarium budget.
Bob
Two 400 HP engines? What sort of gas mileage does it get? I sure hope it's not diesel. Diesel around here's really trying its hardest to get to five bucks a gallon.
I've never even walked the Bridge, hubby wants to go up there with me but my daytimes are always so busy in the good weather. Too bad, fudge sounds good right about now.

Your Marathon's cool too. Better than the boat my dad has when I was a kid :) We got stuck out on Lake Michigan once cuz the engine wouldn't start.

You're not the only one who hasn't been able to run their boat a whole lot this year. We walked down the Grand Haven channel last night and half the docks are empty and there was like, nobody there. Between the weather and the gas prices I wonder how many tourists we'll get this year.
---
This is the song that never ends...
We have a large grill on the Carver. Maybe if, and when, we make the trip next year we can stop by Grand Haven and have a cook out. You furnish the burger of course, just kidding about that. I'll furnish the food. Maybe spend the overnight there instead of Petosky.

Bob
MMM, I would gladly furnish the burgers and beer. After getting properly sloshed we could sit and make fun of.....errrrrr, I mean watch the musical fountain.
---
This is the song that never ends...
Posting Rules

You may not post new threads

You may not post replies

You may not post attachments

You may not edit your posts

---

HTML code is Off

---