Looks like a white christmas for me!
---
Here are a couple of pics of our house when I got home tonight.My commute home took 1 1/2 hours rather than the usual 3/4 hour and its still snowing now.
Looks like I'll be having a day off tomorrow
We have about a foot of snow outside and it is truly beautiful. That said, if it all melts the day after Christmas and is done for the year, I would be fine with it.
Tom that is one awesome looking house.

As for the snow... Bah Humbug. I'm past the sledding days so now it's just miserable to drive in it and shovel it etc...

Having said that, this scrooge does like it at Christmas time. I'm with Inga after that.
---
Animal testing is a terrible idea; they get all nervous and give the wrong answers.
cheers,I love the house (built 1855-ish) shame its in a city and not in the countryside :(.
Yes I'm past sledging etc myself too (though just introducing my son to it).To me snow is a pain in the arse for travelling to work (22 miles door to door,44 miles round trip) though not as bad as when I just had a motorcycle licence only :P.
Still snow does look nice...when looking outside through a window and knowing you dont have to travel that day
.
Tomsk
Can you send some of your white christmas to Las Vegas?! I've gotten lucky one year when we got a very heavy snow. You house is very awesome..makes me want to read a book by the fire.
---
Danielle
LOL you call that snow! I for better or worse have over two feet of it outside ATM. About 4 inches fell tonight alone and it is still snowing ATM. Had a blizzard last week that dropped 18-20 inches. Ironically tomorrow is the first day of winter and this stuff isn't going to melt till March
.
no more snow here i think ?
nice house :)
---
when you set up a new tank,hide an extra
sponge or two behind some decor,that way you have
something seeded for you next filter.
We broke records here actually for the month of December according to the nightly news. 33.5 " of snowfall and highly likely to be more before new years. I made a pile of snow yesterday for my first ever attempt and a real Igloo, just need to wait for it to pack and be strong enough for square blocks lol. Cities are hurting cuz of no place to put all this snow. Below is my car was caught by a wild snow drift on the 11th. Didn't leave the house for 3 days lol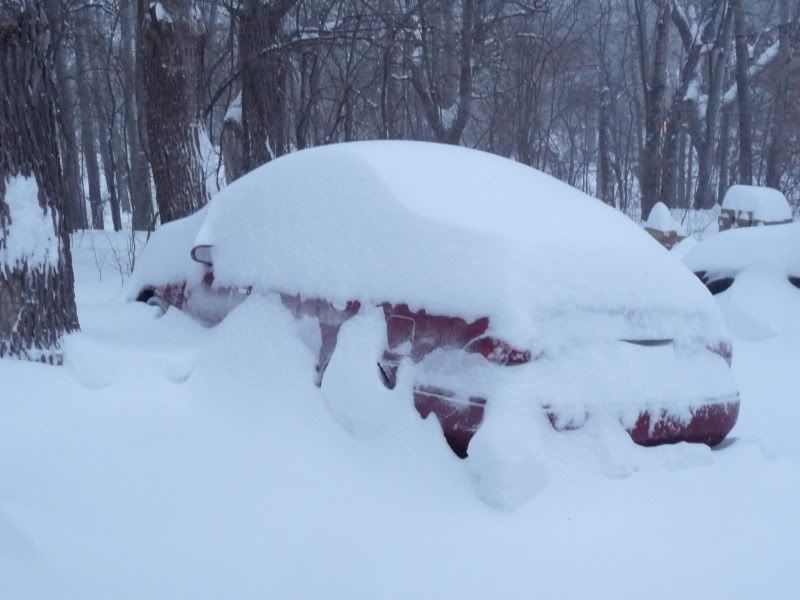 Posting Rules

You may not post new threads

You may not post replies

You may not post attachments

You may not edit your posts

---

HTML code is Off

---