Horse people?
---
I have a newly aquired fish addiction, but horses are, and have always been, my biggest passion. I noticed that there are a few horse people on here sooo... I would like to hear about your horses!
Here are my two spoiled babies:
Fancy
AQHA- Fancy Exclusette - 09 Filly
Hooker
APHA- Hooked and Hot To Win - 06 Gelding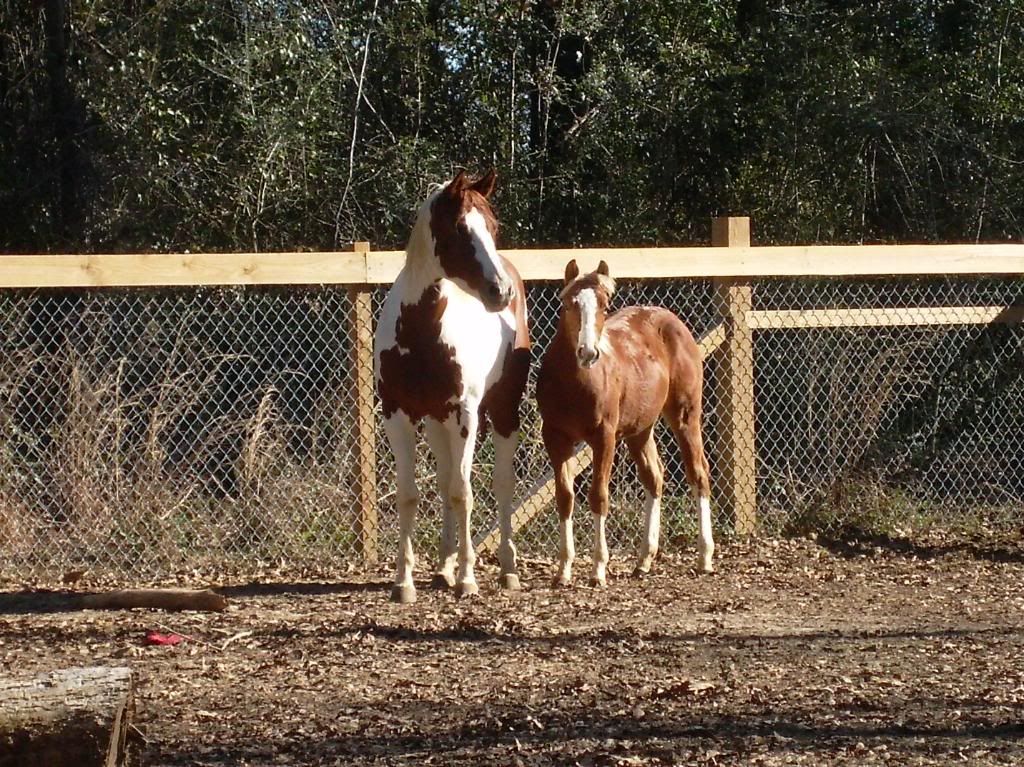 ---
♂
Ringo - VT (02.02.10)
Flare - CT (02.06.10)
Paparazzi - CT (02.19.10)
Eros - CT (03.09.10)

♀
Dallas - VT (02.02.10)
Gucci - VT (02.06.10)
Aphrodite - VT (02.06.10)
Angel - VT (02.13.10)
Marilyn - CT (02.19.10)
Pearl - CT (03.09.10)
Echo - VT (03.09.10)
-----------------------
here is tassie. 20 year old standardbred gelding. he actually belongs to my grandmother but i am leasing him.
Incubus is my TB gelding (was gelded 2 weeks ago). he is 6 years old, i dont do much with him atm but would like to jump him.
and lilly, she was in pretty poor condition when i got her. i half own her with my grandmother. she is in good condition now but at a stud so cant get photos of her :( she is a 9 year old standbred. she has gone away to be put in foal to a black stallion. hopefull we breed a nice race horse.
I don't own any horses, but I sure love them and would ride again if I wasn't so broke :( all my stuff is collecting dust at the back of my closet :P

beautiful horses so far!

~TPF
---
~TPF

1 Doberman Mix: Emmy, 2 DSH Cats: Rowan & Jacob, 1 Bearded Dragon: Rainier (aka Mista Lizad Man), 1 Eastern Box Turtle: Greta, Two 5g tanks: Alchemy (Halfmoon) and Custard (Yellow VT)

I've owned 2 horses and leased 2 horses. I recently had to stop because of back issues, but hopefully when I move out I'll be able to own a couple.
---
I have two horses, an aged Appaloosa mare named Sweetie and a 12? year old Miniature mare, Winnie. I do some gaming although just retired Sweetie from that last year. I also board two horses at my house, Honey and Tinkerbell. I've done alot of the training on Tinkerbell and she will hopefully be a gamer this summer.
Here's Sweetie:
DSC04947.jpg
And here's Winnie with Tinkerbell in the background:
DSC04952.jpg
---
Blessed with these fishies:
Males-
-Julius, Orange veiltale
-Aqua, green/blue/turq delta butterfly
-Chip, red dragon halfmoon
-Toby, blue veiltale
Females-
-Noel, green
-Spitfire, red cambodian
-Nova, blue cambodian
The late Elijah

Other members in my animal family:
Abby the dog
Sweetie and Winnie the horses
Summer, Iceman, Tarragon, and Shiloh the cats
---
Horses are a huge passion in my life.
I own one riding horse, Rocket, a morgan x standardbred gelding. I've owned him since 1998. A few summers ago, we had to put down my other riding horse who was quite old at that point.
While I love big horses, my favorite breed of horse is actually miniatures. We own 20+ minis including some National Champions and other highly successful show horses. In the ring, my focus is halter (conformation) but I also really enjoy driving (cart & harness) and some in hand performance. We have a few foals each year and have a lot of Buckeroo blood in our herd.
You can see all our horses here:
www.whinny4me.com
, but here are a few of my favorites:
Ericas Echos of My Destiny HOF -- one of our two senior stallions, a National Champion (halter) and Reserve National Grand Champion (driving)... He's also in the Hall of Fame (halter) and has many, many halter championships and 50+ first place wins:
Some of our beloved mares and foals:
And my favorite horse of all, Little Kings BT Bacardi Gold, a gelding son of Ima Boones Little Buckeroo Too ("BTU") and a Supreme Halter Champion:
---
See Our National Champion Miniature Horses @
www.whinny4me.com
OUR TANKS:
•
75g
Mbuna Cichlids •
75g
,
55g
&
2x 29g
Fancy Goldfish •
55g
Blood Parrot Cichlids and Tiger Barbs •
38g
Rainbow Cichlids, Serpae Tetras, and Corys •
38g
Small Tropicals •
2x 10g
Divided with Male Bettas
...and now I want a mini... they are gorgeous!
---
♂
Ringo - VT (02.02.10)
Flare - CT (02.06.10)
Paparazzi - CT (02.19.10)
Eros - CT (03.09.10)

♀
Dallas - VT (02.02.10)
Gucci - VT (02.06.10)
Aphrodite - VT (02.06.10)
Angel - VT (02.13.10)
Marilyn - CT (02.19.10)
Pearl - CT (03.09.10)
Echo - VT (03.09.10)
-----------------------
Aw man, I thought this was gonna be a thread about centaurs. Oh well.
---
4 8 15 16 23 42
I have several horses:
Royal a 9 year old TB gelding that I bred
Donnie a 9 year old Oldenbury gelding
Jasmine 7 year old rare palomino TB broodmare
Evergold a 4 year old rare buckskin TB gelding
Trigger a 3 year old rare palomino TB gelding
Leroy a black 7 year old welshcross pony
and an unnamed yearling TB colt who will sell at the sale in Lousiana in August. :)
Wow... palomino and buckskin TB's? I'm jealous!
---
♂
Ringo - VT (02.02.10)
Flare - CT (02.06.10)
Paparazzi - CT (02.19.10)
Eros - CT (03.09.10)

♀
Dallas - VT (02.02.10)
Gucci - VT (02.06.10)
Aphrodite - VT (02.06.10)
Angel - VT (02.13.10)
Marilyn - CT (02.19.10)
Pearl - CT (03.09.10)
Echo - VT (03.09.10)
-----------------------
Posting Rules

You may not post new threads

You may not post replies

You may not post attachments

You may not edit your posts

---

HTML code is Off

---