Happy 38th Birthday, Tophat665!
---
Enjoy your birthday, mate.8)
---
Sent from my desktop or phone or whatever else I am holding on to

I'm ready for the pressure.
The drama and the pleasure!

If there is one thing I want to see here, it's HUMOR.

I believe I can fly!
I believe I can touch the sky!
I think about it every night and day!
I stand in awe of my body.

Happy birthday, tophat
I hope you have a good time celebrating it and that this year brings you and your aquariums everything you want from it!
Have a good one, fellow NoVA-ite!
---
90gal: 2x Tangerine Discus, 2x Clown Pleco, 2x Catfish.
75gal + 10gal sump: 2x Large Goldfish, 1x Common Pleco, 14x Leopard Danios
55gal: 5x Angelfish, 1x Common Pleco, 8x SIlver Tip Tetras, 16x Neon Tetras, 8x Albino Corys
sorry i'm late.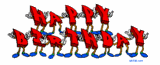 hope you had a great day.
---
when you set up a new tank,hide an extra
sponge or two behind some decor,that way you have
something seeded for you next filter.
Posting Rules

You may not post new threads

You may not post replies

You may not post attachments

You may not edit your posts

---

HTML code is Off

---