fish tattoos?
---
just curious if anybody has any interesting fish-related tats......
welllll it just so happens lol
i have got a seahorse on my left shoulderblade,
have you got any then ?
i don't think there are many Inked folks here.
all the fish tat's are still in sketchbooks at the moment, got the metallica star on my right leg right now.....will be adding new additions after I get my tax return
i won't be having any more,
in fact, if i could i would have a couple of them removed,
i thought of having cover ups,however i would have to have a larger
Tat,and i don't really want to do that.
Since I wanted to be a marine biologist in my life before being a mom, I have a shark, Great Whites are my true love, on my thigh that's about 5 inches big. Maybe I'll snap a pic sooner or later
---
"Cycling best friend is a good liquid regeant test kit, and a good barber to fix your hair after you pulled half of it out."
You can find some good fish related tatoos at following link

tattoo.about.com/cs/tatart/l/blhirambluefish.htm
I haven't got a fish exactly, but I've got a marine iguana on my lower back. It's about 6 inches. Only photo I've got is from when it was new, it looks a lot better now. I am thinking about a fish one tho. Perhaps a Threadfin Rainbowfish. The guy who did this one custom designed it for me from some photos I gave him, so I'm sure he could do something awesome again.
wow ! nice ink work :)
here is my frog,again not a fish tat however i will get someone to
take a pic of the sea horse on my shoulder.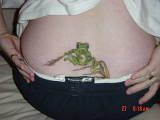 Similar Threads
Thread
Thread Starter
Forum
Replies
Last Post
Tattoos

mysquishy

Off Topic Discussions

36

04-26-2010

11:16 AM
Posting Rules

You may not post new threads

You may not post replies

You may not post attachments

You may not edit your posts

---

HTML code is Off

---