black widows
---
It must be spider season or something around here... in the last 2 days I've come across 5 Black Widows in my house
yesterday i even caught my cats playing with one ( I hope they can't get poisoned by them). Earlier today was the last straw when I picked up a rag off the bathroom floor and a Widow landed on my FOOT. I don't think I've ever screamed so loud in my life!!
I'm
EXTREMELY
terrrified of spiders...especially deadly ones. It would be okay if I just found one but im thinking we must of had/have a nest or an infestation in the house which really worries me...Im also worried for the cats and dogs if they try to eat or play with one....could they get poisoned and killed?
As far as I know, black widow bites are rarely fatal. I dunno if that's a huge comfort, but it's something to think about. Also, the spiders only have fangs that are about 1 mm long, so the spiders would probably have a really difficult time giving a serious bite to a furry critter.
---
4 8 15 16 23 42
while there is a anti venom for black widows it's never recommended unless the case is severe because it can render rattlesnake venom infective. a black widow bite is not deadly a rattle snake is.
All I have to say is EWWWWWW!lol I hate spiders too...I think I would've had a heartvattack if there were black widows in my house. Luckily we have small ones.
---
Black widow spider bites will make you very, very sick but rarely are they fatal. The elderly, small children and people who are already ill can be killed by the venom of a black widow. Also, these spider bites are fatal to cats, and to very small dogs, if not treated with anti venom.
Just the other day I picked up a watering can and it wasn't pouring well. I saw that there was a spider web in the neck of the can so I reached my hand in to pull it out. Imagine my surprise when a black widow ended up on my hand. Talk about screaming like a sissy girl. I will not put my hands blindly into anything again. At my age I should know better!
---
If you don't stand up for something you'll fall for anything...
They must be really bad this year. I killed 3 Saturday.
---
My Betta's: Bonnie - Peep - Singer - Cheep - Hummer - Chirp - Tweet
Buster - Roscoe - Jack
I'm not sure how a cat would specifically react to a black widow bite. My friends tarantula attacked her cat and he had an allergic reaction of facial swelling. Mostly this is what we see when we think kitties have been playing with spiders, facial swelling, possibly vomiting and diarrhea, and lethargy.
and in response to Aunt Kymmies post about spider bites and cats, I'm not all sure that is an issue for the BC west coast considering I know of zero vet clinics that carry anti venom.


Kaisa can you post a picture of a black widow if you find one? I'm not sure I know what they look like!
---
Last edited by Sella; 05-24-2010 at

12:30 PM

. Reason: added afterthought..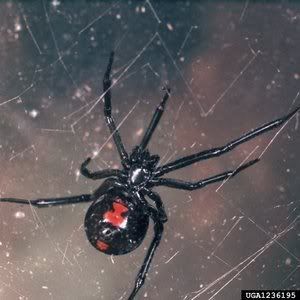 ---
My Betta's: Bonnie - Peep - Singer - Cheep - Hummer - Chirp - Tweet
Buster - Roscoe - Jack
Posting Rules

You may not post new threads

You may not post replies

You may not post attachments

You may not edit your posts

---

HTML code is Off

---