Arghh.. cat on the tank
---
Until a few weeks ago my cat never took much of an interest in my fish tank, but now she's realised that by laying on top of it she'll get a good heat from the lights underneath.
The plastic flaps that cover the top of the tank aren't that strong and I'm worried she's going to jump up there one day and fall right through. Any suggestions on keeping her away from it (besides a bed of nails)?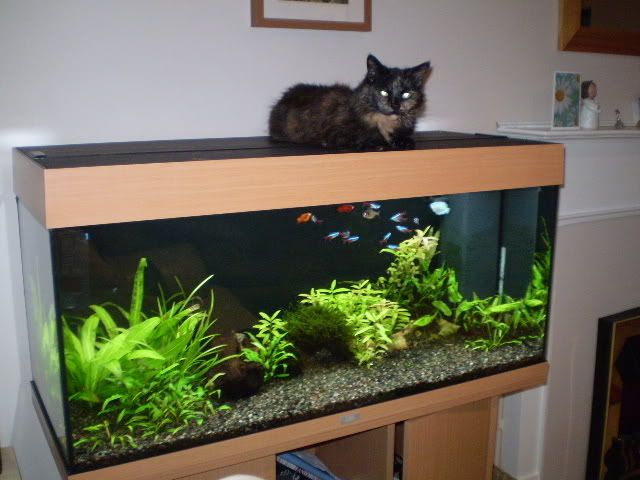 ---
ʎɐqǝ uo pɹɐoqʎǝʞ ɐ ʎnq ı ǝɯıʇ ʇsɐן ǝɥʇ sı sıɥʇ
Haha...that's great. The fish seem to think she's going to feed them, too. You could try the ol' spray bottle and give her a squirt whenever she goes up there. Or, I've heard that if you lay down some aluminum foil on the surface, the cat won't like walking on it for some reason (I guess either the lack of traction or the noise it makes) and will avoid walking there.
---
4 8 15 16 23 42
It looks so happy sitting up there! My cat gets on the tank too. He ate his food to fast the other day, and threw up on my tank. Luckly it was all on the glass top and none fell in the water!
LOL - yes, she's decided that's her favourite place now and as soon as I leave the room she's on top of it!
Thanks for the tips Jim, I wouldn't like to spray her with water (she's a very sensitive little thing
so I'll try the aluminum foil and see if that does the trick).
---
ʎɐqǝ uo pɹɐoqʎǝʞ ɐ ʎnq ı ǝɯıʇ ʇsɐן ǝɥʇ sı sıɥʇ
You could try double sided tape. They hate that stuff, but it looks so comfortable up there, you sure you want to change it?
---
And God said, Let us make man in our image, after our likeness: and let them have dominion over the fish of the sea...
75g Build
Kellsindells build
2.5 Pico Build
Member of DFWMAS ... PBITAWA
Michael Hernandez
My cat jumped up on the stove once and one of the burners was on. She never did it again! lol
I'd just yell at it, then go move its rear off the tank and discipline it. Thats how my cats where trained. They are not allowed on the tank, kitchen counter, tables, and antiques. They won't set paw on those, even if you put them up there they jump back down. They all are friendly, much loved members of the family.
Then you have the cats that have it all figured out. Mine are not allowed on any counter tops or tables. They were taught not to do this by me running at them, clapping my hands loudly and saying "NO" in a big booming voice.
In the morning when I get up I always go straight to the coffee machine. Once in a while I see kitty prints (and I know exactly which cat these prints belong to) across the top of the stove, usually after a night when I've had something yummy for dinner. Double sided tape and foil work great. The only problem with it is if you have a cat like mine who knows when it's there and when it's not.
If the foil or tape don't work maybe you'll have to do something to reinforce the top?? It would be disasterous if she fell in. She's incredibly cute
---
If you don't stand up for something you'll fall for anything...
Posting Rules

You may not post new threads

You may not post replies

You may not post attachments

You may not edit your posts

---

HTML code is Off

---