ANYONE WANT THIS DOG? He is in TROUBLE!
---
I am so mad at him! He stole my whole huge container of fish food off the table and ate it all!! You should see the container ~
, totally mangled ~ no clue HOW he got that lid off but he did.
I have none now ~ It smells like a........a.........FISH in here! Flake all over his mouth!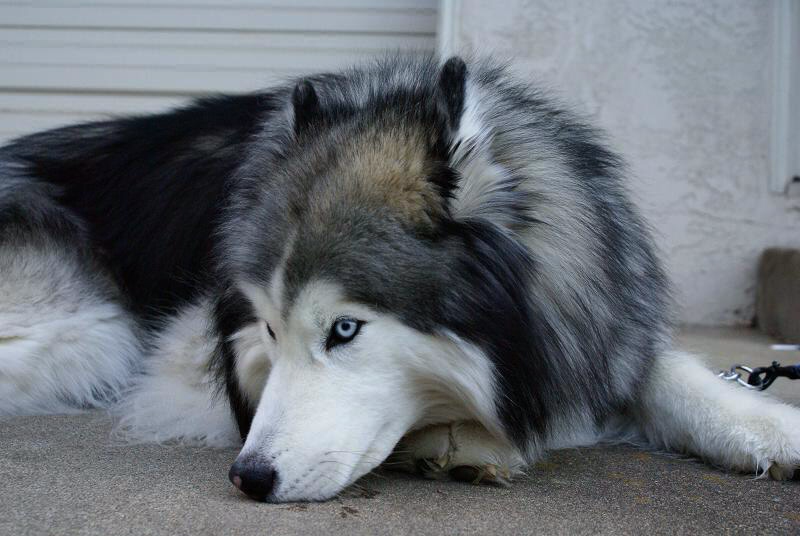 ---
_______________________
~ Marie ~
125 gallon ~ fake plants I'm a "fakie") ( thanks, Kym
3 Neon Tetras
13 Rummy Nose Tetras
2 Swordtails
6 Rasporas
QT:
( 2.20 )
4 Roseline Sharks
1 Black Mollies
OMG I DO he's beautiful <3 though I'm not sure I want to put up with a fish food eating dog ><
Aaawww.come on now. He's too adorable to give away. You're mad at him now but in a day or two when he's looking at you with his sweet innocent face you'll forget about the few dollars the fish food set you back. lol
On a similar note, my cats got into my fish food and ate a whole package of algae wafers. Bad kitties!!
---
150 Gallon - Mostly American Cichlids
135 Gallon - Angelfish Community
75 Gallon - Odd couple (Polleni/Angelfish)
55 Gallon - African tank
20 Gallon Long - QT
10 Gallon - Empty

Ahahaha! My dog did that once... the cat had knocked the food onto the floor and I didn't realize it... the dog did the work of opening the lid, and they both got to eat some before I caught them... I think it was planned.
We've all been there. :) Once one of my dogs chewed my mom's lap top charger cord. Nice right? I've lost so many shoes too. LOL

He looks so innocent!!!
---
"Whoever said fish were low maintenance obviously never owned fish"
Yuck! My Belgian was unable to open the lid though so no trouble there. I did spill fish foods by accident before and unfortunately, the dogs ate them before I could clean up. Be glad it it doesn't have ethoxyquin.
---
Sent from my desktop or phone or whatever else I am holding on to

I'm ready for the pressure.
The drama and the pleasure!

If there is one thing I want to see here, it's HUMOR.

I believe I can fly!
I believe I can touch the sky!
I think about it every night and day!
I stand in awe of my body.

Ha! He's a husky, they can get into anything, crafty clever dogs. I'll take him, no problem. Raja is one of the most gorgeous dogs I've ever laid eyes on. You don't even have to deliver, I'll come pick him up.
When and where??

PS. I came home one day to my brand new living room cocktail table, all corners chewed right off. Thanks for that Kasey. (My German Shepherd)
---
If you don't stand up for something you'll fall for anything...
Gotta love dogs,always doin stuff to get attention. Is a strict leash law here,and most keep their dogs in fenced yards. I have no fence and so Hoover is tethered to 50 foot cable for most of the day.
At night,when it is late,, We go for walks through the neighborhood and sometimes I let him remain free from the cable until I leave for work around 3:00 AM.
Have found all sort's of stuff that he has collected and brought home. Boot's, garden hoses, lawn dart's, Tiki torches,welcome mats, lawn chairs,and my favorite... One very large plastic frog that croaks if you pass close by it.
It amuses him to drag this stuff home, but not so much the neighbors
I generally try to hide the stuff or return it, but I fear a fence or kennel is on my to do list come spring when the ground has thawed a little.
Bad hoover!
---
The most important medication in your fish medicine cabinet is.. Clean water.
Similar Threads
Thread
Thread Starter
Forum
Replies
Last Post
Trouble with my pH....

It'sJames

Beginner Freshwater Aquarium

6

11-18-2007

10:21 AM

I think im in trouble

Dicklinky

Tropical Fish Diseases

16

11-06-2007

02:47 PM

trouble.....

add629

Tropical Fish Diseases

3

09-22-2007

05:12 AM
Posting Rules

You may not post new threads

You may not post replies

You may not post attachments

You may not edit your posts

---

HTML code is Off

---