aknight and Redknee
---
happy bithday. to you both.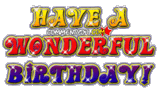 ---
when you set up a new tank,hide an extra
sponge or two behind some decor,that way you have
something seeded for you next filter.
HaPpY BiRtHdAy to you both!
I hope it's a great day :)
---
If you don't stand up for something you'll fall for anything...
Thanks everyone.
---
Males
Turq-blue/turquoise VT
Rex-multi-colored VT
Peachy- Peach dalmation VT
Spaz-Red Butterfly HM
Tux-Black Piebald HM
Jack (Jack O'Lantern)-Orange/blue mustard gas VT
Bert (Liberty)-red/blue CT
Coming soon-Fraggle

Females -sorority
Lily-Red Cambodian CT
Deena (Gardenia)-White w/ pale red fins VT
Rose-Red VT
Violet-Dark Blue VT
Orchid- Red/blue/green VT
Bella (Bluebell) -small Blue VT
Coming soon-Stella and Cleo

Other Fish
10 gallon fancy guppy tank
2 gallon guppy fry tank
Posting Rules

You may not post new threads

You may not post replies

You may not post attachments

You may not edit your posts

---

HTML code is Off

---