Fish (couldnt find a good pic of sixline wrasse :( )
chromis
new friendship
firefish goby (never out except now)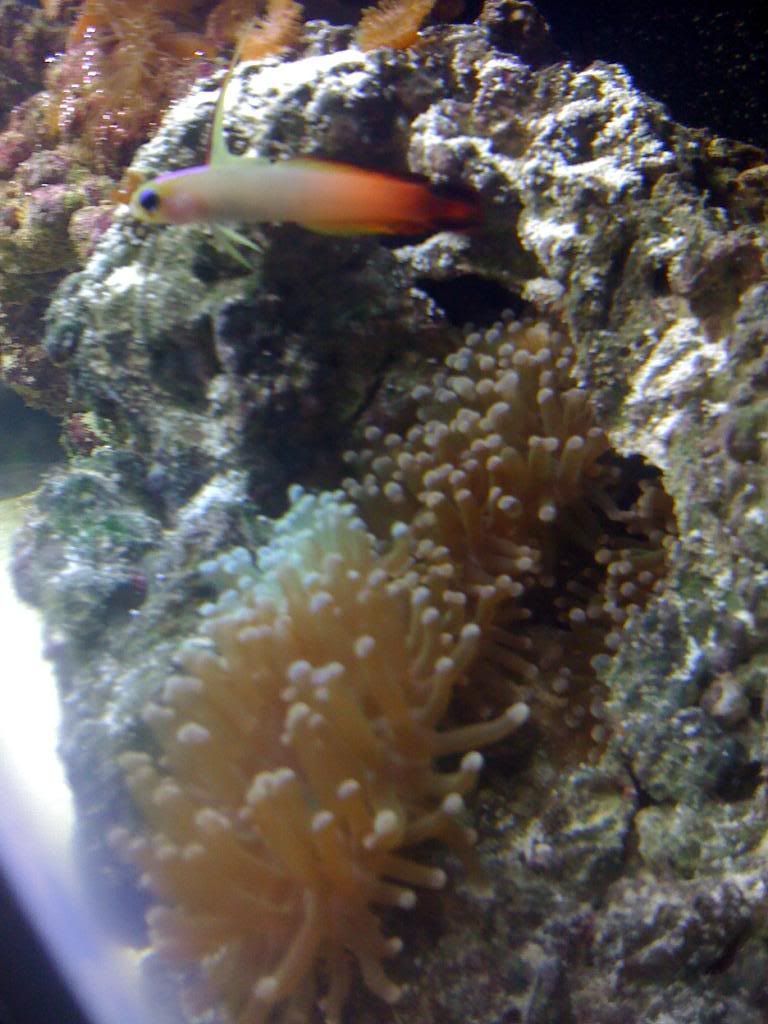 nemo
blue spotted goby
Tank: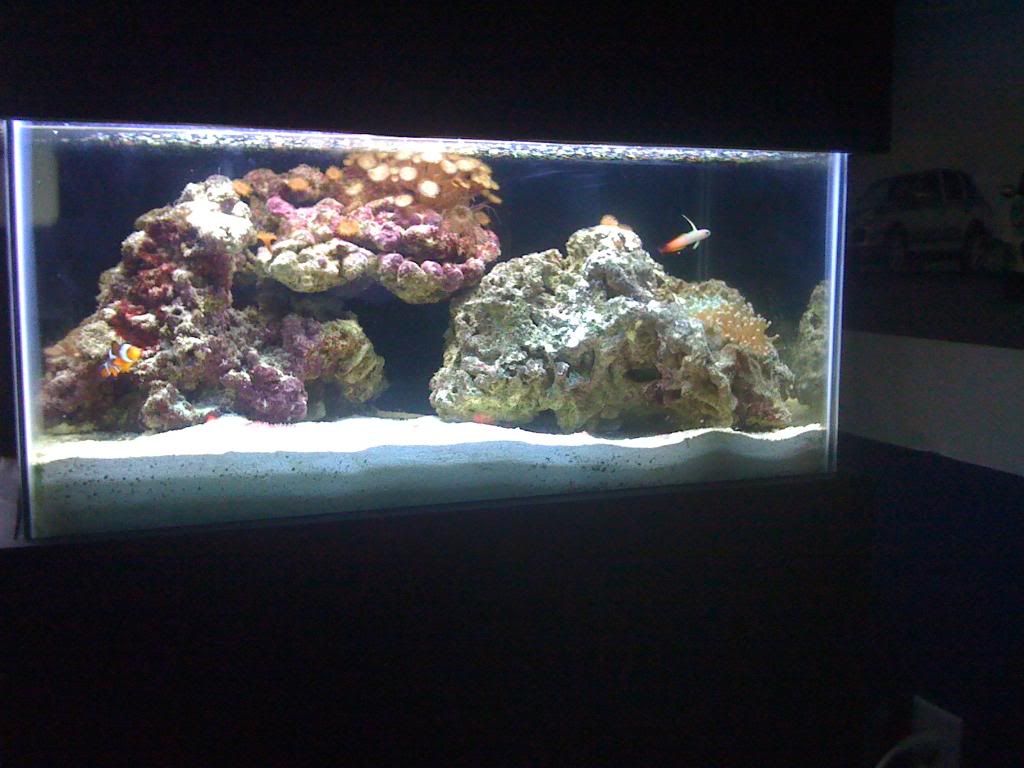 oops too much food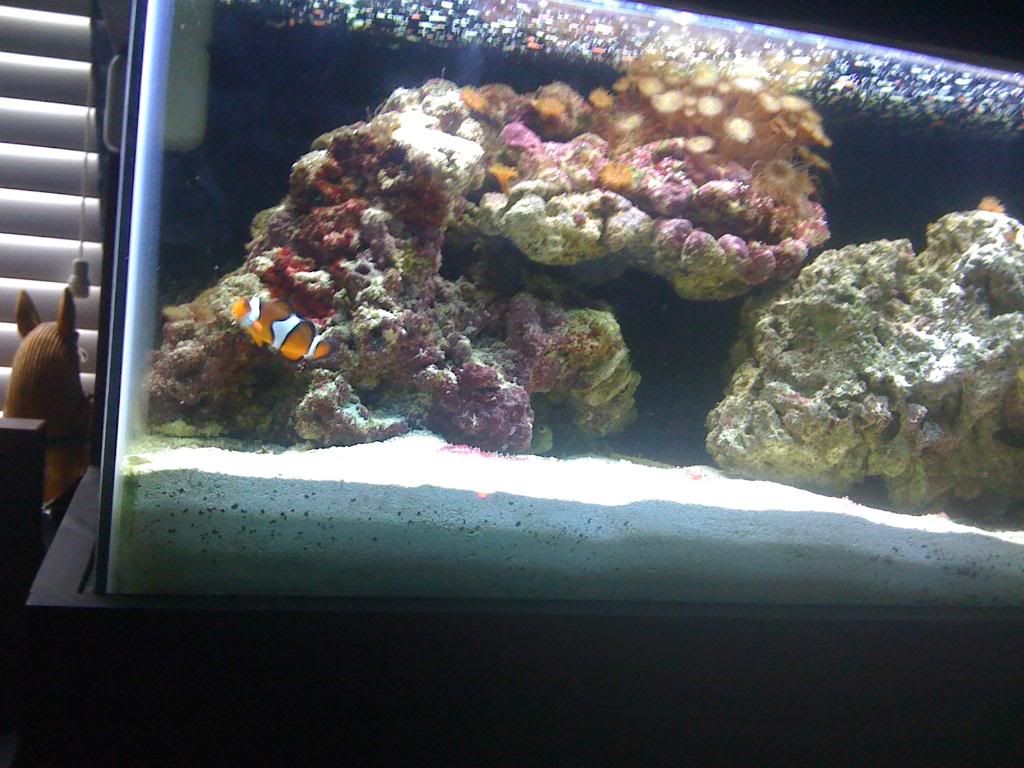 sump :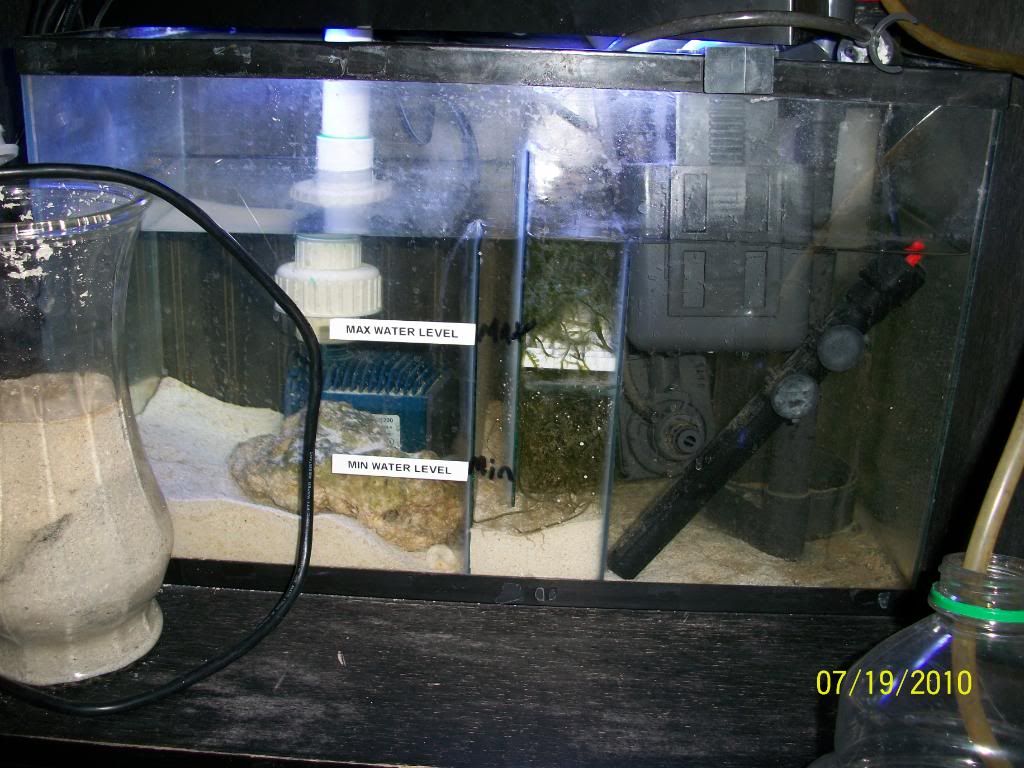 ok....long story short....the firefish goby is known for jumping out of the tank and being skiddish....mine on the other hand is known for disappering for days then appearing in the sump :/......so after the first time i went to homedepot to get some mesh/screening and layed it ontop of the overflow...the next day hes in the sump again chillin :/ i get more thinking hes jumping out the back of the tank and falling down to the sump threw the back way i lay more mesh sealing the tank...now hes never down there and he comes out everynight to say hi till late morning :D
my contraption: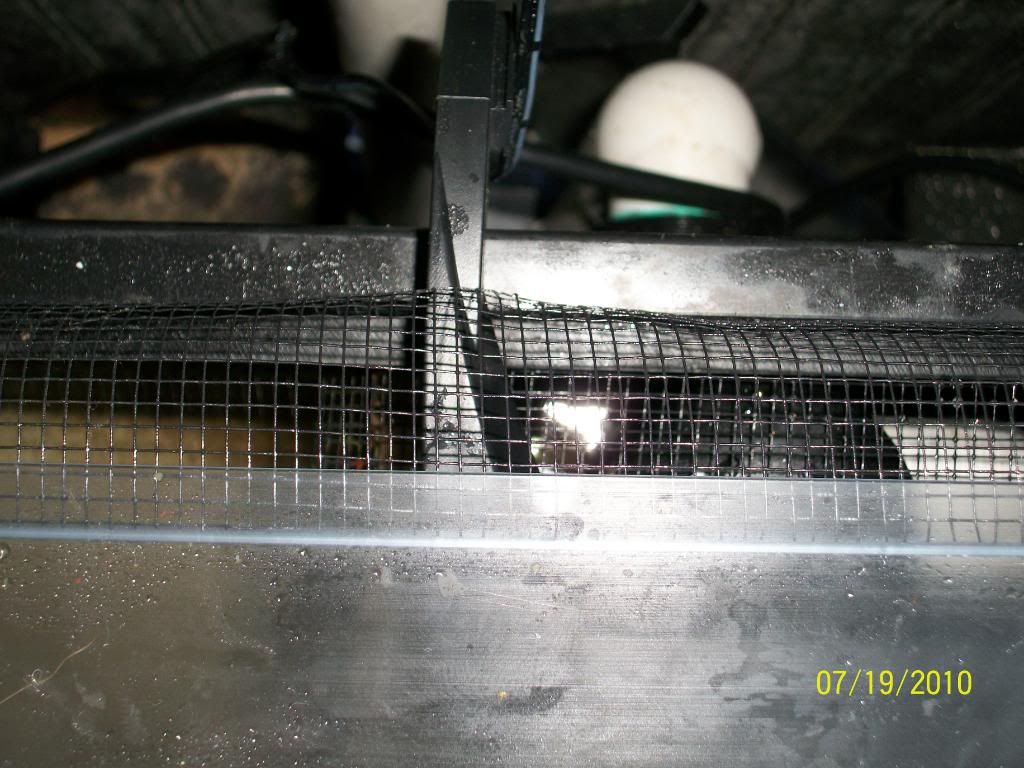 HELPPPP....dont have time to check and dont even know where to begin so please help identifies these...ive heard the long tentacled one is bad and deadly?
two of these long lookin thing getting extremely bigger at a rapid rate..what are they?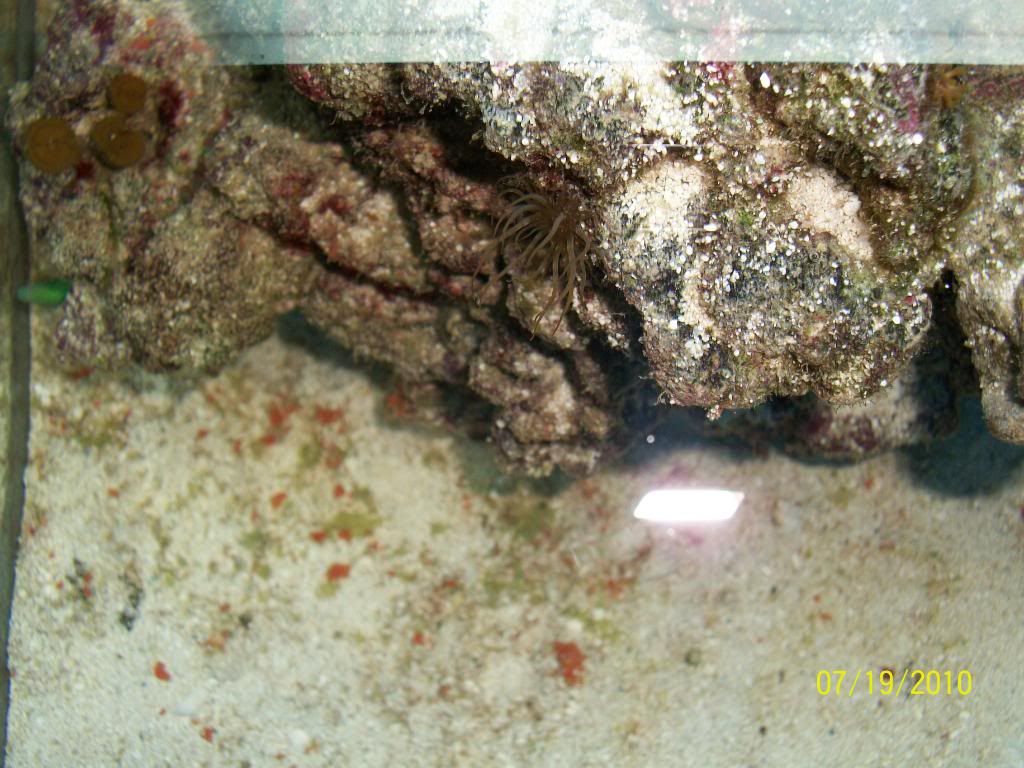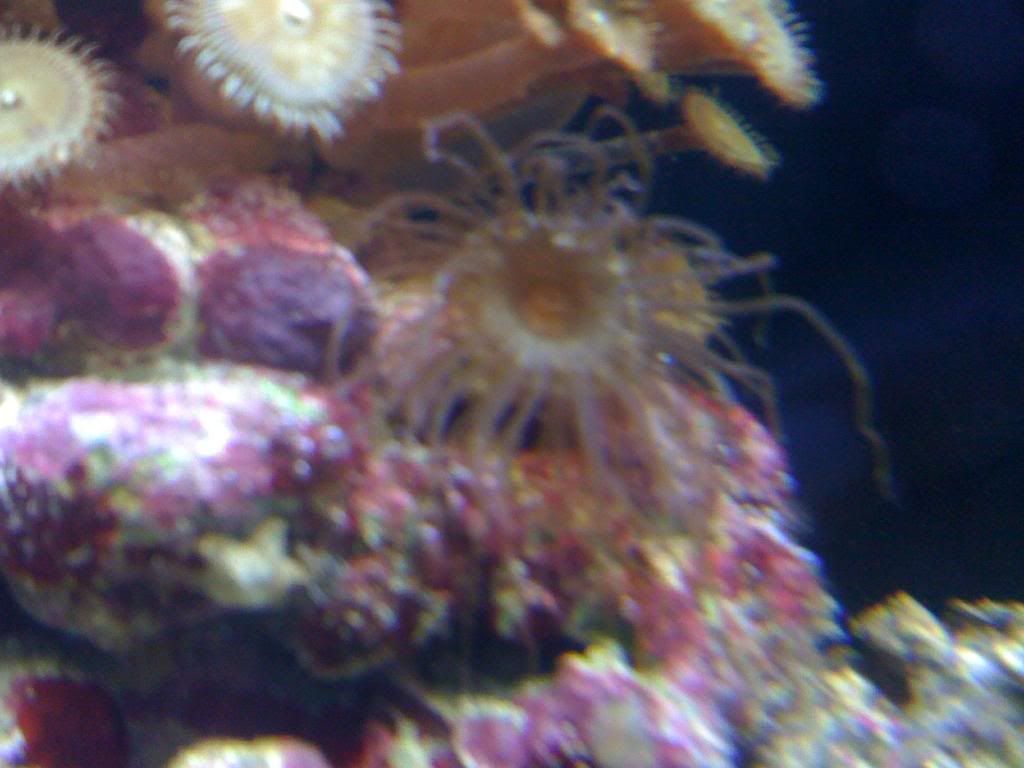 this looks like my frogspawn, and i have over 10 of these...they like to move but for teh most part not to much or far, one has been seen on the glass....look exactly like frogspawn kind of except smaller, shorter, and more nubby...what are they?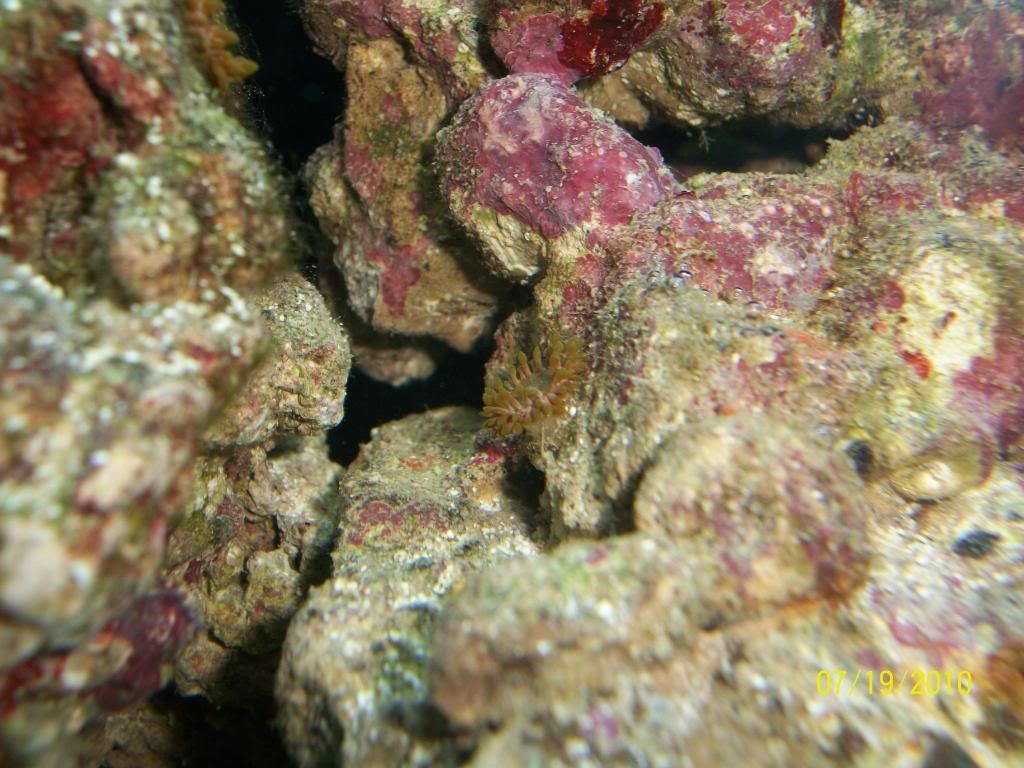 last but not least....what are these lke the one above i dont thiknk its dangerous....zaos? or did i just makeup that name lol....there pretty big depending on waterlevel and light....seen my cleaner walk on them, been around the longest as they wre teh biggest....and during one tank cleaning i broke two wich floated to a nearby rock and i left thinking they were dead but they just attaced there and have been growing ever since over there lonely apart from teh group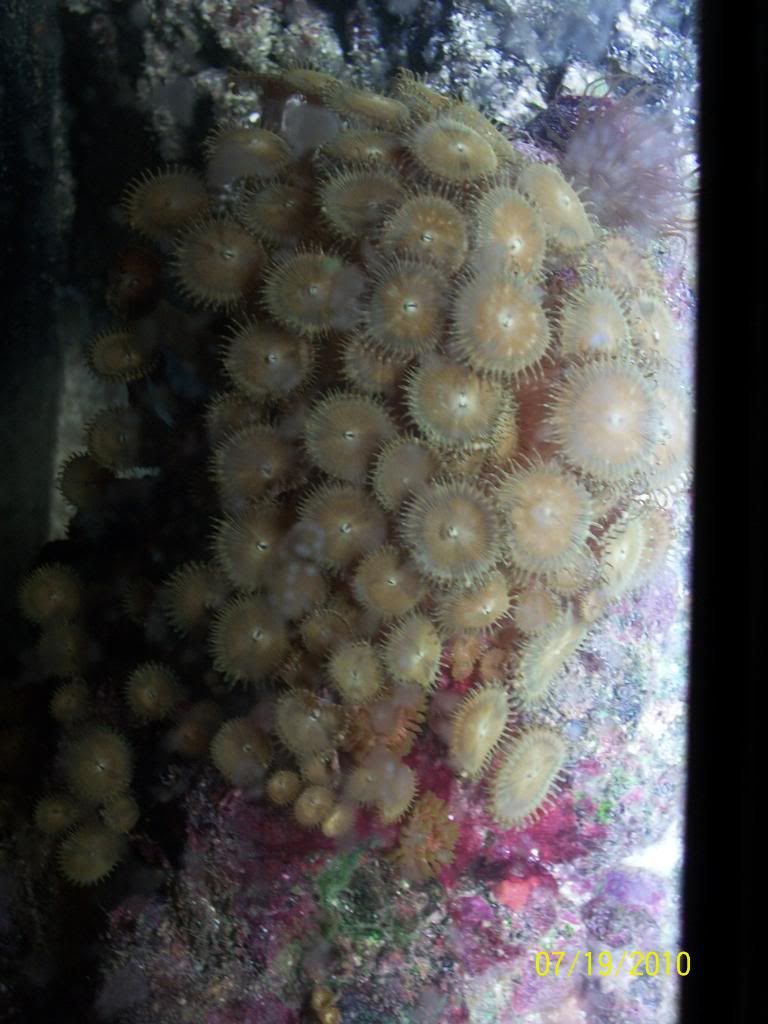 any help appreciated
oh my frogspawn i bought and at the lfs they where huge...got home and a few weeks theyd open up medium but never fully lke at teh place...i placed in sand as they did no change..i placed on diff parts of rock closer to surface/away form light towards light towards water flow...no change....then one day movin again doing a cleaning i broke the branches in half..thought they where going to die....recently theve been moved to the cave where you saw the huge snail, in the pictures with the firefish goby i put one towards the back of the cave and one towards the front....now they are huge as ever..even larger than seen at the lfs...i dnt understand and when they open one comes out the cave while the one in the back fills the cave...hiding wat ever may b moving or alive under them (bristle worms used to b there think sixline handled them not sure) so my question is are they ok there, should i move them now that there opeing to sand or another area, or are they opening since they like that area best....i only put them there for the clown i figured may b it would host or find a place in the cave to lay.....because every other cave has been occupied, by a fish, lobster, crab and he doesnt have his own he just goes to my waterheads at night n floats near thim in a black corner...but hes been doing really good, and i beleive they shocked him once and since hes never gone back....but his color was changing from all orange to orange with a black tint on top....it looks cool now but at first i was worried....but ive been told its normal
ANY WAY PICS LIKE PROMISED LET ME KNOW WATCHA THINK
pictures 1 and 2 are aiptasia, which is a pest anemone. picture 3 looks like a rock/flower anemone and picture 4 are palythoas in a brown coloration.
Wow thanks alot man....i wish mine werent brown after googling some pics lol.................one more question how would i go about removing the 2 aiptasia......or should i not bother since theres only 2.....i skimmed and heard it was hard to remove and usually when u remove you make them spread? idk
your tanks is doing great !!!!!!!!!! as for getting rid of those i heard/read take 1--% lemon juice and carefully squirt them in the mouth with out bumping them... yeah you want to get rid of them before they take over the tank... as for the others they look great.. i am just getting some of the paly's on one of my rocks and i love they way they look.. keep posting the tank is really coming out nice :)
---
Back in the Game!!! Live Bearers in a 40 Breeder
Thanks :D.....and i shall try the lemon juice, because at night they open so big and wide, they look like they could wrap around the small fish n eat them ha
I got rid of aiptasia in the 10g by squirting them directly in the mouth with a syringe of straight lemon juice, and then picking them off with tweezers. (Make sure you rinse the tweezers or they will rust, LOL!)

That blue porcelain crab is awesome!!! How much did you pay if I may ask?
I have seen those purple lobsters... I don't have any cuz of my huge coral banded shrimp. He has molted 5 times now, he is HUGE!

Love the fish too!
---
JoAnn
custom 7ft 125g softie/leather Reef
44g marine predator fowlr
100g outdoor pond/waterfall

is that really a 15 gallon? and how did you set up your sump? im planning on setting up one with my 20 G and 10 G tanks i have right now and would like to know what i should buy and what to build. any help would be apriciated thanks
---
yes my purple lobster has molted twice and thats the only sign he leaves behind letting me know hes still alive ha, since hes found a new hiding place i cant find him.......the crab i cant quite remember...it was between $8 and $18, i have the receipt of all my costs at home, so ill go check to confirm after work because i cant remember of the top of my head.

I had wanted a coral banded shrimp i saw at the aquarium hiding, then they were like are you sure for your tank and i was like yes y not? then they shined the light and it came out into view and it was monstrous, lol big enough to eat my fish and they said it grows fast, it didn't take much to switch to a small lobster and cleaner shrimp ha.

Splinter, yes it truly a 15 gallon display on the top with a 10 gallon sump on the bottom, it wasn't all that hard, or expensive, the most expensive part of it all is the protien skimmer, i dropped like $150 on that, everything else materials involved in making a homemade or custom sump is half that.......but tonight i can take some pictures after work to show you and help describe it a little better :D
Posting Rules

You may not post new threads

You may not post replies

You may not post attachments

You may not edit your posts

---

HTML code is Off

---