kool kool, that sounds nice, will do
I had no idea puffers tore up so much stuff! LOL! I've never looked into them. So innocently cute, yet its a captain destructo, huh!
Posted via Mobile Device
Yes same here, i bought it at my LFS because it looked cute and came to the glass when i passed, then i dropped him in my 37 gallon fresh water, and within 3 days he killed 3 of my fish and nipped other fins, so he was immediately transfered to my saltwater because they are more of a brakish type fish but sold as freshwater, fed him some ghost shrimp and snails teh other day, and al 5 ghost shrimp or gone, its fun watching him chase and eat them though lol

OK so i got a new car and just about gave up setting up this tank because of money, but i figured id throw in some live rock and things n e way and let them grow for a few months until the car is where id like it to be, so today after work im goin straight to my LFS and Petco to purchase some live rock and coral or base rock, pictures will be up tonight :D wish me luck
Decided to go all the way down to the LFS which isnt really local n e way, they did remodeling and now have two freakin huge sharks in the back, i was lke "wat yall got rid of all the tanks and fish and stuff back there to have a crappy jaccuzi pool" as i walk closer and look in the merky water i see two sharks fly by and jump back and turn around lol....n e way so here goes....i was pleased with my live rock at least i thougth, i got home and it was a little more live than expected, after i got all the rock out of the box i saw a crab, i was so happy cuz i love these things, now as i upload these pictures i got back to look for it and its dead with something eating it i freak out and look closer then because of all teh holes and hiding spots it disappears it was orange and long i think a bristle worm :/ not good...i also see many snails and other undescribed animals, so its safe to say i wont be stiking my hands in their anymore.
So the rock is great, i fit three huge pieces in display tank, and one with polyps kinda coming back to life after the trip, i also dropped in two more ghost shrim one pregnant, and as i put the 4th rock down in the sump i notice one of the ghost shrimp from the last batch that escaped my puffer by running into the overflow lol....but the rocks have so many holes and hiding spots and are already part purple, im very pleased and scared....
HERE GO PICTURES :D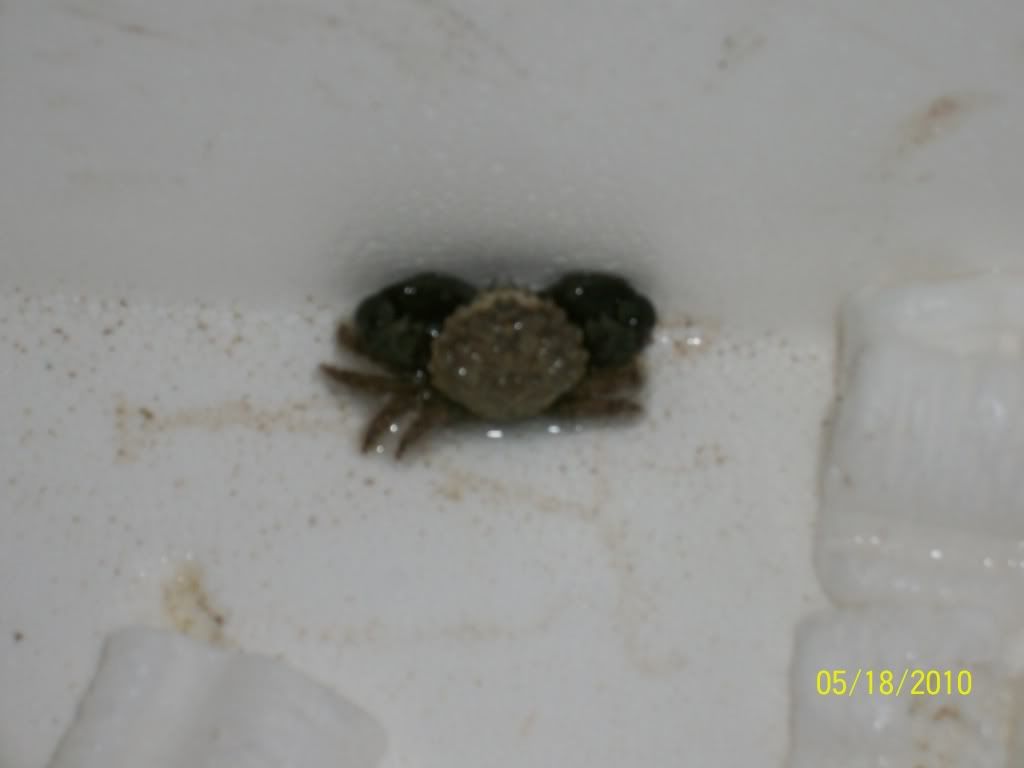 In this one when i put crab in tank it fell in a huge hole in the live rock where a huge snail? was sitting as he pushed him out the way to go deeper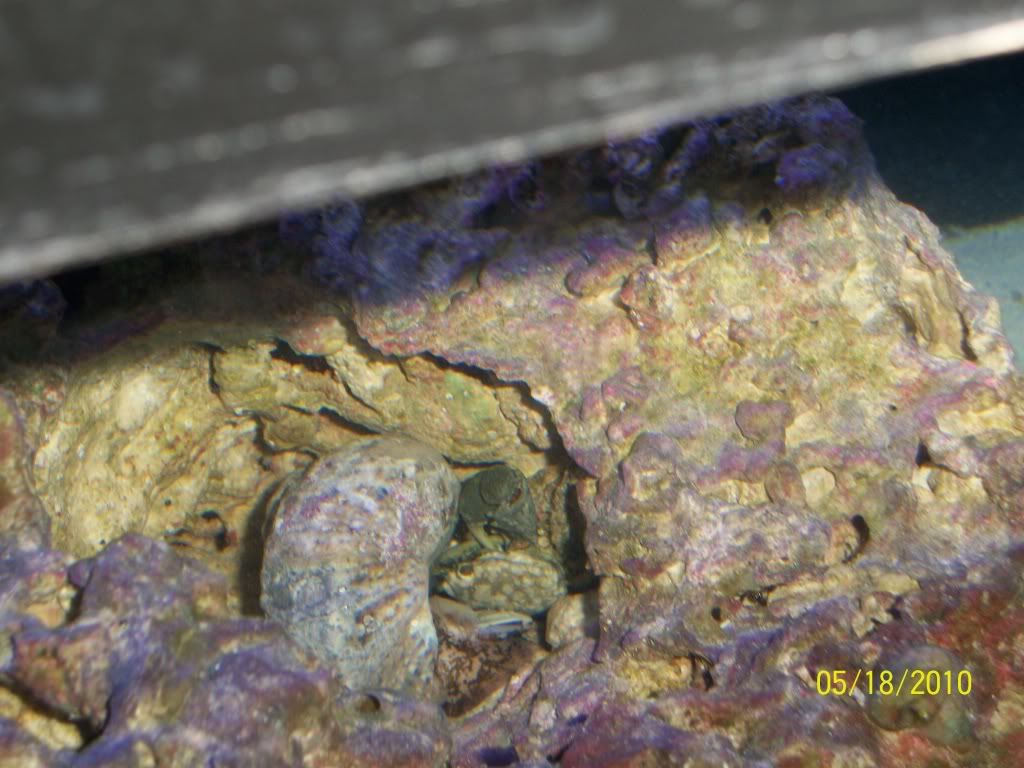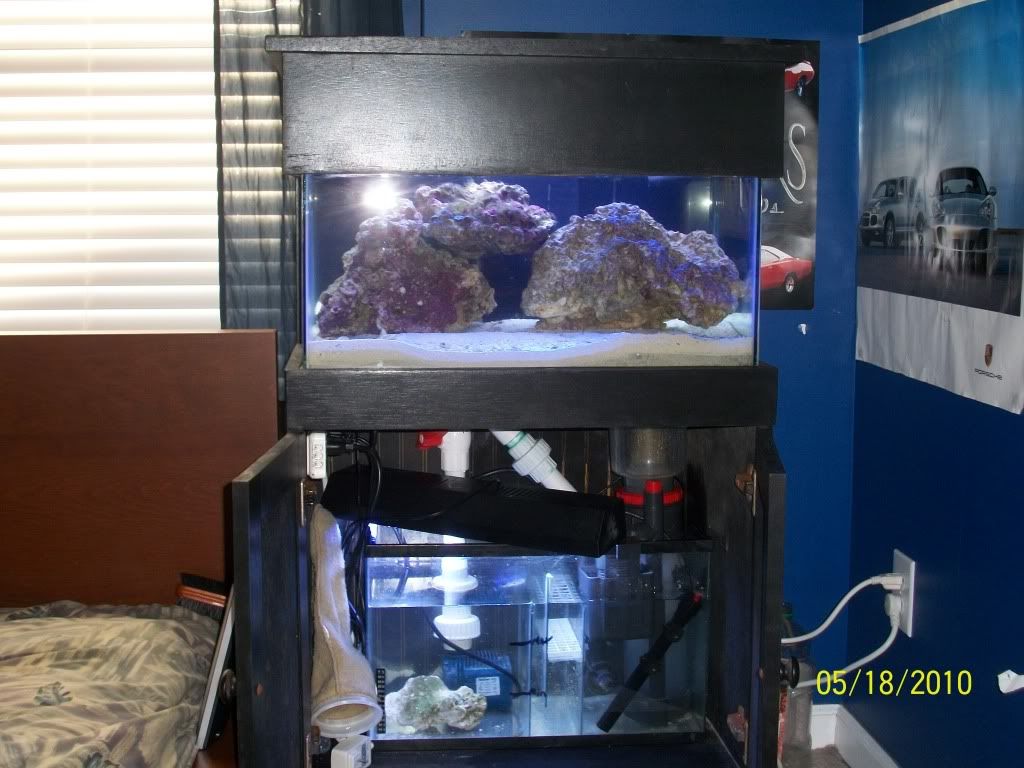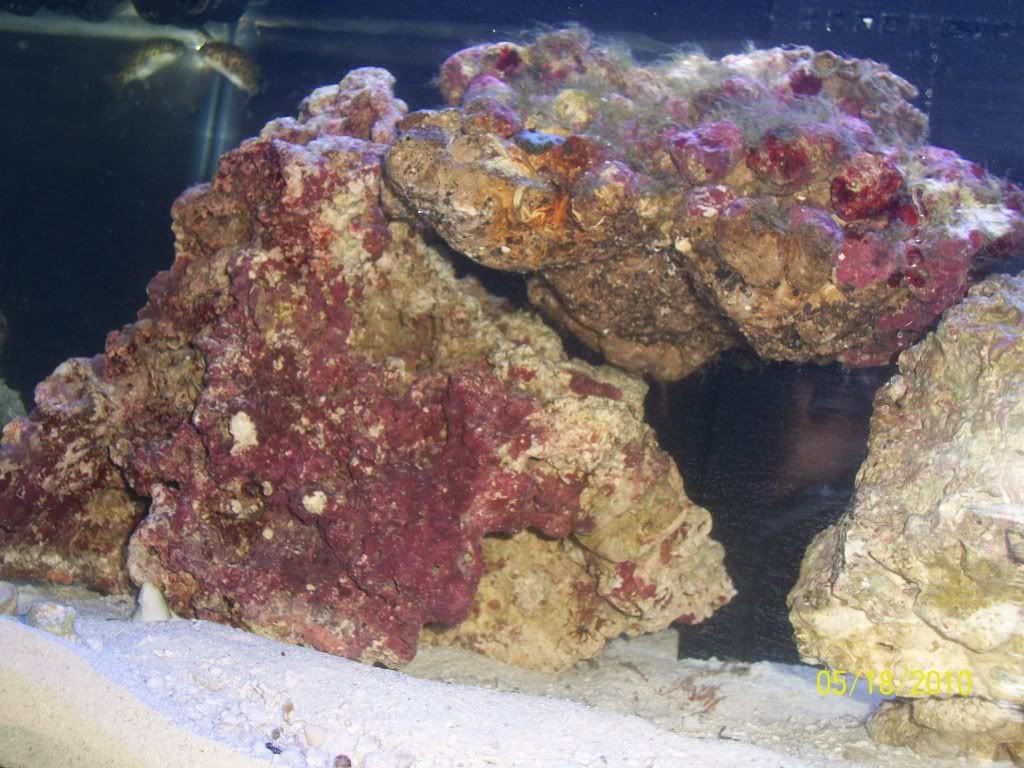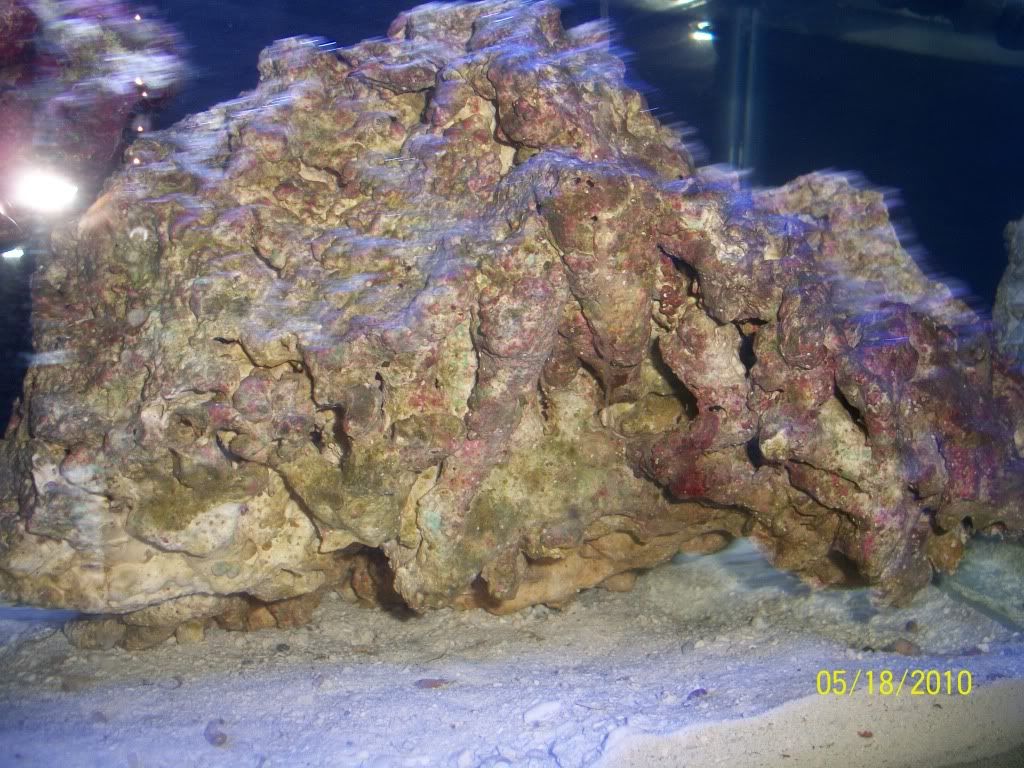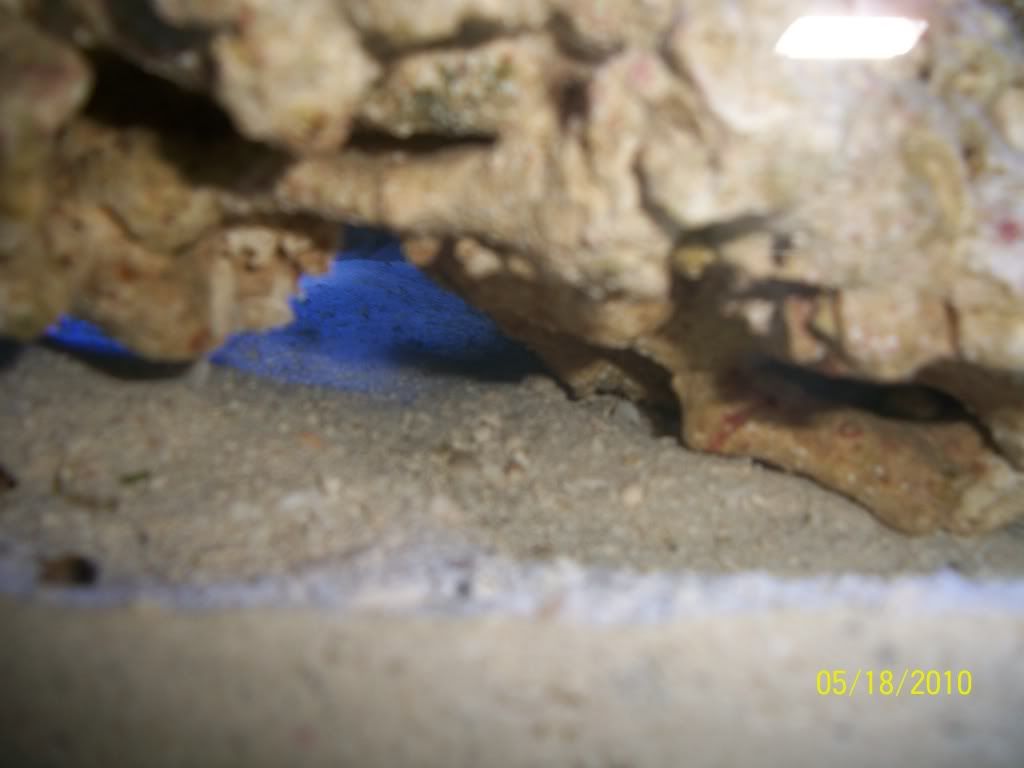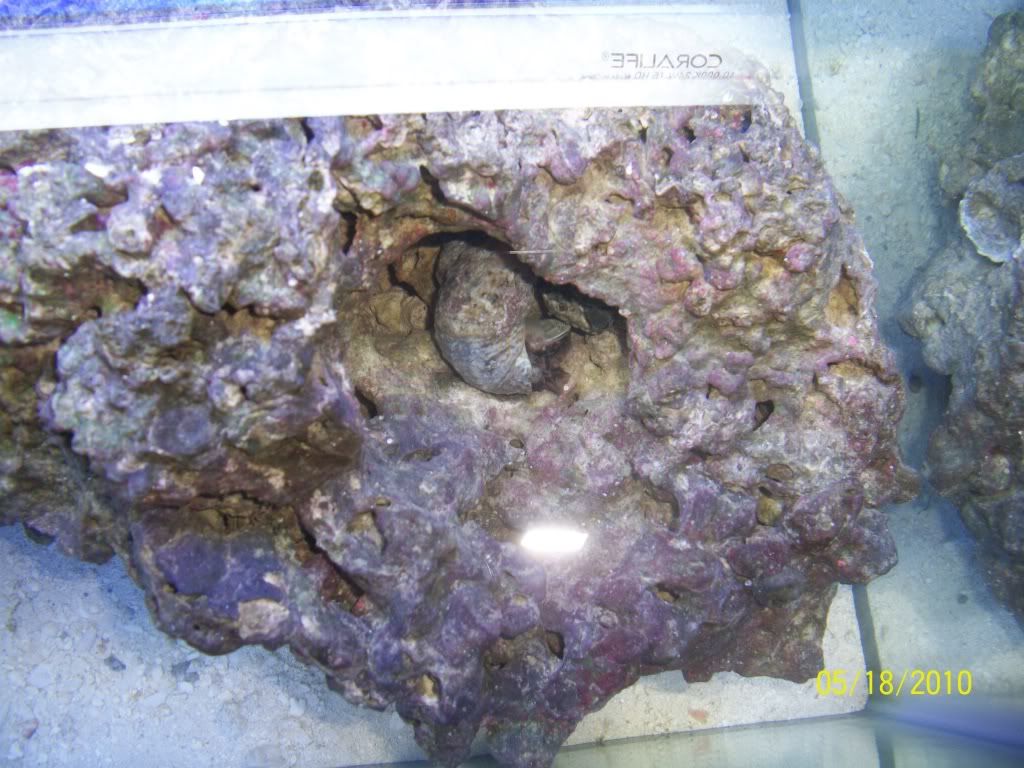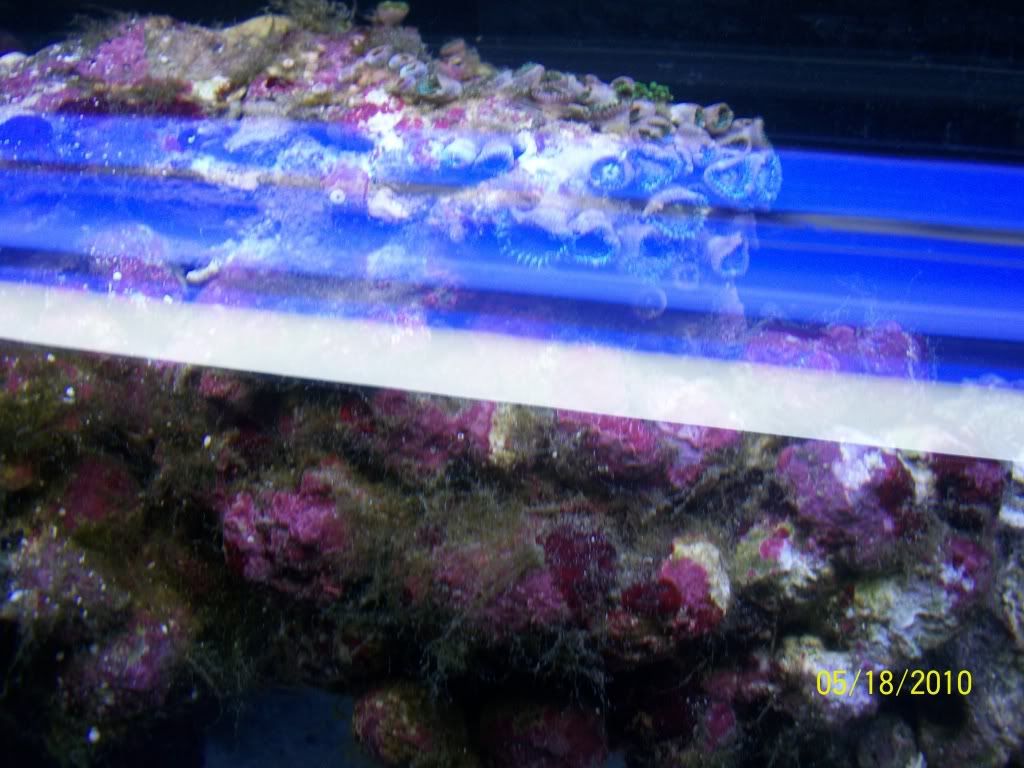 watcha think?
ok i just looked again and now i see two of em and it looks smaller than b 4 idk may b theres 3 but there around the crab, im not removing them, they creep me out, one of the two fish im going to buy will just have to like eating them or the clean up crew idk
Not sure what to say about all the unknown wildlife... but the live rock looks good in there! :)
---
JoAnn
custom 7ft 125g softie/leather Reef
44g marine predator fowlr
100g outdoor pond/waterfall

OK got a CUC today, well at least to start with

2 cleaner shrimp
3 emerald crabs
1 Purple Lobster
1 Arrow crab

Ok so i got the arrow crab not because i like it but because it should handle my bristle worm infestation supposedly, and because both shops i went to were out of six line wrasse, not that i really wanted a fish in there yet

OK hers the BADDDD....of course as soon as i unwrap the bags and drop in the emeralds here comes the puffer trying to make strikes at them i scare him with the net then drop in shrimp, he immediately bites the first shrims back and takes out an eye, im pissed so i take out teh puffer n trow him in my refugium bad i know, but i was mad and he was 3 secons from teh toilet instead, ok 1 minute later i took him out and put him in a bag then back to freshwater, now i have a delema. What to do, i dont think hes returnable, should i place him in my extra 10 gallon, all i have for that tnak is a heater, roof, thermometer, filter, i dont have any bedding (rocks, sand, gravel) or a light nor decorations, or should i leave him in my 37 gallons bredder net??

And as i write this i glance over at my saltwater and of course the arrow crab and emerald are fighting over the shrim and tearing him appart i guess hes dead, WOW im even madder now, but hey its my fault, i didt think the puffer would go after a shrimp 3 times his size

My next fear, will my arrow crab eat my other shrimp or lobster, or crab, or vice versa?
be nicer to your puffer. Switching between freshwater and saltwater is very rough on the internal workings of a fish. Remember osmosis from high school bio?
---
24"x24"x24" Rimless Starfire 60g Cube
Apex Lite, SWC 120 Cone, Ecotech Radion XR30w, MP40
Magnifica Anemone focused Reef
Yellow Spotted Kole Tang, Orchid Dottyback, Mandarin, Multibar Angel, Ocellaris Pair
Yeah I know.....I've put him in his own 10 gallon saltwater tank for now....was gonna b a qurantine tank oh well, thinkin of keeping him alone in there with a bunch of snails and ghost shrimp until I upgrade to a bigger tank. I want a 180 gallon saltwater so I can keep some sharks, then I'll put him in my 37 gallon I have and move those fish to a 50..idk it just all sounds like money to me
Posted via Mobile Device
ha ha, my CUC is doing good, last night i came home and saw my arrow crab and shrimp as usual but the emerald crabs decided to come out and i got a 1 second glimpse of the purple lobster before he ran when the lights came on and my shadow, hes so beautiful but i never see him :(, i will try to take some picture
Posting Rules

You may not post new threads

You may not post replies

You may not post attachments

You may not edit your posts

---

HTML code is Off

---