Quote:
the single unit of the sol looks cleaner IMO. very nice tanks too.
th kessil would only be one unit over the nano. they are using it on a bigger tank thats why it required 2 lights. the kessil is the size of a beer can.
well after quite a long research, i'm down to this. I ordered my tank so i'm serious about completing my nano. I'm going to model my setup after the Elos mini as seen below. I ordered a plain black stand, aqualifter, pump (to be used in my DIY atuo topoff), and a nano magnetic glass cleaner. The Elos tank is 18x18x18 and the one i ordered is going to be 18x18x16H. I like when the tank is alittle more shallow giving a different aspect ratio which is pleasing to my eye. The tank will be 3 sided starphire and black at the back. I'm going to see if i can build the stand on a set of wheels so i can hopefully move the tank depending on the season of the year. Where i want to put it is where my wife want's the christmas tree so hopefully i'll be successful in moving it near the breakfast area during that season. I still haven't decided on the lights so i didn't order them as yet. I figure i have some work cut out for me as i'm planning to try to build the sump from the ground up. this is why i ordered the stand so i have the exact measurement under the tank. So when i recieve the stand i will start to design the sump, and the ATO system. I will then decide on the lights later.
so is it an actual elos tank or thats just the look your going for? either way its going to be super nice esp. with the low iron glass
Quote:
so is it an actual elos tank or thats just the look your going for? either way its going to be super nice esp. with the low iron glass
no it's not an elos tank but the local tank builder's tank. going for that elos look. he really makes a high quality tank.
ok, a quick couple of updates. first I got some equipment. see below
my stand.
this is the front.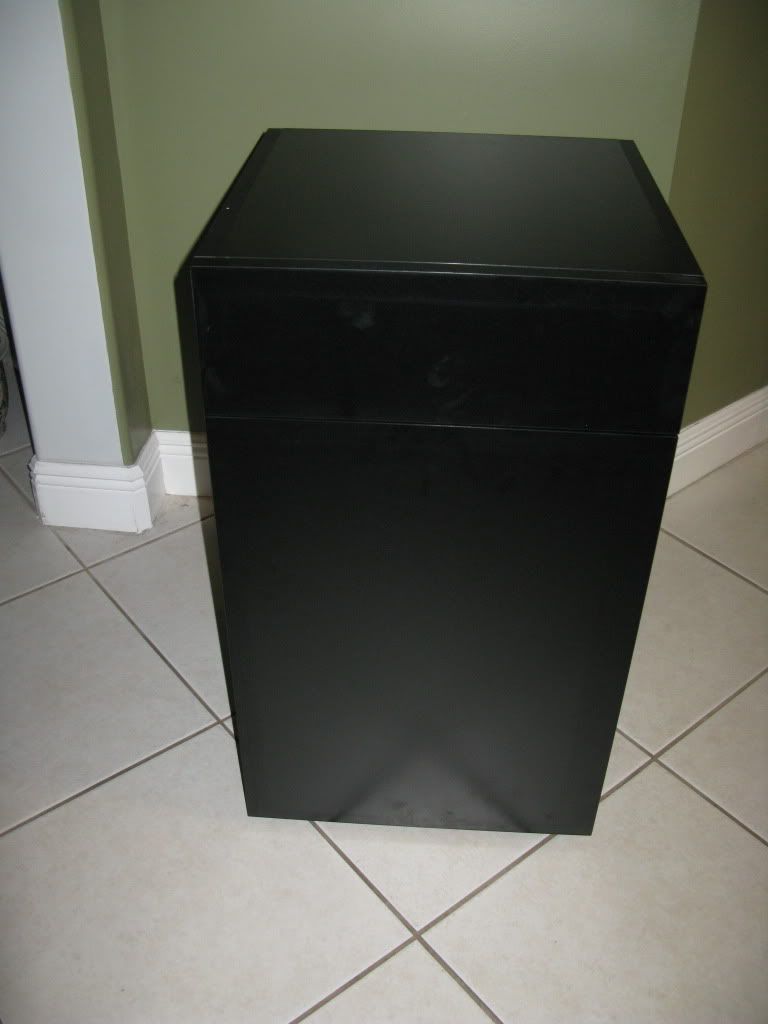 Now the fun part, my tank. i found out that my builder is quite busy and i got news that my tank was going to be delayed, so i took matters into my own hands. My first ever aquarium build. Hope it turns out ok!
Did alot of calculations, and research of all the equipment i'm going to get and ordered glass to fit around the equipment.
Taped the sides for a clean glue
---
Last edited by reefsahoy; 02-15-2012 at

07:54 PM

.
The tank clamped down and ready for gluing
Thats it for now. I'll post some of the equipment i've collected alittle later. I'll also post the finish tank after gluing.
forgot to mention that i've decided to make this tank an AIO because of the light i've selected. the light spread from the fixture is approximately 2x1 wide to depth. So if i make the tank approximately 2X1 width to depth, theoritically i can place the light at the proper height and light the entire tank without actually having the light hit the glass. What this means is that i'm trying to make as little light hit the glass as possible so i'll have less glass cleaning to do. What can i say, yes, I'm a lazy reefer! lol I figure to give it a try, i can always buld another tank if i miss the size. this tank build is actually pretty cheap since it's a DIY.
big update, i'm almost finished building the aquarium and it's not perfect. here's a pic of the tank but i haven't finished cleaning it yet.
I've learnt alot during that build and i know i can now make my sump if i have to. one of the biggest thing i found out is that you don't want to bevel the glass as it makes it quite hard to silicone it together properly. the tank does hold water but i'm seriously into aesthetics and will wait until the professional finishes the tank that i will eventually use.
I
Now that being said, there was a local reefer here that loaned me a small frag tank that happens to be 18x18 and fit perfectly on my stand. I met him while buying some used equipment and he was generous enough to loan me the tank so i can get my biological filter going so when i do get my permanent tank i won't really have to wait for the cycle process which will save me some time. I end up buying the AI Sol Nano with the controller. I must say I LOVE THIS LITTLE LIGHT! It's small but pack some serious power! it will allow me to accomplish what i intend to do. here's my temporary setup.
my aquascape rock work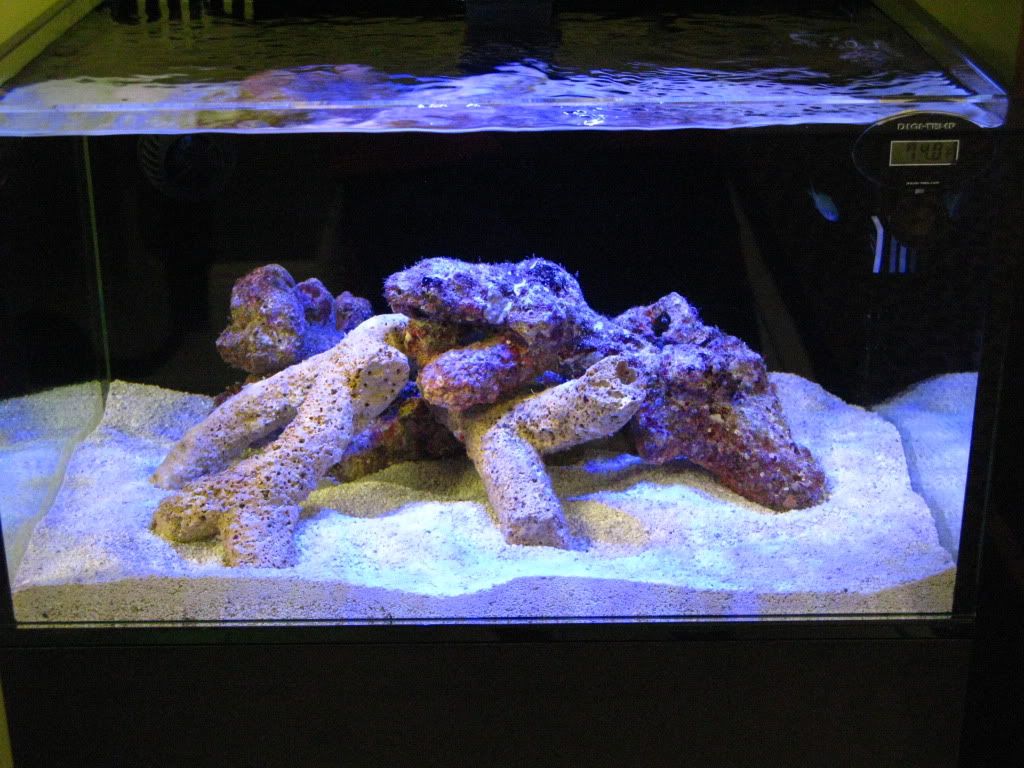 and more or less what my tank may look like, however the tank will be deeper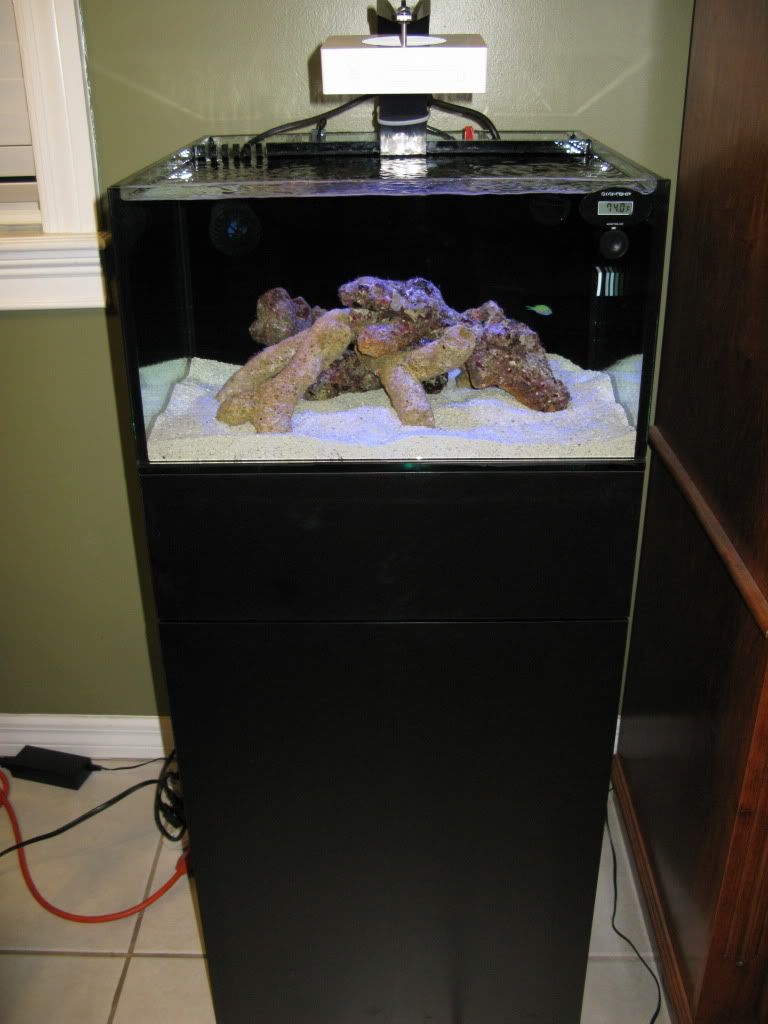 Posting Rules

You may not post new threads

You may not post replies

You may not post attachments

You may not edit your posts

---

HTML code is Off

---