Thanks for the comments Jesus, I also really appreciate all the help you've given me and everyone else in this thread.

My tank is doing well. My nitrates are at 5 ppm, and I will be doing another water change in the next couple of days. I will be posting pictures, there is a ton of coraline algae growth.

I purchased a green emerald crab a few days ago and it cleaned my tank almost overnight. No more GHA, or that other algae that was taking over my tank. She DID eat that strange white growth off my rock, and bent my feather duster over, cracking it. I was mad, it was getting so big. I removed the piece of the tube at the crack, and saw it extend its fans today, so I guess I saved it.

One of the fans failed in my crappy hood. How am I supposed to replace this? I was thinking of disassembling the hood and possibly modding some computer fans into it when I was looking at my PC today. I can probably buy them cheap at a local comp shop. It would be awesome. :D
Well I removed the hood and disassembled it to remove the fans. While doing this, I thought it to be a good opportunity to remove the louvers blocking the fans from the inside (didn't want pieces of plastic falling inside the hood while it is setup). They looked obstructive to air flow, there's way better circulation now. I left a fan on the tank all day and kept the feeding door open to compensate for lack of air flow inside the hood.
The fans are now out and pending replacement. I'm going to go to the local PC store and pick up the same size fans (either 50mm, or go for a bigger size, the 80mm). My only question is will the same size fans for PCs ports be compatible with the ones used inside the hood. I guess I'll have to bring the cords in to compare. I'll probably mount the new ones on the outside. I'm gonna get little LED for effect.
The louvers removed.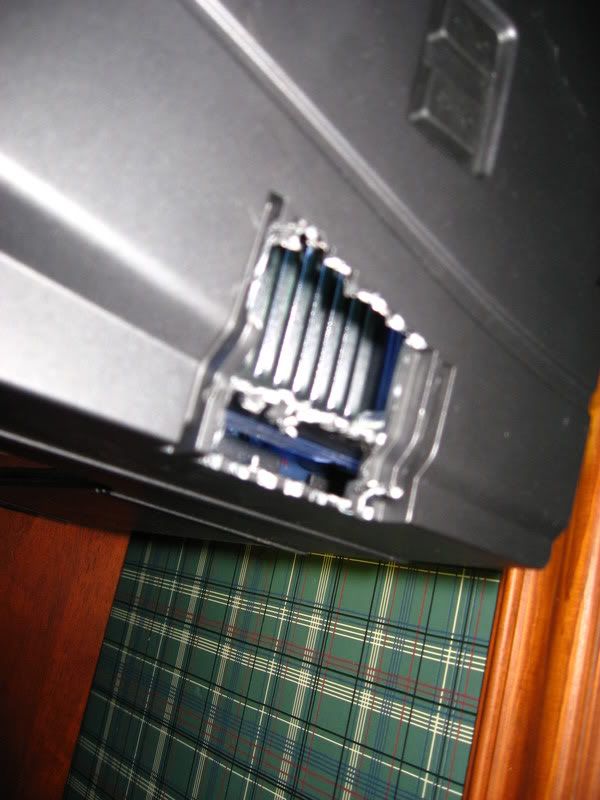 the crappy stock fans.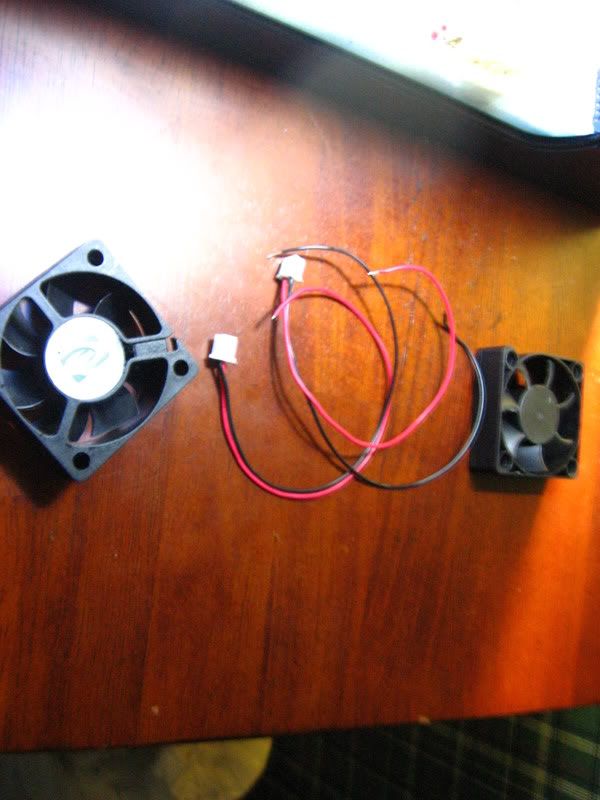 The coralline growth on my rocks.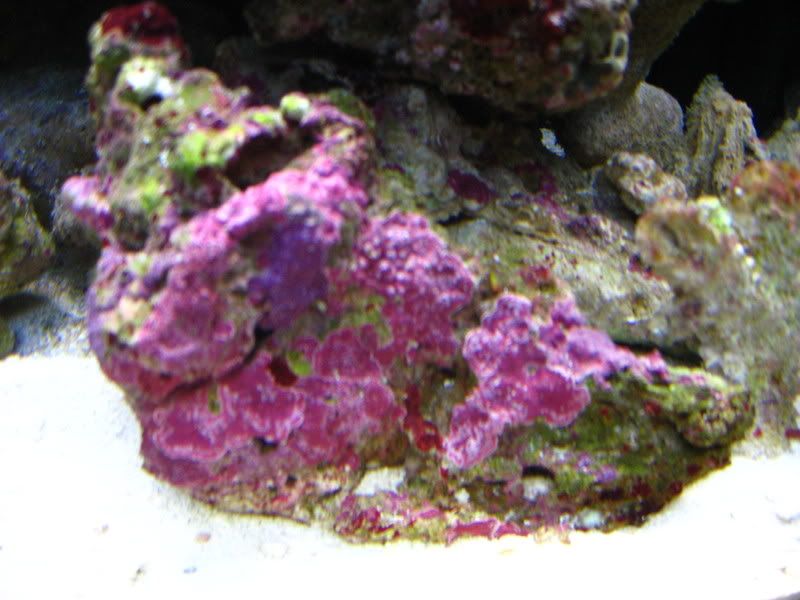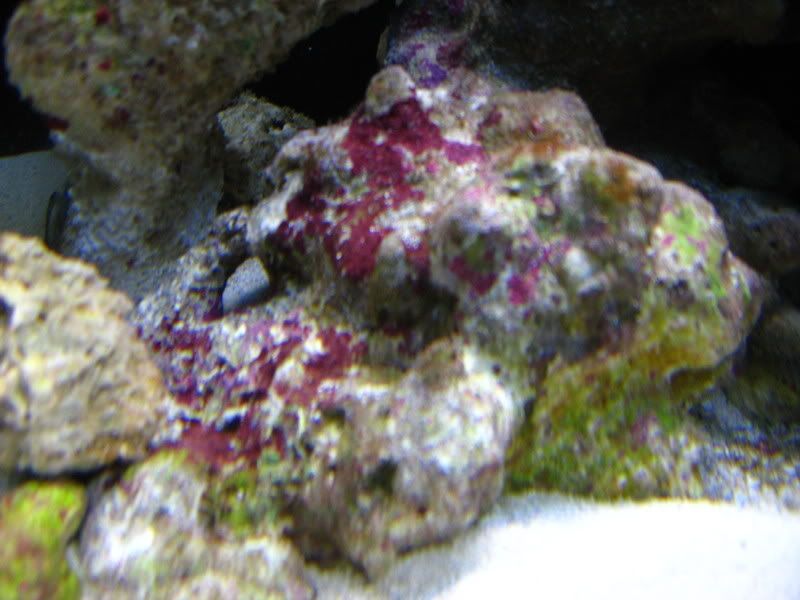 My Green Emerald Crab (trying to hide, sorry bout flash).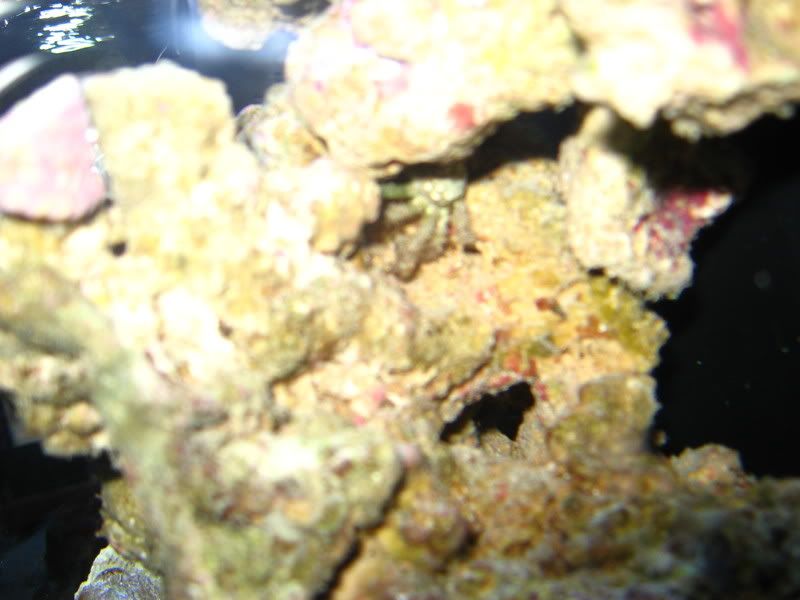 ---
55 Gallon Aquarium
1 Black Kuhli Loach
3 Black Skirt Tetras
4 Angelfish (3 Marble, 1 Gold)
1 Glass Fish
2 Blue Sunset Gourami
3 African Dwarf Frog
Hmmm, I've spent about $500.00 so far.

Shhh, don't tell anyone. I'm realizing now that I could have done a much better setup way better than this one for that amount of $$.
500 really. Did you buy anything used. Or is it all new. I'm thinking of buying used live rock and tank and stuff. If you know what i mean. I don't have a job so i can't afford it yet (only 13). Next year i hope to have a job and a liking still for fish. I can lose likings of things easily. But i've always wanted a pet thats no hassle to take care of. Even though fish can be chalenging, they are way better than dogs to me right now.
---
55 Gallon Aquarium
1 Black Kuhli Loach
3 Black Skirt Tetras
4 Angelfish (3 Marble, 1 Gold)
1 Glass Fish
2 Blue Sunset Gourami
3 African Dwarf Frog
If you get bored of things fast, and want hassle-free pets, do not start a saltwater tank. If you browse my thread you'll see how much work and hassle it's been so far. And this is just a small tank, nevermind the larger setups with more complex equipment/requirements.

It was all brand new, and LR is best when it's 'used' (cured). It will not be cheap in this respect.
Ya. how much was the nanocube on it's own. Here is what it was
http://www.nanotuners.com/product_in...roducts_id=367
since there is a fish store near me i'm gonna see if i can go buy some of their saltwater so i don't have to wait months for it to cycle so it won't be much of a hassle. i would also buy the Liverock and sand there so i won't have many problems. For the next week i would monitor it and see if anything bad happens then i will put fish in there. I usually get tired of thing really really REALLY fast. But i've always either wanted a bird but my oma's alergic. I've also wanted a reptile of some sort but my parents think thats too much of a mess. So i went with fish. I had a goldfish before but they always died on me since i didn't have any experience. Now since i do i'm going to have a want satisfied. If you have an answer please post on my thread okay. i don't want anything unrelated on yours. so that the viewers don't have to look through what i need not what you need.
---
55 Gallon Aquarium
1 Black Kuhli Loach
3 Black Skirt Tetras
4 Angelfish (3 Marble, 1 Gold)
1 Glass Fish
2 Blue Sunset Gourami
3 African Dwarf Frog
No. You cannot, and must not add fish in a week.
saltwater is not like freshwater, it's a whole different ball game.
I know but i'm going to get cycled water from my pet store and the live rock and sand there too so that i don't have to wait. If you get what i mean. If i'm able i'd get some water from their established tank with fish in it and the live rock too. I'd still wait a week but since the water has done it's normal cycling period before hand i won't have to wait months apon months for this. If my all my fish die unexpectedly i might just switch to a salt water but my room is so small the only tank i could fit maybe is a 20gal.
---
55 Gallon Aquarium
1 Black Kuhli Loach
3 Black Skirt Tetras
4 Angelfish (3 Marble, 1 Gold)
1 Glass Fish
2 Blue Sunset Gourami
3 African Dwarf Frog
you cant just add fish after a week you have to let the bacteria grow in your tank first. it will take about a month before you can consider adding fish. and if you add to much to fast you wont have enough bacteria to break up the waste and you tank will crash and you will have wasted alot of money in a dead tank. if you dont have the patience to let a tank cycle sw might not be for you
Posting Rules

You may not post new threads

You may not post replies

You may not post attachments

You may not edit your posts

---

HTML code is Off

---