THE WAY YOU DESCRIBE IT, THEN IT IS HAIR ALGA, THIS ALGA IS A LITTLE BIT DIFFICULT TO SYPHON IT OUT, USE A PIECE OF STICK AND TRY TO ROLL IT OVER. THIS IS IN FACT A NUISANCE ALGA, HERBIVORES SUCH AS TANGS EAT THEM, BUT TANGS ARE VERY CRYPTOCARION-PRONE, SO YOU HAVE TO MANAGE THE NUTRIENT PARAMETERS CLOSE TO ZERO AT ALL TIMES. SOMETIMES PEOPLE SAY . WAIT UNTIL YOUR TANK IS FULLY CYCLED, BUT BY WAITING AND STARVING THE ALGA WILL FOUL THE WATER AND WE DO NOT WANT THAT. KEEP THE PICTURES COMING .
LOL darn matt.......i dont know if im gonna start a saltwater tank......seems to be alot of trouble starting it out.....unless you wanna help me :D but anyways your tank is lookin good......cant wait to c it again
---
(40Gallon)
4-Angelfish
1-Brochis Catfish
1-Swordtail
1-Khuli Loach
1-Mystery Snail
4-CAE
1-Gourami
4-Blue/Black Striped Chiclids

10 Gallon Nano Reef

(nearly set up)
Dude try it, I'll help you every step of the way man. There are bound to be some problems, just like there have been with our freshwater setups . . . but that's how you get l33t, by dealing with them ;)
Patience is key, you know I waited 3 weeks for my tank to cycle before doing anything.
Well, I've left the lights off all day today, and just now in the wee hours of the morning, I switched my tank lights on just to check the algae, and it has decreased significantly already. It has disappeared almost entirely from one rock, and it's thinning out on the other. I think another couple of days of darkness and it should be gone. What are the chances/likelihood of this making a re-appearance?
ALGA BECOME DORMANT WITH NO LIGHTS, BUT IF THE NUTRIENTS ARE THERE, THE ALGA WILL REAPPEAR AGAIN. NO DOUBT
Just wanted to say it was interesting reading through the posts seeing how you and your tank have come along :) keep up the good work! and try to take as much advise as possible!... g/l
I have great news. The algae is gone, at least for now. I credit this to lack of lights, and to my Astrea snails, who have done an excellent job of clearing ALL the algae in my tank. There is no longer any brown algae or even green algae, and I know the Astreas ate it because their trail marks are seen all over. I frequent another forum and some members there said my Astrea snails will handle the bubble algae but I wasn't sure. Not sure what method did the most damage, but I'll be recommending both the addition of Astreas and lights off to anyone else with this problem.

Thanks for the heads up Jesus, I'll be sure to keep an eye out for any signs of return. Also, my nitrates are around 5 - 10 ppm so I think one or two large water changes will drop them to 0 and my chaeto should keep it there. I also have a question regarding cleaning my chaeto of debris. Should I just rinse it out with tank water from the next water change?

Thanks for the comments, occ. Stay tuned, I'll be adding corals soon.
it is ok if you do so, but its got to be the tank water not the new one. you could use a small powerhead too. and the pictures?
I didn't post any pics of the tank with the algae problem, primarily because the camera couldn't focus the algae into the picture well enough. I could show you a pic of the tank now, but the difference is not noticeable to you guys obviously.
Here is my tank, free of the strange algae plaguing it recently. I know it's bare, and not much to look at, but believe me it's much prettier than what it looked like several days ago. Also, soon I will be adding corals. :D :D :D: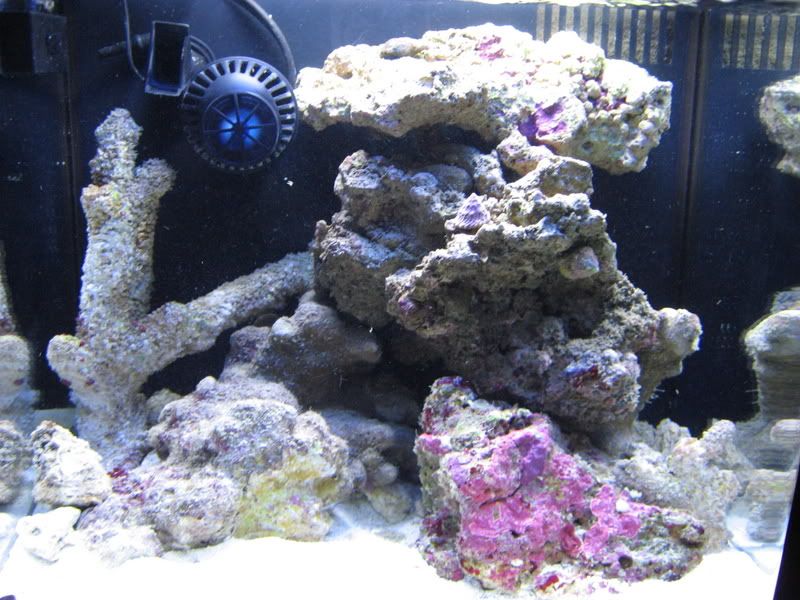 My Astrea Snails, hard at work. They've even removed the traces of the original algae which looked like a pale version of itself just yesterday. It's gone now, with only bare rock: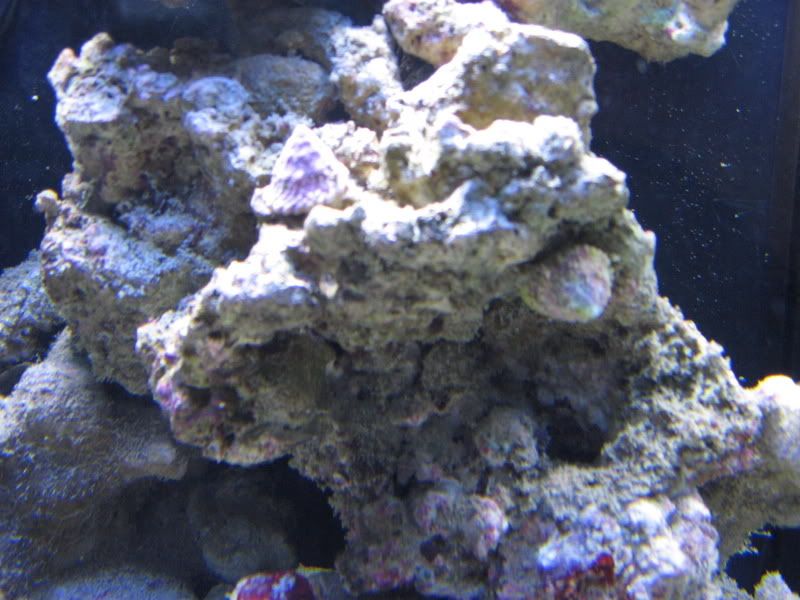 Here's are side shots, just to give an idea of how much (or little) space there is: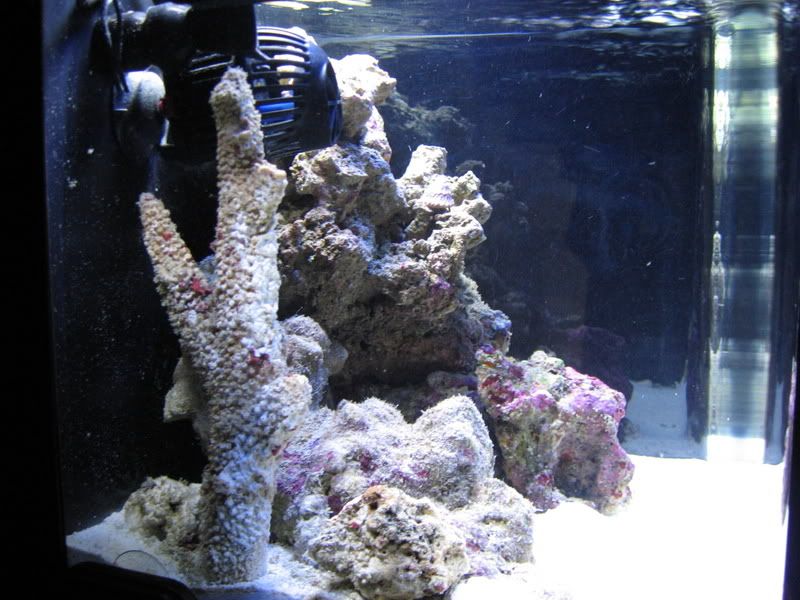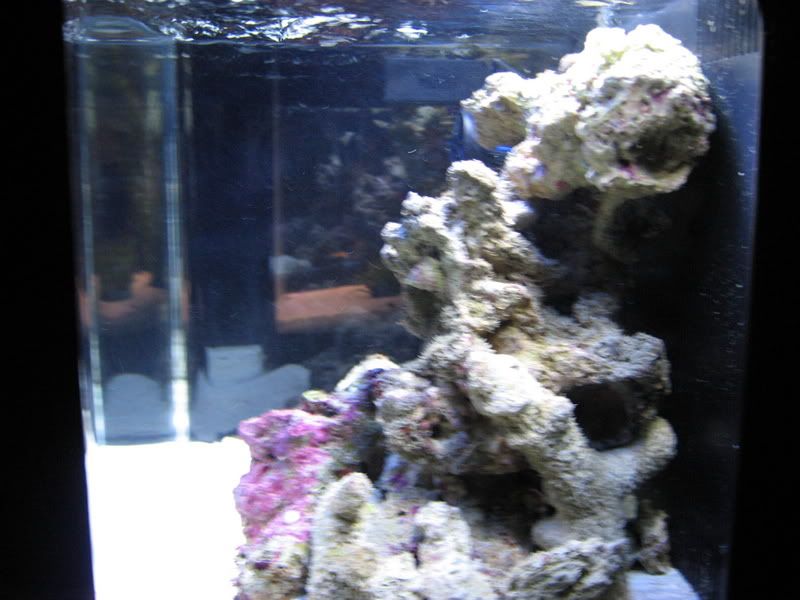 This by the way, is the strange growth on my best rock. It is white, about the size of a small snail, and is bubbly in appearance. It closes when the lights are off, but opens again when the lights are on. My friend says it's nothing but clearly it's alive: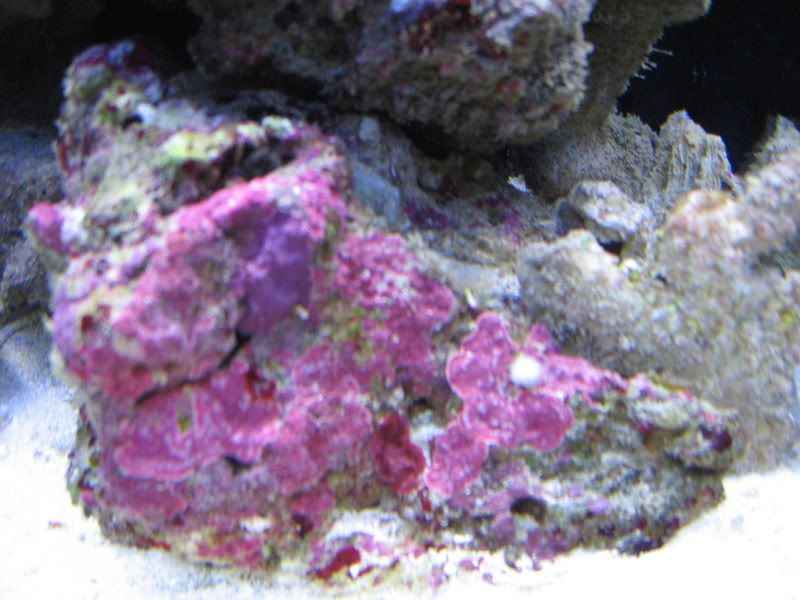 Just a shot of the tank from the top, with the rear chambers exposed. My furthest chamber, the third to the left of the image, is a cryptic zone which I've stuffed with sponges. :D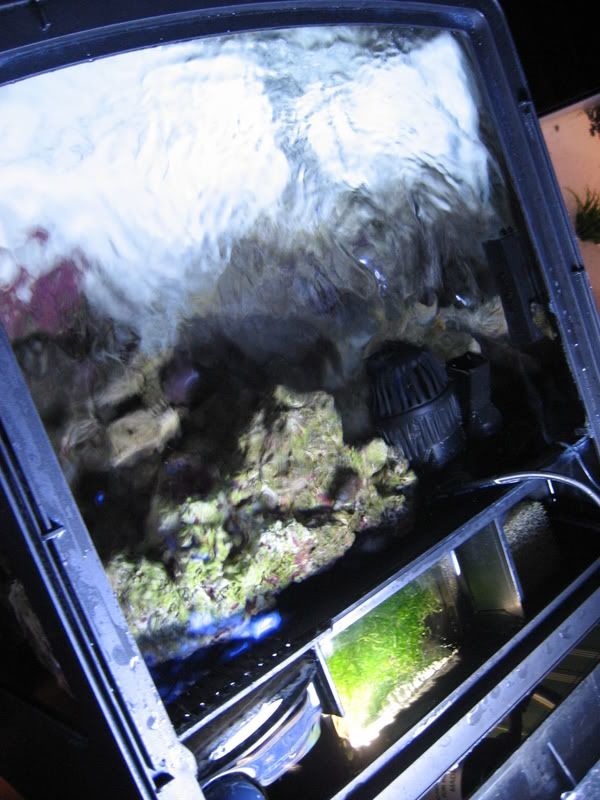 I've also pruned my chaeto for the first time yesterday. DAMN it grew a lot, it was very thick and I had to throw the excess out. It is now about 1/3 of what was there, and has already began thickening. Soon I'll add some corals, probably start off with one or two heads of Zoos.
you are doing really great. what i like about you is your patience and perseverance. you are becoming a true reef aquarist and that speaks well of you. ok the alga problem is gone (for now) there are certain living things on a rock and i do not have the name of the one gowing on your rock but it is harmless, i can assure you, because in my reef tank i have hose growings too. so do not worry. Now, you want to buy some corals. WOW! That is something serious, but nevermind, you are upt to the challenge, so let's buy he corals. An advice, buy them one by one, do not overstock so quicly, give time to adapt and keep checking the parameters, acclimatize your new corals by the dripping method( 3 hours), and do it slowly, this is the only way to succeed. As a said before, check always the ph, kh, calcium (main parameters) , temperature. We need coralline alga, they show us we are close to perfection in water quality, but the corals also react bad to water quality nsot suitable for them. Anyway, i will try to help you in whatever i can. SALUDOS DESDE MEXICO.
Posting Rules

You may not post new threads

You may not post replies

You may not post attachments

You may not edit your posts

---

HTML code is Off

---