Thanks!
Two days ago I stocked my second chamber with live rock. The conversion to a fuge has gone well so far, and I've made sure that the pieces are relatively large, 2" - 4" in size to be as efficient as possible (I've read that smaller pieces of rubble actually are detrimental to the system. eg. nitrate factories etc..)
Here's an update on my system. I added another 4 lbs of live rock. 3 to the tank, and roughly 1 lbs to the refugium.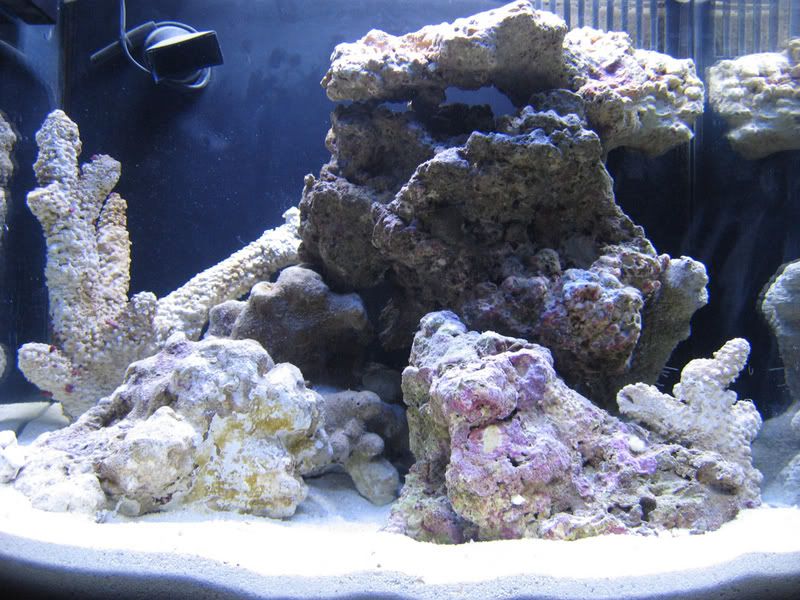 I think it looks great, and I've seen a couple of new hitchhikers . . . particularly some pods, another starfish, a long centipede-ish invertebrate and various growths on the rock.
Looks great. What plans do you have for your first few corals? Zoas, shrooms, and GSP would take off and grow like crazy.
Well I've decided on Zoas, mushrooms and I would absolutely love some pulsing xenia.
What is GSP? I'm very unfamiliar with the abbreviations used in marine keeping. I've only recently discovered what the heck RBTAs were after hearing EVERYONE refer to them as that.
Some suggestions for of coral species are very much appreciated and wanted.
Also, I was wondering if you could shed some light on my question regarding my refugium (stated in my previous post). Thanks a lot! :D :D
edit - I just picked up a master test kit for reef tanks, but for some reason it doesn't contain a reagent for Ammonia, only the end result, Nitrate. The levels are at a solid 20 ppm. What do I do without an ammonia kit? Do I just monitor the nitrate levels? How will I ever know when the tank is done cycling without being able to read ammonia levels?
the livestock i reccomend : nsot too many corals but we can use sarcophyton leather coral ( the little one), bubble coral, fragments of acropora or fraagments of sinularia c oral. do nsot forget to keep an eye on the water parameters, do nsdot let the calcium down.
Okay going to pick an ammonia kit up tomorrow night probably. . . I did a small water change yesterday to try and quell the algae outbreaks - it seemed to help, and the water is much, much cleaner indeed. The nitrates are still at 20 ppm so I'm guessing in the last couple of days it rose and my water change brought them back down to 20 ppm.

I'm assuming I'm in either the middle of, or nearing the end of my cycle since nitrates are present and the diatoms are appearing generously quite rapidly. I'm also seeing some kind of a pink/reddish algae on the back of my tank wall. What is this?
if it is a pink or purple calcareous alga which is adhered onto the glass, it is coralline alga and it is a desirable alga. but if it is a haired -like algae, then it is red algae and it is not a desirable one.
The pinkish algae has not matured anymore yet, it is just stationary.
Okay, here are some more pics. I've taken some shots of my refugium, and a frontal shot showing the maturity of the rock with the hood lights on, and then with them off + flash.
A couple of days after adding my LR: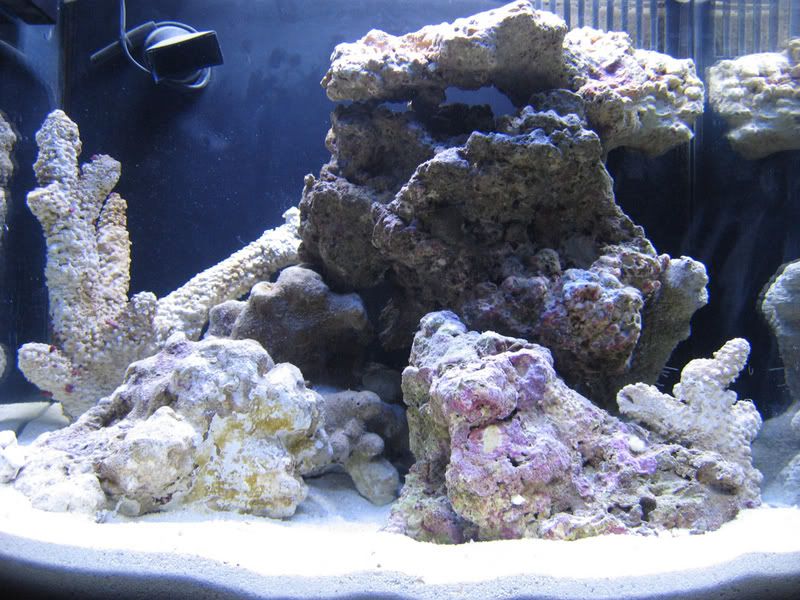 Tonight, a noticeable difference particularly considering the diatoms. Unfortunately due to the bright lights, the diatoms on the sand barely show, they are a rich brown, however:
With a flash, just to demonstrate the ripe colors:
The refugium, before adding a light.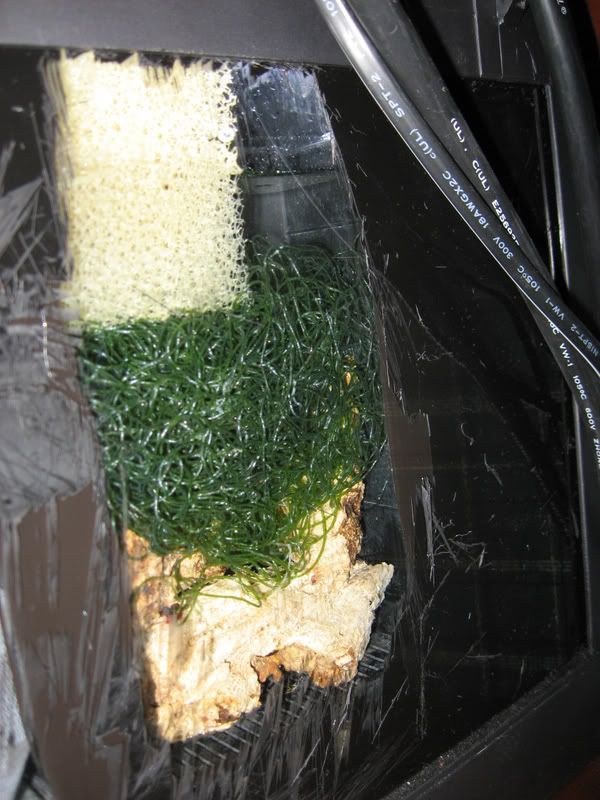 The sponge is to break the stream, as I've read chaeto prefers low-flow zones. There's about 1.5 lbs worth of LR in the fuge, which in an 8G, can make quite a difference. Forgive the butchered texture, I was scraping at the glass with a small razorblade for hours. The waterline is nearly to the top, I've ignored the water load limit because there are no bio-balls.
I'll post some images of my light mod which I'll hopefully do in the next day or so.
i can see brown alga in the back glass, that is not a desirable alga, you have lo limit the nutrients in your tank that is to say ammonia, nitrites, nitrates, silicates and phosphates. use a good salt water mix for yosur water changes. it helps a lot to clean the foam daily with pure water, the beneficial bacteria will be on and in the rocks and in and on the sand so you wont disturb the biological cycle. please do check your calcium, alkalinity or kh and ph and target for the right parameters. everything looks fine. congratulations an d saludos desde MEXICO.
Yeah, the diatomic algae will disappear with time though. Once I add my CUC there should be a significant decrease over time.

Thanks for the words of encouragement. I've pruned the chaeto a bit to give it room to grow, etc.. I'll be attaching the light for the fuge in the next couple of days, I'll post pics when the time comes. It's going to be quite simple, since I'll be synchronizing the photoperiods of both the main tank and the fuge, no big casing for the light will be needed to prevent light bleed.
Posting Rules

You may not post new threads

You may not post replies

You may not post attachments

You may not edit your posts

---

HTML code is Off

---